Dear Zabbix User!
Summer in the Northern Hemisphere is a quiet time when nothing much happens. Not at Zabbix. Read this letter to see the latest news.
New Office
Zabbix is ten years old this year. And as any growing body we needed a bigger room to stretch to our full-length. And we did so by moving to a new office, which is 3 times larger than the previous one. Now we have a separate Development zone and Sales & Support zone, a large conference room to hold bigger training events, a capacious kitchen and a Play zone, where we hold table tennis championships. And by the way, greet our July's champion – Rudolfs :)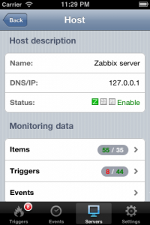 Go further with controlling your environment. Get Mozaby – a simple and lightweight Zabbix client for iPhone. Mozaby has plenty of valuable information about your monitored devices right on the screen of your iPhone. So now you can get a detailed and well arranged overview of what is going on in your server room without a need to carry your laptop. And new features are expected to become available shortly.
Visit Mozaby homepage to get more information about the application or purchase one from App Store.
Training – One Less, One More
This year we are really busy with trainings. Just got back from Porto Alegre, Brazil where we had a full house. That is off the schedule. Confirmed dates for the training session in Africa. That is one to the schedule. Read through to find which location is closer to you.
This is a last minute call for those planning to attend the training in Saint Denis (Paris), France on July 18-22!
Act fast, call us today! Impress your colleagues that return from vacation with the new level of Zabbix knowledge you achieved during Zabbix professional training. We really believe it pays back fast by maximizing your efficiency in monitoring your environment. Not only newbies learn everything what you have to know about Zabbix, but also experienced users get a chance to learn new techniques and features.
So why wait, register for this session today.
Training will be delivered in English and will be conducted by Rihards Olups, the author of a popular book on Zabbix.
A week left before July 25-29 training in Hamburg, Germany!
Did not have sufficient time to schedule your visit to Saint Denis' training session? Don't worry. Hamburg is just 890 km away. And you have one week to make it. Rihards Olups, Zabbix certified trainer and an experienced consultant will teach you to install, configure and manage efficiently your Zabbix server during Zabbix Certified Specialist and Zabbix for Large Environments courses.
Training will be delivered in English.
Get training in the Japanese language on August 29 – September 2!
Our Premium partner, NTT ComTechnology, organizes Zabbix professional training session in Tokyo, Japan. For registration or any other questions please visit NTT ComTechnology special page.
Double Zabbix Conference 2011 value by attending training in Riga, Latvia!
We hope to see you during Zabbix Conference 2011. And since you already will be in Riga, why not to take Zabbix Certified Specialist and Zabbix for Large Environments courses that will take place on October 3-7 at Zabbix offices.
Dive from autumn into spring with October 17-21 training in Mauritius!
Zabbix has held many training courses in many countries during these years. We traveled from Europe to Japan, then from the USA to Brazil. Each of the places we have been to is interesting, nice and worth to remember.
But for the first time we have a location that is so exotic and so appealing. Many of our office inhabitants wish they would be a trainer this time.
Training will be delivered in English and will be conducted by Rihards Olups, Zabbix certified trainer and experienced consultant.
Please use this form to register. For any questions concerning training please e-mail our Sales Team or contact us by phone.
For more information, please see Training page.
Zabbix is Widely Presented at FISL12
During FISL12 conference that took place in Porto Alegre, Brazil on June 29 - July 2 Zabbix gained very large attention and wide publicity. There were 5 different speakers with presentations about Zabbix use in different fields:
"

Management and monitoring of networks and devices with Zabbix

"

by Rafael Brito Gomes;

"

Zabbix Retail: 160 units monitored

"

by Jones Luís Noll;

"

The experience of Dataprev monitoring with Zabbix

"

by Elemar Marius Berbigier;

"

Zabbix API and related tools

"

by Takanori Suzuki;

"

Zabbix — an important part of your IT infrastructure

"

by Alexei Vladishev, CEO of Zabbix.
We are proud that our product is so popular among users from all over the world and we work hard to keep it that way.
Don't be Late to Register for Zabbix Conference
The time runs fast. It seemed to us in April that September is far away. Now if you look at calendar, it is just 75 days left before we all meet together to talk about Zabbix, to share our experience and to learn something new.
At this point we already have above 50 pre-registered delegates and number is growing constantly. So those that forgot to send us their pre-registration, please do so now. And do not forget to make a reservation at Tallink Hotel Riga to be sure you have a place to sleep.
If you have any questions regarding the conference, please do not hesitate to contact Zabbix Conference Team.
Note! Zabbix Professional training is scheduled right after the Conference.