Celebrating Zabbix 10th Anniversary
Someone might say that April is known for its Fool's day, others will remember Easter. For the UK hot topic is the wedding of Prince William of Wales and Catherine Middleton. And again the first man flew to space 50 years ago.
Some of these holidays are local, some are international. Some are more related to us, others are less. But there is one holiday that has a meaning to all of us – Zabbix 10th anniversary.
Read this Special issue of newsletter which is all dedicated to Zabbix.
10 Years of Constant Development

It all started in April 2001 when I hit "Enter" button on my ancient laptop and the first alpha release of Zabbix was finally published on Sourceforge site. I remember watching carefully download stats to see how many users we have - two, another three, plus one today... If you ask me what is motivating me all these years I won't think much. It's a great support and understanding of Zabbix users, nice feedback and a feeling that I am not alone.
Nowadays we have a great Zabbix Team, which is fully dedicated to Zabbix. Our focus has always been Zabbix, our users nothing else. I'd like you all to know that we are doing all our best to deliver the product that matches the highest standard of performance, quality and functionality.
– Alexei Vladishev, creator of Zabbix
Meet Our Team
Sometimes it seems unreal how small group of people with the support of community and friends can make a product so well-known in IT world. And at some point you start to wonder who are those little ants that bring those bits and bytes together and glue them tightly. Those of you who have participated in Zabbix training in Riga may already know most of the team. For the majority of others please welcome Zabbix team: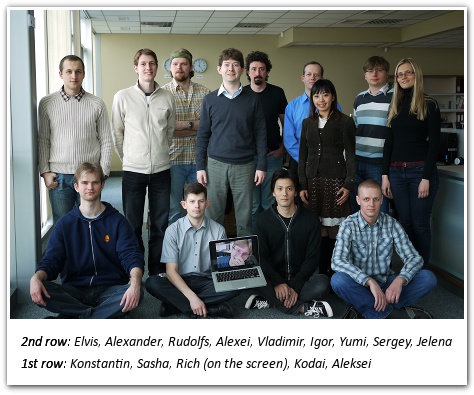 Event of the Year - Zabbix Conference 2011
It took us a lot of thinking and even one postponement. But finally we are happy to let you know that Zabbix Conference 2011 will take place in Riga, Latvia on September 30 – October 1, 2011.
Best things in life come free, so as participation in Zabbix Conference. We will be delighted to see all our friends as this will be a great chance to share thoughts, emotions, ideas and simply to meet each other in person.
We will provide more detailed information about agenda, accommodation, visas etc. in our next newsletter.
Send us pre-registration notice
If you consider joining us for this event, please let us know by simply clicking on this link and sending us your e-mail address. This will help us greatly to plan the event trouble free. Pre-registered users will receive e-mail updates as new information is posted.
To get the latest updates on Zabbix Conference 2011, please visit Conference page frequently.
All Those Numbers
It took more than 4 years of development to release the first stable version, Zabbix 1.0
Zabbix has been downloaded more than 1 300 000 times from Sourceforge site since 2001
The largest known Zabbix production setup has more than 120 000 of monitored devices
Map Your Zabbix
With so many downloads from all over the world during all these years we actually have no clue, how many installations of Zabbix are out there in the world.
To correct this state, we have decided to ask you for help in creating a map of Zabbix installations. To participate in this project, go to Google Maps, find the location of your office or home where Zabbix is installed, press "Send" button above the map and enter e-mail address [email protected]
We hope to share this map with you in our next newsletters.
Show Us Your Support
We put a lot of energy into our work to make Zabbix the best monitoring platform in the world. And we hope that you love it. To further enlarge our community and advance Zabbix development, we would be happy to feel your support. You may do it in many different ways and the choice is up to you:
put a text or image link from your homepage or blog to Zabbix homepage;
write a small article/note how much you love Zabbix and send it to us or publish at your blog;
collaborate with us to create a case study about benefits of using Zabbix in your organization.
We deeply appreciate your support!