Happy Birthday Zabbix!
This weekend Zabbix celebrated its 11th birthday! We would like to use this opportunity to thank everyone, who is supporting us, using our product and services and being our trustful partner! In the years to come, we plan to grow into an even better Monitoring Solution and bring Zabbix software to an even higher level. We asked Alexei Vladishev, Founder and CEO of Zabbix, to give some comments on such an occasion:

"It's hard to believe that Zabbix is already 11 years old! I would like to thank everyone who contributed to our accomplishments and developments and also congratulate our team with Zabbix Birthday. I believe we all are doing a great job!"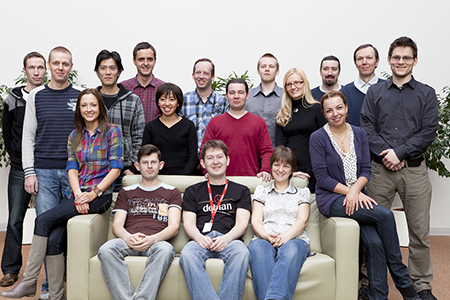 Zabbix is a Silver Sponsor of the event that will take place in Tallinn, Estonia on 30 June – 6 July. We believe that supporting like-minded communities is very important in order to succeed.
KDE is a very special name in the open-source society. This project has been and remains one of the most progressive and advanced Open Source communities in the world.
KDE Akademy is an annual event organized by KDE members from all over the world. This year it will take place at the Estonian IT College in Tallinn, Estonia. It will feature a 2-day conference with presentations on the latest KDE developments, followed by 5 days of workshops, birds of a feather (BoF) and coding sessions.
This year KDE has two reasons to celebrate - the 15th anniversary of KDE and the 10th edition of KDE Community Summit. We invite all of you to join this memorable educational and festive event in Tallinn along with Zabbix.
Register for Zabbix Conference 2012
Official registration for the conference is now OPEN and we invite you to register today as the number of seats is limited and there are already many pre-registered guests. There are 3 conference packages available for your choice. Please visit our Registration page for more information and to register for the event.
List of speakers and topics for the agenda of the conference will be available from the beginning of June. In the meantime, please do not hesitate to send us your suggestions on the topics you would like to see covered during the event.
Keep in mind that the "Call for Papers" is open for everyone. Submit your presentation topic until the 10th of May. The main theme of the conference is, of course, Zabbix, its use and implementation. Approved speakers are eligible for the Special Speaker Price package. Visit "Call for Papers" page for more details.
We also encourage you to actively advertise Zabbix Conference among your colleagues and friends! Place the logo of Zabbix Conference 2012 on your website, blog or forum, or simply "Join" our event on our Facebook page.
Get Quizzed!
The race to winning the "Zabbix Nerd" title is continuing. Question #4 is available for you on our Facebook Page.