Dear Friends!
CeBIT 2012 is over and we want to thank all visitors, who came to Zabbix stand. It was a great pleasure to see each and every one of you.
"Those were very positive and productive 5 days for Zabbix team and we enjoyed every single one of them! We met new people and old friends, visited many stands and got a great experience of exhibiting at the digital industry's largest exhibition", says Alexei Vladishev, CEO and creator of Zabbix.
"Organization was great, everything ran smoothly and we had lots of fun working and presenting our company", adds Jelena Turulina, Sales Manager at Zabbix.
"I enjoyed CeBIT 2012 full-time! We met lots of our friends from the EU, Japan and Brazil, and it was a pleasure for me to present the new features of Zabbix 2.0 to them and to see how anxious everyone is about the upcoming release", Rihards Olups, Senior Consultant at Zabbix, shares his experience.
The next great place to meet everybody is Zabbix Conference coming in September.
Experience the Future of Zabbix
With First Release Candidate of Zabbix 2.0.0 (Zabbix 2.0.0rc1) available for download, now you can get a early preview of Zabbix 2.0. Besides a new look and reworked front-end, experiment with a low-level discovery, proxy-based WEB monitoring, automatic collection of inventory data, improved network maps, and much much more. Complete Release Notes are available here.
! Keep in mind that this is a First Release Candidate and it is not for production use. Please give it a try in non-production environment and report any issues to our bug tracking system.
Enjoy New Design
We are very happy to let you know that last week Zabbix launched a new design of the website. As Zabbix is growing rapidly we decided to update the website and made it more informative and stylish, too. Zabbix team hopes you will enjoy browsing through the tabs and windows and we are encouraging you to send us your feedback and advice about the new design to our Facebook account.
See Us at RTU Karjeras Diena!
We are glad to remind you that Karjeras Diena 2012 (Career Day 2012) organized by Riga Technical University is approaching. It will take place in Riga at BT1 Kipsala Exhibition Hall on 22nd of March. Each year the most leading and socially active companies are coming together to help students explore the digital industry market and career opportunities within a variety of industries, including finance, logistics, software development, communications, consulting, retail, construction and others.
So if you are a student, who is interested in our company's key developments, professional experience and a future vision in IT field, then Zabbix Team will be happy to meet you at our stand! In addition, one of our leading specialists will be giving a presentation in Conference Hall #1 at 16:20 and we invite all of you to join Zabbix there!
Zabbix Newest Partners from Poland and Japan
Polish Telecommunication Giant Partners with Zabbix
Zabbix is proud to announce a recently signed partnership agreement with one of the largest telecommunications providers in Poland, Telekomunikacja Polska. By becoming a Certified Partner of Zabbix the company will become more competitive in the monitoring solutions market in Poland. Apart from the newly established monitoring solution service, the company offers mobile telephony and internet services to their customers, as well as specialized radio and paging services.
+1 Partner in Japan
Since the establishment in 2003, SERVETECH Co. Ltd has provided consulting for IT system infrastructure implementation. Moreover, it offers consulting for the building and management for IT system infrastructure, focusing on financial industry. SERVETECH Co. Ltd has extended experience and know-how in the field of building and supporting large server infrastructures and now mostly focuses on providing consulting and solutions for virtualized infrastructures.
Conference with the Best View on Riga City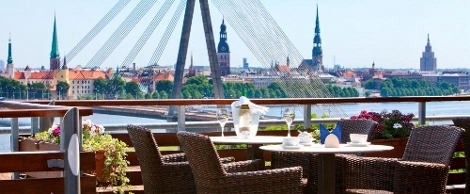 The place for the upcoming Zabbix Conference 2012 is settled. The official part of Zabbix Conference 2012 will take place at the Conference Hall of Islande Hotel, a four star hotel located in one of the most picturesque places of Riga (Kipsala Island) with a wonderful view on the Old Riga.
During the 2-day event the Zabbix Team will provide conference participants not only with the official part, but also will entertain and welcome all guests to some fun-stuff things to do. To find out more about the event and to pre-register, please visit Zabbix Conference 2012 official page.
Call for Papers
As we progress with Zabbix Conference 2012 planning, we are officially announcing 'Call for Papers'.
If you have knowledge to share, experience to teach, know-how to explain, you are welcome to propose your report for Zabbix Conference 2012 Agenda.
Each day of the conference will consist of up to 6-7 sessions each 40 minutes long. Some sessions will split into 2 fast tracks each 20 minutes long for short reports, other sessions will be devoted in full to some major topics.
Please visit our 'Call for Papers' section to obtain more information about becoming speaker at the conference.
Thank you to all, who joined our professional network on LinkedIn. We were pleased to see that many of you are following Zabbix and really appreciate your support, which is vital for us. We are looking forward to seeing more of you connecting to Zabbix.
Second Round of Zabbix Quiz
It is two weeks since we have launched the Zabbix Quiz on our Facebook Page. Question two is waiting for you already. Take your chance to win and to become a Zabbix Nerd.