Contact Sales
Worldwide: +371 6778 4742
USA (Toll-Free): 1-877-4-ZABBIX
Japan: 03-3582-5388
E-mail: [email protected]
In this Issue
Training Schedule
Books on Zabbix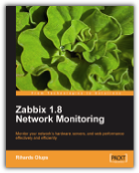 Unsubscribe
Not interested in this email?

Zabbix is Celebrating Its Double Birthday!
Yes, year by year Zabbix company is not only growing more mature, but also more advanced in its product and services development, broader with partnership connections and relationships with customers, stronger with ever-growing and supportive Zabbix community and, of course, more grateful for all these achieved blessings.
This week the Zabbix team is celebrating two grand dates:
the 12-year anniversary of Zabbix software since its first release in April 2001! Without any doubt, each new peak and improvement made in the development of the program could not have been possible without the insistent, persistent and meticulous in-house and independent team of Zabbix developers who are working day and night in order to make Zabbix one of the leading open source monitoring solutions in the world.


the 8-year anniversary of Zabbix SIA that was officially established on April 12th, 2005! In as little as 8 years Zabbix SIA has grown from a complete "newbie" in this large and full-of-harsh-competition business world into a respected "shark" with over 55 business partners worldwide; above 50 thousand users and over 3,000 active community members in almost every corner of the world. Not bad for a privately owned company, offering only one virtual product, right?

☺
But, of course, nothing happens purely by chance and a stroke of good fortune – there is always a reason for everything! And the reason why Zabbix SIA is "drumming up business" for 8 years now is because of a very strong and inexhaustible support, trust and very hard work of the big Zabbix "family", consisting of the company's management team, staff and community members, business partners, clients, users & fans, and, of course, the always leading, guiding and attentive Zabbix SIA founder & CEO – Alexei Vladishev!

So, let's say a cheerful "YAY!" for the Zabbix company and Zabbix product and wish them continued success and prosperity!
Register for Zabbix Conference 2013

Ready to pack your bags and come to Latvia for the Zabbix upcoming grand event of 2013, which each year gathers dozens of IT experts, fans and nerds in one place? Then this announcement is exactly what you were waiting for – official registration for Zabbix Conference 2013 is now open!
Participate in the 2-day conference dedicated to Zabbix – one of the most popular open-source monitoring solutions in the world;
Stay in one of the most prestigious Riga hotels – Radisson Blu Daugava;
Enjoy refreshing tea breaks and delicious lunches;
Have unlimited and unforgettable joy of relaxing atmosphere in the hotel's indoor swimming pool;
Participate in the conference super-fun entertainment program, including the Welcoming Evening party, the major Zabbix Evening Party and more…
All these benefits are right there for Zabbix conference guests! So, if you do not want to miss a thing and would like to get the most out of Zabbix Conference 2013, then make sure to register for the Full Package or Zabbix Fan Package now!

To get full information on all available registration packages, please click here.
See You Next Week in the UK & Belgium!

As you may already know, next week Zabbix management team in the person of Alexei Vladishev, founder & CEO of Zabbix SIA, and Sergey Sorokin, Zabbix SIA Director of Business Development, are going for a small European trip to the UK and Belgium for their scheduled business meetings. Like the last time, when Zabbix had a similar event in France, we are very pleased and surprised by the high volume of IT experts and professionals who have signed up to join us at this meeting.
The list of registrants for the Zabbix UK Meeting 2013 is already full. However if you are from Belgium or neighboring countries and want to get first-hand professional information and advice on Zabbix – one of the leading monitoring solutions in the whole world – then make sure to register for the Zabbix Belgium Meeting 2013 now, as there are only a few places left. Note! Registration deadline for Belgium Meeting is this Friday, April 12th, 12:00 GMT+3.

See you all very soon!
First Zabbix Reseller from Australia

Last week Zabbix SIA signed a partnership agreement with its first reseller from Australia – Libre Solutions Pty Ltd. Libre Solutions Pty Ltd. is a small GNU/Linux and free software consulting company based in Sydney with a great deal of experience and knowledge in Zabbix Software.

"Australia has always been a desirable market for Zabbix SIA. Now, having a very experienced and knowledgeable partner in the region, it is easier to communicate to our potentials and bring their attention to our monitoring software," says Alexei Vladishev, founder & CEO of Zabbix.
The established partner relationship between Zabbix SIA and Libre Solutions Pty Ltd. is like a "holy grail" for both companies about to bring in new and positive prospects, opportunities and business achievements.

Logging of the Demon Configuration File Name [ZBXNEXT-1105]

Ever had problems running Zabbix caused by accidentally using an incorrect configuration file? That sometimes happens. To make such problems easier to detect, the Zabbix server, proxy and agent demons will now log the configuration file used on startup in the corresponding log file. That way you will be able to easily check if you've set up Zabbix correctly.
Zabbix Speech at Latvia-Japan Business and Investment Forum

Today, on Wednesday, April 10th, Zabbix Japan team took part in the Business and Investment Forum in Tokyo, organized by the Japan External Trade Organization (JETRO), the Investment and Development Agency of Latvia (LIAA) and the Embassy of Latvia in Japan. The forum was held on the occasion of the official visit by the Prime Minister of Latvia, Valdis Dombrovskis, to Japan and to represent the country's investment climate and the current state of Latvian business in Japan.
In the course of today's event, Kodai Terashima, CEO & Support Engineer at Zabbix Japan LLC, was presenting his speech on the "Open Source Monitoring Software - Zabbix", introducing information on Zabbix SIA, Zabbix Japan, Zabbix Monitoring Solution, its history, company services, customers, partners and Latvian life. More details on the past event can be found here.

Last week we were very happy to introduce to all of our Twitter, Facebook, Google+ and LinkedIn followers a new application, called ZAX, designed by Inovex GmbH and approved for the Zabbix 3rd Party Tools section.

ZAX is a mobile frontend for the Zabbix enterprise monitoring system. It is free and has no limits. The designed app shows not only active triggers, events and latest item data, but has features like history for items (graphs), push notifications on trigger updates in realtime, and HTTP auth for proxy that will help to understand the issues in more detail remotely.
If you are interested to give this app a try, then feel free to download it!

Zabbix Goes to Argentina and France

Buenos días, Argentina! Bonjour, France! If you are from Argentina or France, working with, planning to implement or simply liking Zabbix Monitoring Solution and would like to get your expertise in this software in your own language i.e. Spanish or French, then we would like to encourage you to register for the upcoming Zabbix Professional Training Programs in Buenos Aires and Paris.
Buenos Aires, Argentina

Organized by: Zabbix SIA

Language: Spanish

Trainer:
Luciano Alves

Certified Specialist
22 - 24 April 2013

Apply

Zabbix For Large Environments
25 - 26 April 2013

Apply

Paris, France

Organized by: Core IT Project
Language: French
Trainer:
Alain Ganuchaud
Certified Specialist
13 - 15 May 2013

Details

Zabbix For Large Environments
16 - 17 May 2013

Details