Release of Zabbix 2.2.1rc1, 2.0.10rc1 and 1.8.19rc1

Zabbix SIA is proud to announce the availability of three Release Candidates: 2.2.1rc1, 2.0.10rc1 and 1.8.19rc1. All three contain a security fix.
Release Notes are available here. Please feel free to download!


First Experience of Zabbix Conference in Japan!
On November 22nd, Zabbix Japan LLC organized its first Zabbix Conference in Japan, called Zabbix Conference Japan 2013, bringing together more than 200 people.

The conference consisted of 14 sessions presented by IT professionals, mainly from Japan, who shared their experience, knowledge and best practices with Zabbix monitoring software.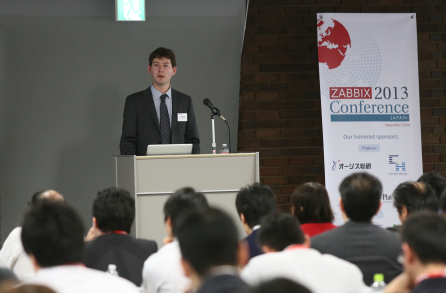 "It was an honour to attend and talk at Zabbix Conference Japan 2013. I was pleased to see that the conference was a great and very informative event reflecting a growing level of interest of corporate users in Zabbix. More and more businesses are attracted not only by cost savings but also by the high quality of Zabbix software and provided commercial services as well as a clear and well-defined release and upgrade policy.

The conference was full of exciting talks that gave great insights on business benefits of having a good monitoring system in place, which is especially true for larger companies heavily relying on availability and performance of their IT infrastructure.

I would like to thank the Zabbix Japan LLC team who put so much energy in organizing their first Zabbix conference. You all did a wonderful job! And, of course, thanks to all the attendees, honoured sponsors and guests for coming and showing us the true value of having a Zabbix Conference in Japan. See you all next year!"

Alexei Vladishev, Founder and CEO, Zabbix SIA


Report of 1st Zabbix Belgian User Group Meeting

Last Thursday, on November 28th, the 1st meeting of Zabbix Belgian User Group took place in Kortenberg, Belgium. Taking into consideration that the group is still very small (20 people) and it takes time to make the group more popular among locals, the meeting was still a total success for the organizers and attendees.

During the meeting, Lieven Gryp from Prodata Mobility Systems gave his guest speech. He explained and showed the guests their company's Zabbix setup that runs on the buses in South Africa and in Belgium. Lieven showed how easy it was with Zabbix to write their own client, small enough to fit on the already used embedded device that is used to control tickets. Prodata Mobility Systems managed to build a buffer big enough to do complete offline monitoring during the day and then gather the data in the evening when buses stop in their depot.

By making use of user parameters and tools like zabbix_sender and zabbix_get Prodata Mobility Systems is now able to track the use of tickets on the buses, opening and closing of the doors, as well as the vending machines for the tickets can be monitored, even the sales, thus making Zabbix the perfect tool to not only monitor hardware, but, most importantly, the business transactions as well.


Meet New Zabbix Reseller Partner from Poland

Zabbix SIA has signed a Reseller partnership agreement with EM&CA (Energy Management and Conservation Agency), S.A. – an experienced independent consulting and engineering company from Poland.

EM&CA S.A. is focused on delivering services for the fuel and energy sector, industrial enterprises as well as governmental institutions. IT monitoring is a core service for the EM&CA IT department. According to EM&CA, Zabbix has great potential that their company wants to expand on with the highest level of deployment service that meet EM&CA client requirements, well fit into budget and cover all the required functions.


Zabbix at Open Source Conference 2013. Enterprise

Next Friday on December 13th, Zabbix Japan LLC will participate in the Open Source Conference 2013. Enterprise (Tokyo, Japan), dedicated to open source products and related services for enterprise systems.
If you are planning to come please make sure to visit the Zabbix booth and talk to our specialists on Zabbix product and services. More information on the upcoming event can be found on the Zabbix Events page.

Zabbix 2.2 Virtual Appliance

Zabbix 2.2 Virtual Appliance is now available for you to download. The Appliance is based on OpenSuSE Linux with a MySQL back-end. Zabbix software is pre-installed and pre-configured for trouble free deployment.

Use the Appliance to evaluate Zabbix. But please note – it is not intended for serious production use! For more details and related documentation, please refer to the Zabbix Manual.

More about Zabbix at Habrahabr.ru

To all the Russian speakers, please have a look at two recently published articles on the popular resource Habrahabr.ru [in Russian]:
the first article, called

"Автоматизируем мониторинг: низкоуровневое обнаружение для SNMP"

is talking about how to automate the monitoring of SNMP devices with Zabbix LLD;


another article, called

"Мониторинг температуры гермозоны с помощью 1-wire датчиков и Zabbix 2"

is about how to do temperature monitoring of a server room using Zabbix & 1-wire sensors.
To read both articles in other languages, please use your favorite on-line translator.

ZBX_HISTORY_DATA_UPKEEP Constant Removed [ZBXNEXT-2016]


In Zabbix 2.2.1 the housekeeping settings have been changed to allow to override the history storage period even if internal housekeeping is disabled. Now, when using an external housekeeper, the history storage period should be set using the history "Data storage period" field instead of the ZBX_HISTORY_DATA_UPKEEP constant.

Last Two Training Sessions in 2013 - Only a Few Days Left to Apply

The end of 2013 together with all the pleasant and joyful celebrations is almost here, but there are still certain things we can manage to do by December 31.
This month Zabbix has scheduled the last two training sessions for the year 2013 to be held in Riga, Latvia and San Diego, CA, USA. If any of these markets and dates suit your needs, then please make sure to register – do not put it off until next year what you can do now!
For your own convenience and to help you decide, we have published a Zabbix Training Brochure, where you can find all the information you need to know about Zabbix Professional Training.
Riga, Latvia
Organized by: Zabbix SIA
Language: English
Trainer: Janis Jaunbalodis
Certified Specialist
9 - 11 December 2013
Apply
Zabbix For Large Environments
12 - 13 December 2013
Apply
San Diego, CA, USA
Organized by: Zabbix SIA
Language: English
Trainer: Rihards Olups
Certified Specialist
9 - 11 December 2013
Apply
Zabbix For Large Environments
12 - 13 December 2013
Apply
Interested in upcoming training for the year 2014? Please visit our Training page for complete information. Zabbix training schedule is updated regularly.

Zabbix Webinars This Week

This week you have a chance to register for three Zabbix webinars in a row and get all the main topics about Zabbix product and services covered. To participate in any or all of the upcoming webinar sessions this week, simply process your registration:
Wednesday, December 4, 2013 at 17:00 GMT+2 (Riga)
Zabbix Monitoring Solution – Overview of the System
Duration: 60 min
Register
Language: English
Organized by: Zabbix SIA
Thursday, December 5, 2013 at 17:00 GMT+2 (Riga)
Tune Your Zabbix for Better Performance
Duration: 60 min
Register
Language: English
Organized by: Zabbix SIA
Friday, December 6, 2013 at 17:00 GMT+2 (Riga)
Get the Most Out of Zabbix. Overview of Zabbix Services
Duration: 60 min
Register
Language: English
Organized by: Zabbix SIA
For more scheduled webinars this year, please visit the Zabbix Webinars page.

Contact Sales
Worldwide: +371 6778 4742
USA (Toll-Free): 1-877-4-ZABBIX
Japan: 03-3582-5388
E-mail: [email protected]

In this Issue

Training Schedule

Training Brochure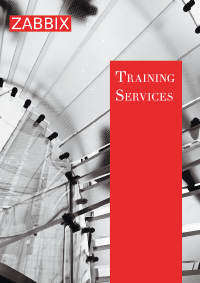 Books of Zabbix