Contact Sales
Worldwide: +371 6778 4742
USA (Toll-Free): 1-877-4-ZABBIX
Japan: 03-3582-5388
E-mail: [email protected]
In this Issue
Training Schedule
Books on Zabbix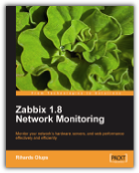 Unsubscribe
Not interested in this email?

With a full sense of appreciation and gratefulness, the Zabbix team can clearly say that the last two weeks for us were more than productive and active. Starting from the actual physical move of Zabbix Japan team to a new location, up to newly signed partners and dynamic preparation for the upcoming Open Source Conference 2013 in Tokyo – everything makes the life of the Zabbix team as alive and energetic as always.☺

Zabbix Japan LLC Moves to a New Office!

Important information for everyone who needs and wants to reach the Zabbix subsidiary in Japan – Zabbix Japan LLC has now moved to a new office! The address of our new office in Japan is:

Zabbix Japan LLC
Shinbashi Tokyu Bldg. 2F
4-21-3, Shimbashi, Minato-ku,
Tokyo 105-0004
Japan

Zabbix Japan LLC representatives, Kodai and Yumi Terashima, will be happy to meet you in their brand new office for any business queries, to share their great knowledge and experience about the Zabbix product and services, provide you with superb service and to treat you to a delicious hot coffee.☺Additionally, you can always contact the Zabbix team by phone or e-mail.

Growing Network of Zabbix Partners

IIM Human Solutions, Japan

Zabbix Japan has signed a Certified Partnership Agreement with IIM Human Solutions, Inc., Tokyo, Japan. IIM Human Solution Corporation is a consulting and outsourcing services provider for computer system operation and installation offering a total solution backed by technical 'know-how' accumulated from the use of many proven and useful tools.

By becoming a Certified Zabbix Partner IIM Human Solutions will be able to provide an even more complete solution that includes Zabbix installation services and official Zabbix support.
IT Squared, Ukraine

Zabbix SIA is glad to welcome its new reseller from Ukraine – IT Squared (IT2). IT Squared is an innovative Ukrainian company that offers high quality IT services that help increase the efficiency of IT infrastructure management and rationality of IT budget planning for your IT resources. The company's main principles are: flexibility, concentration, responsibility and quality backed by the experience and knowledge of employees who conduct in-depth analyses of your IT-infrastructure.

Zabbix SIA is looking forward to the most beneficial results from this cooperation for both companies and is hoping for the positive feedback about Zabbix product and services from its new customers on the assigned markets.

Reimagining the event system [ZBXNEXT-341]
The Zabbix team is actively working on implementing one of the most requested features: being able to receive alerts when a trigger switches to the unknown state. To allow that, and to make the event system more intuitive, we've decided to completely remove the so-called unknown events and replace them with internal events. Internal events will contain information about trigger, item and low-level discovery rule state changes and will be used in actions. Find out more details and follow our progress in ZBXNEXT-341.
Zabbix Japan Will Exhibit in the Open Source Conference 2013

This spring, on February 22-23, Zabbix Japan LLC will participate in the Open Source Conference 2013 in Tokyo, Japan. The conference will be dedicated to open source products and related services and will take place at the venue of Meisei University, Hino 2F campus, Building 28.

During the conference Zabbix will have its own booth where our team of experts will be ready to answer all of your questions about Zabbix Monitoring Solution and applicable services.

On February 23rd, Mr Kodai Terashima, CEO of Zabbix Japan LLC, will present two seminars:
Additionally, we welcome all of you to join the seminar held by the Zabbix Certified Partner SRA OSS Inc. who will also participate in the event and have a seminar, called "Introduction! Ultimate OSS system monitoring – functions and reference points of choice for Hinemos and Zabbix." The seminar will take place on February 22nd at 17:15-18:00 and will be presented by Yoshiharu Mori.

Everyone please be welcome to come to this great event and meet the Zabbix Japan team - we will be very glad to see you! The entrance to the conference is free of charge! ☺