Contact Sales
Worldwide: +371 6778 4742
USA (Toll-Free): 1-877-4-ZABBIX
Japan: 03-3582-5388
E-mail: [email protected]
In this Issue
Training Schedule
Books on Zabbix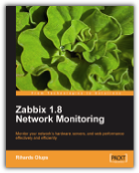 Unsubscribe
Not interested in this email?

Zabbix Conference 2013

There are only 60 days left until the biggest event of the year for Zabbix community – Zabbix Conference 2013. And this year Zabbix users, followers and fans are as active as never before, willing to come to this grand event and hear all the interesting and valuable topics about Zabbix live.
Zabbix Conference 2013 will consist of 22 Zabbix-related presentations, filled with live demos and technical sessions. So this year's event is promising to be very rich in terms of the diversity of covered topics.
We invite each and all of you who have not registered yet to become a witness of this truly grandiose and exciting conference where you get a chance not only to boost your knowledge about Zabbix Monitoring Solution, but also be part of this big IT community event and establish new contacts with the most professional and advanced IT experts from all over the world.
Hope to see you in September!

Hear About Zabbix at FISL14 – International Free Software Forum

Starting from today, July 3rd, and until July 6th, 2013 the International Free Software Forum (Fórum Internacional do Software Livre, FISL) is taking place in Porto Alegre, RS, Brazil that is gathering students, researchers, entrepreneurs, social movements for freedom of information, Information Technology (IT) enterprises, governments, and other attendees.
The forum will present discussions, speeches, personalities and novelties both national and international of the free software world. And during the official event program two active Zabbix community members from Brazil, Adail Henrique Spinola Horst and Alessandro de Souza e Silva will give their speeches about Zabbix, telling attendees how to use the monitoring system to efficiently manage a company IT infrastructure. To attend both or any of these lectures, please make sure to get familiar with the event program and timetable here.
Growing Partnership Network in Japan

We are happy to announce that another Japan based company – BeGoodTechnology from Tokyo has signed a partnership agreement with the Zabbix subsidiary in Japan, Zabbix Japan LLC.
The business expertise of BeGoodTechnology includes: 24x365 monitoring services; 24x365 operation support services; cloud services (IaaS); infrastructure design and setup; application development; Zabbix installation, customization and support services.
Having become a Certified Partner of Zabbix Japan LLC, all Zabbix-related technical services provided by BeGoodTechnology are now backed-up by Zabbix, providing 2nd line support to BGT. Should BeGoodTechnology be unable to provide the solution to its customers, the Zabbix team of professionals will do the work ensuring the client with the most effective and reliable monitoring solution that fits the company monitoring needs, specifications and requirements.


Improved frontend layout [ZBX-5620]
If you are using Zabbix on a mobile device with a small screen resolution you might have noticed that some frontend pages didn't scale too well. Zabbix 2.2 brings significant improvements to the frontend layout so that most pages will scale down without breaking the design.
Expand Knowledge at Zabbix Webinars

6 webinars in 6 different languages are now available for you to choose from if you want and need to improve your knowledge and experience about Zabbix Monitoring Solution.

Zabbix main aspects and elements, its main functions, architecture, installation and deployment options; all of this and many other important issues are explained and discussed during a webinar session. All through the session an open discussion by chat is available for the registered attendees.

Zabbix Webinars are useful for those who are in the process of decision making on the use of Zabbix; for those who are already using Zabbix, but not sure if this use is effective; and for those who would like to get their questions answered online.
Registration for the Webinars is free of charge and takes just one minute.

Thursday, July 4, 2013 at 11:00 BRT/GMT-3 (Brasilia)

Zabbix Monitoring Solution - Visão geral do sistema


Duration:

60 min

Speaker:

Luciano Alves, CEO
Unirede Soluções Corporativas, Brazil, Premium Partner
Register

Language:

Portuguese

Organized by:

Zabbix SIA

Friday, July 5, 2013 at 10:00 CEST/GMT+2 (Berlin)

Zabbix Monitoring Lösung – Überblick: Architektur und Key Features

Duration:

60 min

Speaker:

Stefan Schreiner, Managing Director
DV-Loesungen Schreiner GmbH, Germany, Certified Partner
Register

Language:

German

Organized by:

Zabbix SIA

Tuesday, July 9, 2013 at 16:00 GMT+2 (Rome)

Zabbix Monitoring Solution - panoramica di sistema

Duration:

60 min

Speaker:

Gabriele Armao, System Administrator
Systematica s.r.l., Italy, Certified Partner
Register

Language:

Italian

Organized by:

Zabbix SIA

Thursday, July 11, 2013 at 16:00 GMT+2 (Madrid)

Zabbix - Visión general del sistema


Duration:

60 min

Speaker:

Roberto Moreda Álvarez, CEO
Allenta Consulting S.L., Spain, Certified Partner
Register

Language:

Spanish

Organized by:

Zabbix SIA

Monday, July 22, 2013 at 17:00 GMT+9 (Tokyo)

Zabbix Monitoring Solution - オープンソース統合監視ソフトウェアZabbixのご紹介


Duration:

60 min

Speaker:

Kodai Terashima, CEO
Zabbix Japan LLC, Japan
Register

Language:

Japanese

Organized by:

Zabbix Japan LLC

Tuesday, September 3, 2013 at 16:00 GMT+2 (Paris)

Solution de Supervision Zabbix - Vue d'ensemble


Duration:

60 min

Speaker:

François-Hugues MAILLIET, CEO
MATRICS Communications, France, Reseller
Register

Language:

French

Organized by:

Zabbix SIA
Get Qualified in Zabbix Professional Training

At Zabbix Professional Training sessions you will not only get the most valuable and in-depth information about Zabbix software, but you will also get a chance to access the priceless expert advice, practical tips and best practices from the foremost qualified Zabbix consultants.
There are two courses of Zabbix Professional Training that you can join: Zabbix Certified Specialist and Zabbix for Large Environments. Each of them is intended for specific necessities of a Zabbix user, whether it is an independent individual or a company. In only a few days you will get familiar with almost all Zabbix features and get your certification of a course completion along with a huge "baggage" of knowledge and experience.
To find out more about both Zabbix Professional Training programs, please visit this page where you can also register for training sessions scheduled to take place in Italy, Latvia, USA, Japan, China, France, Belgium and Sweden in 5 different languages.