Contact Sales
Worldwide: +371 6778 4742
USA (Toll-Free): 1-877-4-ZABBIX
Japan: 03-3582-5388
E-mail: [email protected]
In this Issue
Training Schedule
Books on Zabbix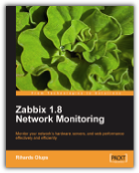 Unsubscribe
Not interested in this email?

Have a Great Summer Time!

Summer 2013 has finally come! And before starting to share the latest Zabbix news and information on upcoming events, we would like to congratulate all Zabbix subscribers, followers and fans with this wonderful, full of energy and sunny time of the year! The Zabbix team wishes you all very relaxing summer vacations and, of course, high productivity after your magical rest! ☺

Zabbix Conference 2013

One day left for "Early-Bird" price!
This is the last call for everyone, who would like to register for Zabbix Conference 2013 at a discounted "early bird" price that will end Today at midnight.

If you have decided already that you will come to the upcoming event, make sure to catch this great deal now, by choosing any of specially designed Zabbix conference registration packages.

Zabbix at "Opensource Technology" in Italy

Next Tuesday, on June 11, 2013 at 19:00 Italian time Dimitri Bellini will give a speech called "Cos'e' Zabbix e primi passi di configurazione" or "What is Zabbix. First steps in configuring".
The presentation will take place during "Opensource Technology" event at the University of Technology (Politecnico di Torino) in Torino, Italy.

Please feel free to register! More details on the upcoming event can be found here.

Zabbix Workshop Belgium

On June 21st, in Kortenberg, Belgium, Zabbix Reseller partner Open-Future BVBA is organizing that will highlight the capabilities of Zabbix Monitoring Solution and discover the possibilities of working with the Software. This workshop aimed towards the organizations that are looking for deploying a monitoring and trending system or is looking to migrate from another monitoring system.
Zabbix Workshop will give an introduction to the technical aspects of Zabbix. In addition, the attendees will have an opportunity to experiment with Zabbix in real time. Please follow the link to register for this event.
For all Zabbix funs, followers and users from Belgium we have very great news about recently established Zabbix User group in the mentioned country!
This local user group was independently established and organized by one of Zabbix active users and Zabbix Certified Trainer, Patrik Uytterhoeven (Linux Consultant at Open-Future).
All volunteers are welcomed to join this newly established community and share your experience, knowledge and questions about Zabbix Monitoring Solution with the other community members and enjoy your experience!
Zabbix Nordic Trip 2013

Zabbix SIA is continuing its series of international meetings. This time the Zabbix team are going for a Nordic trip, having 4 business meetings in a row that will be held in:

Copenhagen (Denmark) – 17 September 2013
Oslo (Norway) – 18 September 2013
Stockholm (Sweden) – 19 September 2013
Helsinki (Finland) – 20 September 2013
All four events will take place in the conference rooms of the Embassy of the Republic of Latvia to the corresponding countries and will start at 09:00. The format of the meetings will remain the same, and it is intended for company CIOs and IT infrastructure managers.

For more details on the Zabbix Nordic Trip 2013 or to register please visit the official event page.

New Honored Zabbix Partners

Zabbix continues to broaden the partner network across the globe. This month certified partnership agreements were signed with companies from Japan and Venezuela.
MSG Soluciones Gerencial CA – First Certified Partner of Zabbix SIA in Venezuela
Zabbix SIA is very proud to announce its first signed Certified Partner from Venezuela - MSG Soluciones Gerencial. MSG Soluciones Gerencial offers commercial support, integration, consulting, equipment installation, and training on the products and services for Hewlett-Packard, backed by HP. The company will begin to offer Zabbix Monitoring Solution to its clients and will also provide Zabbix official support services.
Forschooner Inc. – New Certified Partner from Japan
Last month the subsidiary of DataHotel Co. Ltd., Forschooner Inc, became a Certified Partner of Zabbix Japan LLC. The company offers total IT system support services, from implementation to operation, with a focus on cloud environments. Forschooner has a 24/7 monitoring center and uses Zabbix to monitor clients' servers and clouds. The company has also started a large environment system operation service using open source products, including Zabbix.


Improved variables in web scenarios [ZBXNEXT-1597]
When using Zabbix to monitor Web applications, it might be useful to be able to pass values from one step to the next. We are glad to announce that it will be possible in Zabbix 2.2. When configuring a web scenario you will we able to define dynamic variables, which will extract values from the response using regular expressions, and use them in consecutive requests. Simple and very handy.
Live Webinars

Catch one of the upcoming Zabbix Webinars in French or Spanish and find out more about Zabbix software from a first-class Zabbix specialist who will not only tell you more about Zabbix architecture, elements, capabilities and setup options, areas of application, scalability and performance, but also answer your questions in the live chat during the session.
Thursday, June 6, 2013 at 16:00 GMT+2 (Paris)

Solution de Supervision Zabbix - Vue d'ensemble


Duration:

60 min

Speaker:

Alain Ganuchaud, CEO of Core IT, France, Reseller
Register

Language:

French

Organized by:

Zabbix SIA

Thursday, June 7, 2013 at 10:00 BRT/GMT-3 (Brasilia)

Zabbix Monitoring Solution - Visão geral do sistema


Duration:

60 min

Speaker:

Luciano Alves, CEO of Unirede Soluções Corporativas, Brazil, Premium Partner
Register

Language:

Portuguese

Organized by:

Zabbix SIA

Tuesday, June 11, 2013 at 16:00 GMT+2 (Madrid)

Zabbix - Visión general del sistema


Duration:

60 min

Speaker:

Roberto Moreda Álvarez,
CEO of Allenta Consulting S.L., Spain, Certified Partner
Register

Language:

Spanish

Organized by:

Zabbix SIA

Tuesday, June 18, 2013 at 17:00 UTC/GMT+9 (Tokyo)

Zabbix Monitoring Solution – オープンソース統合監視ソフトウェアZabbixのご紹介


Duration:

60 min

Speaker:

Kodai Terashima, CEO of Zabbix Japan LLC, Japan
Register

Language:

Japanese

Organized by:

Zabbix Japan LLC

Thursday, June 20, 2013 at 11:00 BRT/GMT-3 (Brasilia)

Zabbix Monitoring Solution - Visão geral do sistema


Duration:

60 min

Speaker:

Luciano Alves, CEO of Unirede Soluções Corporativas, Brazil, Premium Partner
Register

Language:

Portuguese

Organized by:

Zabbix SIA
Zabbix Professional Training

A good employee knows what needs to be done. A better employee knows how to do things. The best employee has a great combination of knowing "what" and "how" things need to be fixed and resolved for the best company results.
Zabbix Professional Training is specially designed to assist IT professionals in getting familiar with almost all Zabbix features in just a few days, leading them from "guesses" to knowledge.
Zabbix company together with its valued partners are organizing Zabbix Professional Training courses all over the world, which makes the learning process about Zabbix software not only easily accessible, but also very understandable for locals, as this training is taught in different languages. To find out more about Zabbix courses or to register for any upcoming training, please visit the Zabbix Professional Training page.
Porto Alegre, Brazil

Organized by: Unirede Soluções Corporativas

Language: Spanish

Trainer:
Luciano Alves

Certified Specialist
24 - 26 June 2013

Details

Zabbix For Large Environments
27 - 28 June 2013

Details

Torino, Italy

Organized by: Quadrata di Bellini Dimitri

Language: Italian

Trainer:
Dimitri Bellini

Certified Specialist
8 – 10 July 2013

Apply

Zabbix For Large Environments
10 – 12 July 2013

Apply

Miramar FL, USA

Organized by: Zabbix SIA
Language: English
Trainer:
Rihards Olups
Certified Specialist
15 – 17 July 2013

Apply

Zabbix For Large Environments
18 – 19 July 2013

Apply

Osaka, Japan

Organized by: Zabbix Japan LLC
Language: Japanese
Trainer:
Kodai Terashima
Certified Specialist
24 – 26 July 2013

Apply

Riga, Latvia

Organized by: Zabbix SIA

Language: English

Trainer:
Janis Jaunbalodis

Certified Specialist
5 – 7 August 2013

Apply

Zabbix For Large Environments
8 – 9 August 2013

Apply

Beijing, China

Organized by: Zabbix SIA

Language: English

Trainer:
Alexei Vladishev

Certified Specialist
12 – 14 August 2013

Apply

Zabbix For Large Environments
15 – 16 August 2013

Apply

Riga, Latvia

Organized by: Zabbix SIA

Language: English

Trainer:
Janis Jaunbalodis

Certified Specialist
1 – 3 September 2013

Apply

Zabbix For Large Environments
4 – 5 September 2013

Apply

More