Even though February is the shortest month of the year, Zabbix list of activities and events in the past month was very far from the brevity.This time we have a huge amount of information to share with you that is full of diversity, grandiosity and pleasant future business perspectives.

In this issue review information on Zabbix past events and be the first to find out about Zabbix new partners and upcoming international events. Enjoy!☺
Zabbix SIA Welcomes Toyota Communication Systems

Last week Zabbix team was very proud and honored to welcome Toyota Communication Systems Co., Ltd. from Japan, an IT company behind Toyota Motors Corp., in Zabbix office in Riga. 14 members of delegation that represented managers, systems administrators and engineers from different divisions of Toyota Communication Systems, attended this meeting with an aim to learn more about Zabbix Monitoring Solution and Zabbix Company, as well as to see Zabbix Monitoring Solution in action at some of the biggest Zabbix customers in Latvia – Citadele bank.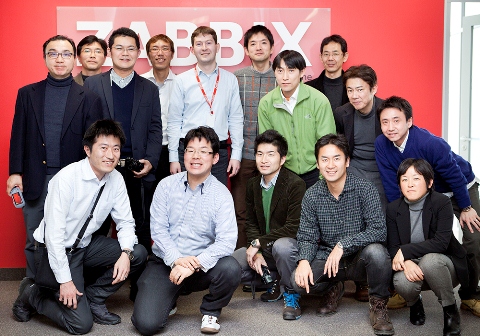 Zabbix Conference 2013

In our previous Newsletter we have announced the dates of the next Zabbix yearly conference i.e. Zabbix Conference 2013 that will take place on September 6-7. Today we are happy to let you know the chosen location for the upcoming big event.

Before making the final decision on the conference location, we have sent e-mails to all of our trustful partners around the world, asking them to vote for the destination, which they think would be more preferable, convenient and acceptable for event's participants and guests. The decision was unanimous: once again Zabbix Conference 2013 should take place in Zabbix home country – our hospitable, beautiful and welcoming Latvia!☺ And the reasons for that were the following: comfortable travel destination for all European countries, reasonable travel costs, country recognition, possibility to visit Zabbix HQ office and, of course, the beauty of the country itself.

So now, for the third time already, we are happy to invite all of you to join the Zabbix yearly Conference in Latvia. We really hope that you will be happy to come to Latvia again and be one of our honored participants for Zabbix Conference 2013!☺ So mark those dates on your calendar as busy.
Zabbix Meetings 2013

Last year Zabbix SIA has launched a series of international business meetings. The first such business meeting took place in Paris, France on December 6th, 2012 at the Embassy of Latvia and gathered more than 40 Zabbix existing and potential customers of Zabbix Company from France, including Zabbix partners.
Having a very positive experience and feedback from the guests of Zabbix France Meeting 2012 Zabbix decided to continue its business visits to other countries worldwide. For those who are interested, in April Zabbix is planning to visit the United Kingdom and Belgium.
Both events are intended for company CIOs and IT infrastructure managers. The business meetings are free of charge and will consist of several presentations delivered by the Zabbix team and partners of Zabbix.

Zabbix U.K. Meeting 2013 will take place on April 16, 2013 in the conference hall of the Embassy of the Republic of Latvia, the United Kingdom of Great Britain and Northern Ireland, and in London at 45 Nottingham Place. More information on this event can be found on Zabbix U.K. Meeting 2013 official page.

Zabbix Belgium Meeting 2013 will take place on April 17, 2013 in the conference hall of the Embassy of the Republic of Latvia in Belgium, Brussels at Avenue des Arts 23. More information on this event can be found on Zabbix Belgium Meeting 2013 official page.

Zabbix Speech at EISAÜ Seminar in Tallinn, Estonia

On March 13th, 2013 EISAÜ, the Estonian branch association ISACA (Information Systems Audit and Control Association), is organizing a large seminar on monitoring that will take place in Tallinn, in the seminar room Tallinn Science Park Tehnopol . The seminar is aimed for information systems auditors, internal auditors, managers and professionals, as well as other interested parties.

Doors open at 09:00, presentations start at 09:30 and last until 16:20. From 13:30 until 14:30 Sergey Sorokin, Zabbix SIA Director of Business Development, will give his presentation on Zabbix Monitoring Solution, called "Zabbix knows what it can do well and where to go next". So if you are interested to join the EISAÜ seminar and get the professional first-hand information on Zabbix Monitoring Solution, then make sure to register.

Meet Newcomers – Zabbix Certified Trainers!

Two weeks ago Zabbix had one-week of Professional training for Trainers that took place in the Zabbix HQ office in Riga, Latvia. We are happy to congratulate our trainees for successful completion of the course and for becoming officially honored as Zabbix Certified Trainers: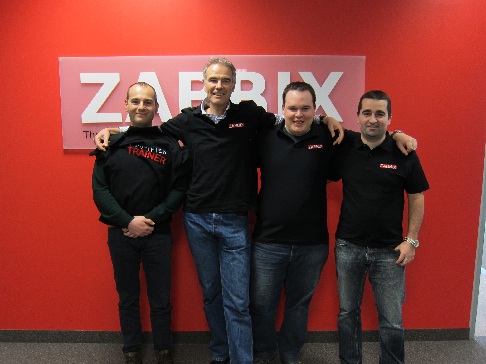 From left to right: Dimitri Bellini (Quadrata di Bellini Dimitri), Alain Ganuchaud (Core IT Project), Tom Van Humbeeck (Open Future BVBA), Patrik Van Uytterhoeven (Open Future BVBA)
All participants did a great job and got valuable knowledge for providing further professional services. We are looking forward to upcoming Zabbix Professional Training courses, presented by our new trainers!
New Partners

Kvint LLP, Kazakhstan

KVINT, LLP (Almaty, Kazakhstan) has signed a Certified Partnership agreement with Zabbix SIA. KVINT is a telecommunications and IT distributor that offers a wide range of network and data center equipment to resellers and corporations.

Through collaboration with Zabbix SIA, KVINT is now able to officially provide its customers throughout Kazakhstan with professional Zabbix services and support that will help to deploy Zabbix Monitoring Solution and manage complex IT infrastructures.

ARK Systems Co. Ltd., Japan – From Reseller to Certified Partner

ARK Systems Co., Ltd. (Tokyo, Japan, CEO: Hedehumi Owase) is system integrations company that specializes in system management, operation management, and system construction. After almost one year of being a Zabbix Reseller, ARK Systems has signed a new agreement with Zabbix Japan LLC and updated its partnership to the Certified level, becoming a Zabbix Certified Partner.

By becoming a Zabbix Certified Partner, ARK Systems will align with Zabbix Japan and deliver Zabbix professional services and support to its customers at the most professional level.


Loadable modules for extending agent, server and proxy functionality [ZBXNEXT-1550]
The Zabbix development team is currently working on a new way to implement custom checks using Zabbix modules. A module is a special dynamic library written in C, which will be used by Zabbix to define and perform additional user-defined checks. Zabbix modules will have greater performance than user parameters and will also enable the exchange of extensions in the Zabbix community.

Zabbix Professional Training
Please make sure that you keep yourself updated with the latest schedule of Zabbix Professional Training that this time might be running in your country. 4 countries in 4 different languages – Zabbix Professional Training courses have never been so diversified in one month period of time. If you are from Brazil, Italy, Germany or Japan – your training will be held in native languages.

So if you are from the mentioned countries or planning to visit one of those, then please feel welcome to join us at the scheduled courses and have a great chance to boost your knowledge and experience on Zabbix Monitoring Solution.

Porto Alegre, Brazil
Organized by: Unirede
Language: Portugese (Brazil)
Trainer:
Luciano Alves
Certified Specialist
18-20 March 2013

Details

Zabbix For Large Environments
21-22 March 2013

Details

Bologna, Italy
Organized by: Systematica s.r.l.
Language: Italian
Trainer:
Gabriele Armao
Certified Specialist
8 - 10 April 2013

Details

Zabbix For Large Environments
11 - 12 April 2013

Details

Ahrensburg, Germany
Organized by: Zabbix SIA
Language: English
Trainer:
Rihards Olups
Certified Specialist
8 - 10 April 2013

Apply

Zabbix For Large Environments
11 - 12 April 2013

Apply

Osaka, Japan
Organized by: Zabbix Japan LLC
Language: Japanese
Trainer:
Kodai Terashima
Certified Specialist
24-26 April 2013

Apply
Full information on Zabbix Professional Training and upcoming courses can be found here.
If all mentioned Zabbix news and events are still not enough to fill your inexhaustible passion for something new ☺, then it might be interesting for you to spend time to get yourself familiar with two applications recently published at "Zabbix Third Party Tools" section, called RealOpInsight (by NGRT4N Project) and Zabbr (by Christian Blank).