Contact Sales
Worldwide: +371 6778 4742
USA (Toll-Free): 1-877-4-ZABBIX
Japan: 03-3582-5388
E-mail: [email protected]
In this Issue
Training Schedule
Books on Zabbix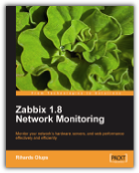 Unsubscribe
Not interested in this email?

In today's Zabbix Newsletter you will find out more on what has recently been going on in the room of Zabbix developers: information on new and ongoing development projects, a scheduled Zabbix webinar and, of course, the latest information in our 'IT Sneak-Peek' section, giving you more details on the present development project on virtual machine monitoring.
Apart from Zabbix development work, we will also tell you more about our current social activities, such as upcoming Zabbix Business Meetings in the UK and Belgium, scheduled Zabbix Professional Training in Italy and France and newly signed partners from Japan and Italy.
Bid on New Features

It is not a secret to anyone that a lot of features available in Zabbix now were developed thanks to commercial orders placed by our customers, partners and fans.
But what about cases when you need some feature not on the current Zabbix Roadmap, and your budget is limited to order it on your own? Finding other parties who would be interested to financially support development of the same feature should definitely help.

To assist our community to make joint efforts when ordering new Zabbix functions, a special section of Development Services lists recent projects that were successfully funded and presents current projects showing fund-raising progress. Press contribute next to your favorite project to inform us about your wish to support development of the feature or suggest another ZBXNEXT feature to be placed on this page. There are several projects that currently are in the process of fund raising:


Virtual machine monitoring [ZBXNEXT-1633]
Zabbix developers are busily working on implementing a way to monitor virtual machines using Zabbix. After they are done, monitoring virtual environments will be a piece of cake. All you'll need to do is set up a host for a hypervisor and a new low-level discovery feature will automatically detect all existing virtual machines and create hosts to monitor them. As easy as that.

Attend a Webinar

Tomorrow, March 14th at 17:00 GMT+2 (11:00 AM EDT) join our webinar on "Zabbix Monitoring Solution – an overview of the system", which will be presented by Alexei Vladishev, Zabbix founder & CEO.

Make sure to register to participate in this event.

Get Zabbix the Easy Way!

All of us are control freaks. Ability to influence the way how every tiny part of software operates makes us happy. But sometimes we get tired and want to go "Next-Next-Finish" way. And when you feel like that, check out Zabbix 2.0.x packages, which are available for RHEL, CentOS, Debian, and Ubuntu. From now on, there are no excuses for those lazy ones who say they have very little time to install Zabbix. It's as easy as 1-2-3.
Zabbix Meetings 2013

Preparations for the short, but very saturated Zabbix European business trips to the UK and Belgium are actively gaining speed and the number of registered participants. For those who have missed our previous Newsletter we would like to remind that:

Both meetings will consist of several presentations delivered by Alexei Vladishev, founder & CEO, and Sergey Sorokin, Director of Business Development. After the official part of each event there is going to be time available for individual business meetings with Zabbix SIA representatives. Please contact us to agree on a meeting time.
Make sure to register now as the number of seats is limited.

Zabbix 'Shakes Hands' with New Partners

Future Architect Inc. (Japan) has signed a Partnership Agreement with Zabbix Japan LLC. The company was established in 1989 as a consulting service company with a mission to provide the best solution for each customer using cutting-edge IT technologies.

Future Architect has implemented Zabbix as a recommended system monitoring solution in companies representing different industries, including 24/365 mission-critical systems for financial institutions, distribution industry, hospitality industry, and many others, achieving stable system operation at a low cost.

Esiet S.p.A. (Italy) is a company that can design and implement complex solutions by integrating products, technologies, infrastructure and services and acts as a single point of contact for a variety of customer needs. Esiet has reached its best results in terms of excellence and specialization of individual skills, by giving real added value to its customers.

By becoming Zabbix Reseller in the Italian market, Esiet S.p.A. aims to deliver to its customers a robust, flexible and innovative monitoring solution backed by Zabbix professional services.
Get Zabbix Training in Italian and French
Isn't it great when you have a chance to learn advanced topics in your native language? 'Till this moment Zabbix Professional Training was delivered in English, Japanese, Russian, Portuguese (Brazil), and Latvian.

And now, meet Italian and French. Just recently several engineers and consultants of our partners from Italy and France have been certified to deliver Zabbix professional training, and after a short period we have 2 upcoming training sessions on our busy schedule. Stay tuned, as new languages are coming soon!