Contact Sales
Worldwide: +371 6778 4742
USA (Toll-Free): 1-877-4-ZABBIX
Japan: 03-3582-5388
E-mail: [email protected]
In this Issue
Training Schedule
Books on Zabbix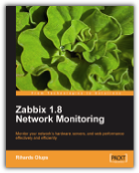 Unsubscribe
Not interested in this email?

Zabbix Conference 2013

Get Familiar with Conference Agenda
The official agenda for the upcoming Zabbix event is now published and available for you on the conference Agenda page. 18 international speakers from around the world will be giving their speeches on their experience, projects and business cases, related to Zabbix Monitoring Solution.

15 Days Left to Take Advantage of Early Bird Pricing!
There are only 15 days left to get the best price on your registration for Zabbix Conference 2013. The deadline for the "early bird" pricing is June 06, 2013. Find out more about the upcoming event and register today!
Honored Sponsor of Zabbix Conference 2013!
SRA OSS, Inc. Japan (Tokyo), a company that provides total services for OSS, has become our Bronze Sponsor of Zabbix Conference 2013!
New Certified Zabbix Partner

OGIS-RI Co. Ltd. Signs Partnership with Zabbix Japan LLC

On May 15th, 2013 Zabbix Japan LLC signed a partnership agreement with OGIS-RI Co. Ltd. (Osaka, Japan). OGIS-RI Co. Ltd., established in 1983, offers to its clients IT consulting, IT strategy development, system design, development, operation and management, providing seamless, integrated solutions. OGIS-RI aims to deliver its IT services not only in Japan, but also globally to meet their customer requirements.
By becoming a certified Zabbix partner, OGIS-RI will now be able to provide Zabbix official support to its customers and improve their support quality, using Zabbix as their core monitoring software.

Zabbix Opens Doors to China

Zabbix SIA has signed its first Reseller agreement with a company from China – Beijing SolutionWare® Information Technology Ltd., which is one of the leading total solution system integrators for open source in the Chinese market. The company delivers OS software consulting, training, support and development services, and has many customers in financial, banking, insurance, manufacture and government industries.
This partnership between Zabbix SIA and Beijing SolutionWare® Information Technology Ltd. symbolizes each company's shared commitment to a further growth and development of the Zabbix product and services in the assigned market.
Zabbix Runs Webinars in Five Languages!

Either you speak Japanese, Portuguese, Italian, French or Spanish – we can tell about Zabbix in the easiest, most comfortable and understandable way for you. Please apply for a Zabbix Webinar in any of the five provided languages and find answers to your questions and uncertainties about Zabbix software.

Tuesday, May 28, 2013 at 17:00 UTC/GMT+9 (Tokyo)

Zabbix Monitoring Solution – オープンソース統合監視ソフトウェアZabbixのご紹介


Duration:

60 min

Speaker:

Kodai Terashima, CEO of Zabbix Japan LLC, Japan
Register

Language:

Japanese

Organized by:

Zabbix Japan LLC

Thursday, May 30, 2013 at 11:00 BRT/GMT-3 (Brasilia)

Zabbix Monitoring Solution - Visão geral do sistema


Duration:

60 min

Speaker:

Luciano Alves, CEO of Unirede Soluções Corporativas, Brazil, Premium Partner
Register

Language:

Portuguese

Organized by:

Zabbix SIA

Tuesday, June 4, 2013 at 16:00 GMT+2 (Rome)

Zabbix Monitoring Solution - panoramica di sistema

Duration:

60 min

Speaker:

Dimitri Bellini, CEO of Quadrata di Dimitri Bellini, Italy, Reseller
Register

Language:

Italian

Organized by:

Zabbix SIA

Thursday, June 6, 2013 at 16:00 GMT+2 (Paris)

Solution de Supervision Zabbix - Vue d'ensemble


Duration:

60 min

Speaker:

Alain Ganuchaud, CEO of Core IT, France, Reseller
Register

Language:

French

Organized by:

Zabbix SIA

Tuesday, June 11, 2013 at 16:00 GMT+2 (Madrid)

Zabbix - Visión general del sistema


Duration:

60 min

Speaker:

Roberto Moreda Álvarez,
CEO of Allenta Consulting S.L., Spain, Certified Partner
Register

Language:

Spanish

Organized by:

Zabbix SIA
Zabbix Professional Training

As we all know, there are no limits for perfection and of course it's never too late to learn something new and fill in the gaps in your knowledge. So, to make the attainment of knowledge easier and more acceptable for Zabbix users and followers worldwide, Zabbix professional trainers are ready to go into the world to share their expertise.
At the moment Zabbix has already scheduled 22 professional training courses (13 – Zabbix Certified Specialist and 9 – Zabbix for Large Environments) in 9 countries worldwide in 5 different languages, including Portuguese, English, Italian, Japanese and French. Due to the high demand coming from potential Zabbix trainees, Zabbix Professional Training schedule is already planned until April 16 – 18th, 2014!
Ready to get your Zabbix qualification? Then make sure to reserve your seat at upcoming Zabbix Professional Training courses!


SNMPv3 context support [ZBXNEXT-1438]
When using Zabbix to monitor SNMPv3 devices you may have previously lacked the support of the SNMPv3 context parameter. We're glad to announce that now, starting from 2.2, Zabbix will support the context parameter for all SNMPv3 item, network discovery and low-level discovery rule checks.
This development was made available to the community by our Reseller from Italy, Quadrata di Bellini Dimitri , who financed the development of this feature. So if you miss any functionality or feature in Zabbix, you may follow this path and contact Zabbix sales to find out how to finance its development.
Another great Zabbix application was suggested by a Zabbix follower, which is now available in our 3rd Party Tools section. Tabbix, designed by Mehmet Tirgil, is a simple lightweight Android application for the Zabbix monitoring system, which allows you to check active triggers, hosts and detailed host and trigger information. Tabbix has capability of multiple servers and you can see the status of all servers and reach triggers of one server in one screen. The trigger list shows you whether it's acknowledged or not and you can acknowledge a trigger. Tabbix also supports Zabbix 2.0.x
To give this app a try, please download it here.

Zabbixers Run in Nordea Riga Marathon

Last Sunday, May 19th, a Zabbix team, consisting of the six most enthusiastic and physically prepared Zabbixers, took part in the Nordea Riga Marathon.

Riga marathon has been popular in Riga since the mid 80s and today it is the Baltic's biggest festival for runners, this year gathering 22020 runners from 65 countries.
So here are the results of our Zabbix runners and of course some pictures full of enthusiasm and joy!
Distance: 5 km
Alexei Vladishev

– 862nd place

Jevgenija Lepneka

– 4960th place

Andris Mednis

– 5058th place

Alexei Ivanov

– 5414th place

Oleg Jegorov

– 5415th place
Distance: 10 km
Vladimir Levijev

– 1761st place
All Zabbixers that took part can be seen in the pictures in the appropriate order: