Contact Sales
Worldwide: +371 6778 4742
USA (Toll-Free): 1-877-4-ZABBIX
Japan: 03-3582-5388
E-mail: [email protected]
In this Issue
Training Schedule
Books on Zabbix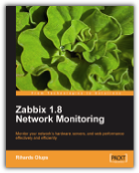 Unsubscribe
Not interested in this email?

Zabbix Conference 2013

Zabbix Conference 2013 is actively gaining momentum. As always, it is about to gather IT professionals, geeks, versatile specialists and Zabbix users, followers and fans from all over the world. And today we are happy to give you a quick preview on whom and what to expect at the conference this year.
Official Agenda
Zabbix Conference 2013 is going to be full of interesting, professional, diversified and exciting speeches that will satisfy your deepest interest, curiosity and passion about Zabbix Monitoring Solution. So, we are happy to share with you some of the already approved speakers and their topics for the upcoming Zabbix conference. Here they are:

Adail Horst, SERPRO (Brazil)
Zabbix in Monitoring Critical Environments of Brazilian government, SERPRO

Aidan Venn, Observ IT (United Kingdom)
Zabbix - Beyond the Norm!
André Déo, UNICAMP - Universidade Estadual de Campinas (Brazil)
Zabbix Brazil Community
Alf Solli, Eltele AS / Sensorfabrikken.no (Norway)
Monitoring Outside the Box; External Factors in Your Datacenter

Evgeniy Petrov, i-Free (Russian Federation)
Zabby, Zabbix Agent Written in Python
Julio Cesar Hegedus, Yenlo BV (Netherlands)
Perobbix + Zabbix DB Monitoring
Patrik Uytterhoeven, Open-future (Belgium)
Zabbix Update and Stunnel
Piete Baele, ICTRA, NMBS-Holding (Belgium)
Complete Log Infrastructure with Zabbix Alerting
CMDB: Integrating Foreman (Puppet) and Zabbix host inventory fields
Tobias van Hoogen, Netco Technology b.v. (Netherlands)
Zabbix Ambassadorship
A full list of speakers together with the presentation date and time will be published on the conference Agenda page later on this week. So, stay tuned and make sure you know when your favorite topics will be presented.
Fun-stuff Agenda
Zabbix conference guests and participants know well how to have fun and the Zabbix team knows for sure how to make conference days as entertaining and interesting as possible. In 2012 we all had a very good and joyful time together by playing bowling, singing karaoke, drinking revitalizing drinks, eating delicious food, listening to pleasant music and simply having a good time talking with each other. And now it's time to reveal a little secret – this year will not be an exception!☺
Here is a sneak-peek of some informal activities that are waiting for Zabbix Conference participants* this year:
September 6 – Morning event

An excursion to Riga Motor Museum with a professional English-speaking guide, dedicated to the historical development of cars, motorbikes and bicycles over the first century of its mass production from the last decade of 19th to the end of 20th century with more than 230 exhibits on show that are interesting, unique and really well maintained. According to a number of satisfied visitors, Riga Motor Museum is one of the best automotive museums in the Northern & Eastern Europe.

September 7 – Evening trip

A trip to Rundale Palace (situated 66 km away from Riga) that will consist of a peaceful and picturesque walk at The Park of Rundale Palace and excursion to the Rundale Palace Museum with a professional English-speaking tour guide.
The exhibition of Rundale Palace Museum will include the staterooms (the White Hall, Gold Hall, and Grand Gallery), the Duke's former living quarters and staterooms, the Duchess' apartments and the "Seventeenth to Nineteenth Century Fashion in Latvia" exhibition.

September 7 – Post-trip dinner
After a big portion of historical knowledge received during the exhibition, the conference trip participants will be welcomed to the Rundale Palace Restaurant for a hot and tasty dinner. An antique atmosphere, calm music, pleasant service, freshly cooked food in the warm autumn evening and in friendly Zabbix fellowship – what can be more delightful?
Get more information on the Zabbix Conference 2013 Fun-Stuff Agenda.
* Please note that only participants registered for Zabbix Conference Full package, Zabbix Fan package and Special Speaker price package will have access to all informal conference activities, listed in the Fun-Stuff Agenda. Please read carefully the components of each package before registering.

Welcome First Partner from Finland

Zabbix SIA is very proud to announce its first signed reseller from Finland, Onevisio OY. Onevisio Ltd is a software development company that provides solutions for network monitoring and the resolution of network infrastructures. The company offers versatile monitoring solutions by way of software-as-a-service, covering infrastructure, applications and network monitoring.

By becoming Zabbix Reseller, Onevisio Ltd. can now offer customers a comprehensive monitoring solution fulfilling these customers' business needs and requirements at the most reliable level.

Zabbix – Project of This Month?

As you all already know, last month Zabbix was announced as "Project of the Month" by SourceForge - the largest open source applications and software directory. Now it's time to vote for the June 2013 Project of the Month! So, let's show how strong and supportive Zabbix community is and give your vote, as well as the votes of your friends, fellows and colleagues to Zabbix! We keep our fingers crossed and with your great support hope to win!

Please vote here (you need a twitter account to vote).


More flexible control of housekeeping tasks [ZBXNEXT-1649]
One of the new features available in 2.2 is a more flexible control of housekeeping tasks. It will allow to enable housekeeping directly from the Zabbix frontend and to separately specify storage periods for events, history, trends, user session and other data. That way you will be able to keep the important data for as long as you need and quickly discard the rest.
Here is another recently added great newcomer to Zabbix 3rd Party Tools section, called Zabbifier, designed by Vadim Vatlin. Zabbifier is a simple Mac OS X client for the Zabbix monitoring system. It can check multiple servers and show all active triggers, also notifying about problems using Growl and a status bar icon. Give this application a try – download it here.

Education Is the Mother of Leadership

Either you are from Belgium, Japan, Italy, Latvia, Sweden or USA, thinking of taking your knowledge and experience about Zabbix onto a higher, more advanced or professional level, then we suggest you to apply for our scheduled upcoming Zabbix Professional Training courses.
Additionally, if you have at least 5 people wishing to attend Zabbix Processional Training, and a room with a projector to hold the training in, then you can order on-site training for one or both courses at your own preferred location.
If you have 2 or more participants to attend both training courses and an available meeting room to accommodate up to 10 participants, you may also apply for hosted training. By doing that, you will need to manage the entire event, but we will invite participants from other companies and provide you with a professional trainer. Another great bonus you will get - two of your participants will have a free seat at both courses.
Get full information on the scheduled, on-site or hosted Zabbix training here.
Register for the Next Zabbix Webinar

Zabbix Webinars is another great way to improve or refresh your knowledge about Zabbix Monitoring Solution, including such topics as: Zabbix architecture, elements, capabilities and setup options, areas of application, scalability and performance, services delivered by Zabbix.

Zabbix webinar sessions are completely free of charge and run on the Webex collaboration software platform. To participate, simply register for any webinar session, provided below, in accordance with your time and language preferences:

Thursday, May 9, 2013 at 17:00 GMT+3

Zabbix Monitoring Solution – an overview of the system


Duration:

60 min

Speaker:

Alexei Vladishev, CEO and founder of Zabbix SIA
Register

Language:

English

Organized by:

Zabbix SIA

Tuesday, May 14, 2013 at 17:00 UTC/GMT +9

Zabbix Monitoring Solution - オープンソース統合監視ソフトウェアZabbixのご紹介


Duration:

60 min

Speaker:

Kodai Terashima, CEO of Zabbix Japan LLC
Register

Language:

Japanese

Organized by:

Zabbix Japan LLC

Thursday,

May 23,

2013 at 17:00 GMT+3

Zabbix Monitoring Solution – an overview of the system

Duration:

60 min

Speaker:

Alexei Vladishev, CEO and founder of Zabbix SIA
Register

Language:

English

Organized by:

Zabbix SIA

Tuesday, May 28, 2013 at 17:00 UTC/GMT +9

Zabbix Monitoring Solution - オープンソース統合監視ソフトウェアZabbixのご紹介


Duration:

60 min

Speaker:

Kodai Terashima, CEO of Zabbix Japan LLC
Register

Language:

Japanese

Organized by:

Zabbix Japan LLC

Thursday, June 6, 2013 at 16:00 GMT+2

Zabbix Monitoring Solution – Vue d'ensemble


Duration:

60 min

Speaker:

Alain Ganuchaud, Core IT, France, Reseller
Register

Language:

French

Organized by:

Zabbix Japan LLC
Webinar schedule is updated on a regular basis, so check for newly added sessions.