Fourth Alpha Release of Zabbix 2.4
We are pleased to announce that the fourth Alpha Release of Zabbix 2.4 - Zabbix 2.3.3 is available for download and testing. For more information read the Release Notes.

Focus on Zabbix Conference 2014
Interviews with Speakers
We have started a series of pre-conference interviews with speakers of Zabbix Conference 2014, asking them about their thoughts and plans on the upcoming event.
You can read all of the interviews on the Zabbix Weblog.
Silver Sponsor
We are pleased and honored to announce that Allenta Consulting, Zabbix Partner in Spain, became a Silver Sponsor of Zabbix Conference 2014!
With years of experience and highly skilled technical professionals Allenta offers design and administration of Linux and Unix systems infrastructure.
We would like to welcome and thank all the companies that are generously supporting our upcoming event!
Zabbix Conference 2014 Merchandise
Show your passion for Zabbix with various merchandise items, which will be available for purchase during Zabbix Conference 2014.
Take a keepsake with you, to remind you of the good moments from the conference. Supply of items is limited so be the first to choose from variety of items like T-shirts, sport caps, silicone bracelets, tea mugs or your convertible travel pillows.

Zabbix Taking Part in Conferences
IT Summer Conference 2014
On 27-29 August we will participate in the IT Summer Conference, an event presented by Novell, Suse, NetIQ and partners, the third day of which is dedicated to Open-Source and Linux, when Rihards Olups, Senior consultant at Zabbix SIA, will introduce Zabbix Monitoring Solution product and services to the visitors of the conference.
The OSMC | Open Source Monitoring Conference 2014
The Open Source Monitoring Conference 2014 is another great event that Zabbix SIA will join. Here Rihards Olups will also give a speech on Zabbix, called – "Interesting use cases of Zabbix / Improvements in latest versions". Make sure to come! Details are available here.

New Certified Partner in Japan
We are proud to announce that Zabbix Japan LLC has signed Certified Partnership agreement with NIPPON SYSTEMWARE CO., LTD. (NSW), an IT solution provider in Japan, that provides IT resources, realizes cloud computing services, data center solutions and a wide range of IT support, including migration design and integration.
By becoming a Certified Partner NSW will be able to provide official Zabbix support, expanding their operation in automation and monitoring services. Read more on this partnership in our Press Release.

Configuring SNMP bulk requests on a host interface level [ZBXNEXT-2301]

Great news for people monitoring SNMP devices! In Zabbix 2.4 SNMP bulk requests can be enabled or disabled for each host interface separately. This will ensure the possibility to take advantage of the bulk request feature and still maintain compatibility with SNMP devices that do not support this feature.
Zabbix Summer Sport Games
Recently all Zabbixers and their families took part in 3rd Zabbix Summer Sport Games challenging our teams to use all of their strength, endurance and sense of humor to pass all of the prepared obstacles, bringing a lot of fun and adrenaline to the participants and their supporters.

​
Enjoy the article and pictures of this teambuilding event we've posted on the Zabbix Weblog, to put a smile on your face.

Join Zabbix Professional Training
We invite you to join Zabbix Professional Training courses, taking place in different countries and cities worldwide. Be among the professionals to become Zabbix Certified at the first Zabbix Professional Training in Czech Republic. Likewise do not miss the chance to participate in training courses in Seattle, Moscow and Sao Paolo, Brazil.
Please submit your application as soon as possible as the number of seats is limited. For other scheduled trainings, refer to our Training Schedule.
Seattle (WA), USA
Organized by: Zabbix SIA
Language: English
Trainer: Patrik Uytterhoeven
Zabbix Certified Specialist
25 - 27 August 2014
Apply
Zabbix Certified Professional
28 - 29 August 2014
Apply
Moscow, Russia
Organized by: Zabbix SIA
Language: Russian
Trainer: Alexey Pustovalov
Zabbix Certified Specialist
25 - 27 August 2014
Apply
Zabbix Certified Professional
28 - 29 August 2014
Apply
Prague, Czech Republic
Organized by: Zabbix SIA
Language: English
Trainer: Oleg Ivanivskyi
Zabbix Certified Specialist
22 - 24 September 2014
Apply
Zabbix Certified Professional
25 - 26 September 2014
Apply

Join the Upcoming Webinars
We encourage you to register for the upcoming webinars, which are scheduled starting as of tomorrow in Portuguese and German languages, organized by our partners Unirede Soluções Corporativas and DV Lösungen Schreiner GmbH.
Participation in webinars is completely free of charge. Register for the topic of your choice!

Contact Sales
Worldwide: +371 6778 4742
USA (Toll-Free): 1-877-4-ZABBIX
Japan: 03-3582-5388
E-mail: [email protected]
In this Issue

Training Schedule

Training Brochure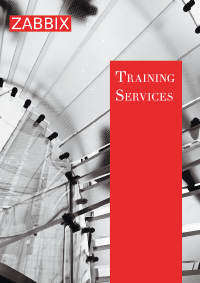 Books on Zabbix