Zabbix 2.4 Features Preview
Continuing the preview of the improvements and the new features of the upcoming Zabbix 2.4, Rihards Olups, our Senior Consultant at Zabbix SIA, has already posted the forth article in the series, named: Web monitoring URL limit increased to 2048.

Zabbix Conference 2014
Last Call!
Tomorrow (August 21st) is the last day we are accepting international registrations and only 9 days left for Latvian attendees to register for Zabbix Conference 2014. You still have a chance to participate for an invaluable experience during engaging presentations, including live demos, technical sessions and a lot more, if you Register Now.
Interviews with Speakers
To introduce you with the speakers of Zabbix Conference 2014 and to learn more about them and the planned agenda, we are continuing to publish the engaging interviews with the personalities and the great minds joining the Zabbix Conference 2014 in less than a month.
You are welcome to read all of the pre-conference interviews in the series on the Zabbix Weblog.

Newly Published Book on Zabbix
We are happy to announce that the first Zabbix book in Chinese will be available on Amazon starting from August 27.

This book guides the reader through Zabbix Monitoring Solution, starting from installation and basic applications to advanced customizations and comprehensive analysis of a large number of monitoring cases, demonstrating the possibilities provided by Zabbix.

More books on Zabbix can be found on our website.

New Entries on Zabbix Customers & Users Page
We know that Zabbix is used throughout the world and we are glad that we can be proud by showing-off our users and the organizations using Zabbix. Here are the latest additions to the Zabbix customers and users page:
Parallels,Inc, a global leader in hosting and cloud services enablement and cross-platform solutions from USA.
​Telerik, a developer of UI frameworks and app development tools from Bulgaria.
The Fraunhofer IPT from Germany, develops system solutions for production technology.
Also you can fill out the user registration form, send it to us, and we will gladly publish your company profile on our website.

More flexibility for action conditions [ZBXNEXT-1133]

Zabbix 2.4 already introduced custom expression support for LLD rule filters. Now, it's time to take it even further and add the same flexibility to action conditions. It will now be possible to specify a custom expression according to which the conditions will be evaluated.
Read About Zabbix on Хакер Magazine
One of the most read technology magazines in Russia, Хакер has published an article named "Using Zabbix to monitor critical systems" [in Russian].​
Feel free to read the full article on xakep.ru, and, please visit the Press page for more written and published articles about Zabbix.

Ever-growing Zabbix Family
Just like Zabbix, our team is constantly developing and growing and we are always on a lookout for talented C and PHP developers – people, who are passionate about what they do, and people with extensive knowledge of Zabbix.
Visit out career page, as this might be your chance to join the Zabbix Team at Riga office.

Grow With Zabbix Professional Training
Next week Zabbix Professional Training courses will take place in three different parts of the world simultaneously - choose from English, Russian or Portuguese languages and register now to become Zabbix Certified!
Strengthen the professional growth of your team, by joining one of the upcoming training events in many countries around the globe by visiting the Training Schedule.
Seattle (WA), USA
Organized by: Zabbix SIA
Language: English
Trainer: Patrik Uytterhoeven
Zabbix Certified Specialist
25 - 27 August 2014
Apply
Zabbix Certified Professional
28 - 29 August 2014
Apply
Moscow, Russia
Organized by: Zabbix SIA
Language: Russian
Trainer: Alexey Pustovalov
Zabbix Certified Specialist
25 - 27 August 2014
Apply
Zabbix Certified Professional
28 - 29 August 2014
Apply

Join the Upcoming Webinars
Webinars are a great opportunity to gain valuable knowledge, new skills and information about Zabbix, as well as get your questions answered by the professionals in the field.
We encourage you to register for a topic that you are interested in the most, as our upcoming webinar schedule will delight people interested in Zabbix Monitoring Solution and current Zabbix users, who speak Portuguese and German languages

Contact Sales
Worldwide: +371 6778 4742
USA (Toll-Free): 1-877-4-ZABBIX
Japan: 03-3582-5388
E-mail: [email protected]
In this Issue

Training Schedule

Training Brochure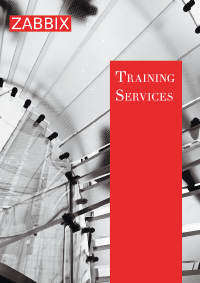 Books on Zabbix