New Zabbix Releases
We are happy to announce the availability of three Release Candidates – Zabbix 2.4.3rc1, 2.2.8rc1 and 2.0.14rc1 at the same time! The mentioned releases are now available for download.
Please test and report any issues you may come across. For more information and details, please read the complete release notes of 2.4.3rc1, 2.2.8rc1 and 2.0.14rc1.

Invest in Your Team
Look into the professional growth of your team and plan ahead for the next year, by taking advantage of Zabbix Professional Training events in 2015!
Do not forget to mark Zabbix Conference 2015 and 11-12 September in your calendar, as this will be a great chance to connect with Zabbix experts, community members, your business partners and potential clients, gaining invaluable knowledge and experiences.

End of Zabbix 1.8 Limited Support
Sadly we must announce that Zabbix 1.8 has reached the end of its limited support.
Goodbye Zabbix 1.8, it has been wonderful five years, and see you soon Zabbix 3.0.
We suggest that you upgrade your setup to the latest stable version, and for a no worries solution – check out our upgrade services, provided by the skilled hands of our developers.

Expanding Partnership Network in Switzerland
We are proud to announce that Zabbix SIA has signed a Reseller partnership agreement with BNC, an experienced provider of infrastructure-oriented solutions from Switzerland.
BNC with over 10 years of experience and always with the goal of enabling the customers to do their jobs better, faster and at lower cost, will now be able to provide its clients with a wide range of Zabbix professional services and support. Read more on this partnership in our Press Release.

Advanced filtering options in Triggers Top 100 reports [ZBX-1036]

Continuing with the work of improving filtering options across several frontend sections, a new filter has been added to the Triggers top 100 report.

While previously it was only possible to filter here by some predefined time period, now you may filter by host group, host, trigger severity, predefined time period and custom time period.
Presentations and Photos from Japan
Look back at the highlights and the moments that we shared during the Zabbix Conference in Japan by visiting the photo gallery page of the event.
All presentations from the Zabbix Conference in Japan are also available for you on the Agenda page (in Japanese).
Here are some reviews of the event on the news sources of Japan (in Japanese): EnterpriseZine, Think IT and My Navi news.

Meet the New Zabbix Certified Trainers!
Last week five students successfully completed the trainer course and joined the ever-growing family of Zabbix Certified Trainers.
All students, now trainers, have proven their knowledge and experience in Zabbix, showed their capabilities of teaching and, therefore, Zabbix can assure you that if you learn from them, you will learn from the best.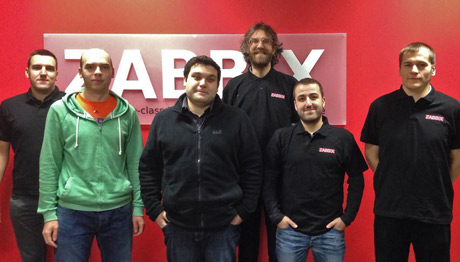 Please welcome: Ender Bankaoglu; Łukasz Reszka; Javier Terceiro Lopez; Ingus Vilnis and Filips Sudanovs, together with their mentor.

Are You Zabbix Certified?
You still have a chance to join next year's first Zabbix Professional Training event in Kortenberg, Belgium and enter the new year with new skills and possibilities.
You can always choose the most suitable training event location for you by visiting Zabbix Professional Training schedule page, or if you want Zabbix to organize a training course at your location, please contact us.

Take Part in Free Webinars
In the two upcoming weeks we invite you to attend fantastic Zabbix Webinars, either in English, Russian, Portuguese or in German, talking about Zabbix Monitoring Solution.
Please visit our Webinar schedule to choose from various topics and aspects of Zabbix Monitoring Solution.
Enhance your knowledge and understanding of Zabbix software and its capability from the leading Zabbix experts who will not only share their expertise with you, but also will answer your questions live.

Contact Sales
Worldwide: +371 6778 4742
USA (Toll-Free): 1-877-4-ZABBIX
Japan: 03-4405-7338
E-mail: [email protected]
In this Issue

Training Schedule

Training Brochure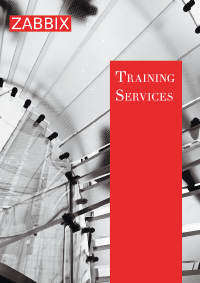 Books on Zabbix