Availability of Three Zabbix Release Candidates

Zabbix team is proud to announce the availability of three Zabbix release candidates - 2.2.2rc2, 2.0.11rc1 and 1.8.20rc1.

2.2.2rc2

fixes known issues of Zabbix 2.2.x, introduces new minor features and contains security fixes for CVE-2014-1685, CVE-2014-1682 and CVE-2013-5572. Details



2.0.11rc1

fixes known issues of Zabbix 2.0.x, including security fixes for CVE-2014-1682 and CVE-2013-5572, and introduces some new minor features. Details



1.8.20rc1

fixes known issues of Zabbix 1.8.x and contains a security fix for CVE-2014-1682. Details

Zabbix Introduces a New Release Policy & Life cycle

Zabbix team has committed to a new program of scheduled product releases on a six-month basis. From now on Zabbix will release a new stable version in every six months. Every 1,5 years the following Zabbix versions will be released:

1 Zabbix LTS (Long Term Support) release

that is supported for Zabbix customers during 5 years i.e. 3 years of Full Support and 2 additional years of Limited Support.




2 Zabbix Standard releases

that are supported for Zabbix customers during six (6) months of Full Support until the next Zabbix stable release, plus one (1) additional month of Limited Support.

(!) Please make sure to visit Zabbix Life Cycle & Release Policy page to get a full description and explanation of a new Zabbix release program.

Zabbix SIA Received an Award from The Latvian Open Technology Association
On 23 January the Latvian Open Technology Association (LATA) conference, called "Open Data: Opportunities and Challenges", has brought together more than 200 information and communication technology (ICT) industry representatives to share experiences and gain new knowledge about the possibilities of open data.
For the first time, during the conference LATA has organized an award ceremony, dedicated to individuals, companies and organizations and their investments in the ICT field. Awards consisted of three categories: the most "open" state authority; the most remarkable open technology solution for business; individual's contribution for the promotion of open technology.
Zabbix SIA received an award "The most remarkable open technology solution for business". Find out more about this event and see the pictures at Zabbix Weblog.


LA Meetup – Join Zabbix Talk & Discussion
On 26 February, one of Zabbix team members i.e. Rihards Olups will visit Los Angeles (CA, USA) to give a talk about Zabbix Monitoring Solution during LinuxLA Meetup (a group for Los Angeles Linux users).
During Rich's talk, called "Can Zabbix help your monitoring needs?" he will introduce Zabbix and cover its main features. The talk will also provide information on the current development and upcoming improvements.

Get more details and make sure to join the event!

Dates, Place and Theme for Zabbix Conference 2013 Are Set!

Preparation for the next Zabbix international conference, Zabbix Conference 2014, has officially started. We are glad to let you know that the 4th Zabbix annual conference will take place on 12-13 September in Riga, Latvia, at the conference hall of Radisson Blu Daugava Hotel.
The theme of the Zabbix Conference 2014 is "Scaling and high performance monitoring".
"Call for Papers", the opening of registration, program details and more are coming soon! You can find more information on the upcoming conference on Zabbix Weblog.

Links to configuration pages for linked templates [ZBXNEXT-1291]

A small but useful improvement in Zabbix 2.4. Now when linking templates to hosts or other templates, the names of linked templates will contain links to the template configuration pages. This will make navigation a bit more easier.

Zabbix Professional Trainings
In February both courses of Zabbix Professional Training will take place in Belgium, Italy and Brazil, organized by Zabbix trustful partners. If you are planning to join any of these training sessions, please make sure to register now, as the number of attendees is limited.
Turin, Italy
Organized by: Quadrata

Language: Italian
Trainer: Dimitri Bellini
Certified Specialist
10 - 12 February 2014
Details
Zabbix For Large Environments
13 - 14 February 2014
Details
Sao Paulo, Brazil
Organized by: Alerta

Language: Portuguese
Trainer: Adriano Amorim
Certified Specialist
17 - 19 February 2014
Details
Zabbix For Large Environments
20 - 21 February 2014

Details
For those, who are from Latvia or neighboring countries, you are welcome to register for the upcoming Zabbix Professional Training on 3-7 March to be hold in English by Alexei Vladishev, Zabbix SIA Founder & CEO. Get details and register here.


Tomorrow's Webinars – Join Now!
Tomorrow we invite you to attend free Zabbix Webinar either in Russian or in Italian, telling about Zabbix Monitoring Solution.

Both webinars will cover the key areas about Zabbix Monitoring Solution, according to a given topic. After each session, webinar attenders are welcome to ask their questions by using chat. So, please, use this great opportunity and register for tomorrow's webinar(s).
Thursday, 6 February at 10:00 GMT+04:00 (Moscow)
Что нового в Zabbix 2.2
Duration: 60 min
Register
Language: Russian
Organized by: Zabbix SIA
Thursday, 6 February at 17:00 GMT+01:00 (Rome)
Tuning di Zabbix per le migliori performance
Duration: 60 min
Register
Language: Italian
Organized by: Zabbix SIA

Contact Sales
Worldwide: +371 6778 4742
USA (Toll-Free): 1-877-4-ZABBIX
Japan: 03-3582-5388
E-mail: [email protected]

In this Issue

Training Schedule

Training Brochure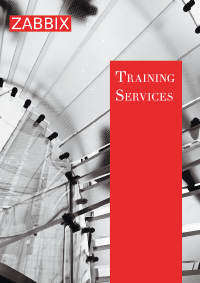 Books of Zabbix