The Latest Zabbix Releases

Last week, Zabbix Team has released Zabbix 2.2.2, 2.0.11 and 1.8.20! All three releases contain security fixes for CVE-2014-1685, CVE-2014-1682 and CVE-2013-5572 as well as introduce new minor features. More details on each release can be found at complete Release Notes page.


Results from Last Friday's Bugsquash Day

Last Friday, on 14 February, Zabbix Team together with Zabbix community spent a very productive Valentine's Day, dealing with "beloved" bugs. We thank you all, who has managed to join us and helped us to resolve some of the important issues we had. Here are the results of our joint work:
Thank you for your great co-work and looking forward for your cooperation on the next Bugsquashing Party!

Zabbix team always welcomes professional, useful and interesting Zabbix-related projects, apps and developments designed by Zabbix users, fans and followers all over the world. Please meet the two latest entries, submitted for Zabbix "3rd party tools" page:
See full list of 23 "3rd party tools" entries on this page.
Note! The tools described are developed and supported by third parties. Zabbix Company does not develop, test or support these tools. Zabbix Company is not responsible for any damage to your hardware, applications and/or data caused by the use of any of this software.

Improved performance of processing discovered triggers [ZBX-7109]

The Zabbix 2.2.2 release brought a major performance improvement: an advanced algorithm for processing discovered triggers by low-level discovery rules. The new algorithm greatly reduces the load on the database and can handle lots of discovered triggers without any delays. In Zabbix 2.2.3 similar improvements will be done for discovered graphs.

Approaching Webinars

Tomorrow you will have a chance to join three Zabbix webinars, related to Zabbix Monitoring Solution that will be held: in Portuguese by a representative of one of Zabbix Premium Partners in Brazil, Luciano Alves from Unirede Soluções Corporativas; and in English by Alexei Vladishev, Founder and CEO of Zabbix SIA.

Participation in webinars is completely free of charge, so you are welcome to join!

Thursday, 20 February at 11:00 GMT-03:00 (Porto-Alegre)
Zabbix - Uma visão geral do sistema
Duration: 60 min
Register
Language: Portuguese
Organized by: Zabbix SIA
Thursday, 20 February at 17:00 GMT+02:00 (Riga)
Zabbix – Overview of the system
Duration: 60 min
Register
Language: English
Organized by: Zabbix SIA
Thursday, 20 February at 14:00 GMT-03:00 (Porto-Alegre)
Ajustando para melhor desempenho
Duration: 60 min
Register
Language: Portuguese
Organized by: Zabbix SIA
Please refer to the schedule of Upcoming Webinars in order to join other upcoming webinars in English, French, Chinese and Polish!


Contact Sales
Worldwide: +371 6778 4742
USA (Toll-Free): 1-877-4-ZABBIX
Japan: 03-3582-5388
E-mail: [email protected]

In this Issue

Training Schedule
Brazil

, 20-21 February, 2014

Latvia

, 3-7 March, 2014

Brazil, 10-14 March, 2014

Italy, 10-14 March, 2014




Brazil, 29 Sep - 2 Oct, 2014

Training Brochure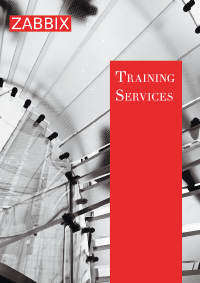 Books of Zabbix