Zabbix Names Five New Partners
Two New Resellers in Japan
Zabbix Japan LLC has recently signed Partnership agreements with two new Resellers in Japan: Plat'Home Co., Ltd. and System Support Inc.
Plat'Home Co., Ltd. serves customer needs completely from helping to introduce the Zabbix solution included in Zabbix Enterprise Appliance to operation after introduction.



System Support Inc. provides system integration services with a focus on the original Cloud Kobo brand, which contains services utilizing AWS (Amazon Web Service).

First Zabbix Certified Partner in Kyushu District in Japan
Zabbix Japan LLC has signed Certified Partnership agreement with Q-DEN BUSINESS SOLUTIONS Co.,Inc(QBS). QBS core business is to develop, operate and support mission critical systems for electricity business, which require high stability and reliability.
By becoming Zabbix Certified partner, from now on QBS will expand its solution using Zabbix, which can be customized easily and has a lot of functions, to be more responsive to clients' needs.
Newly Signed Resellers in the UK and Iran
Zabbix SIA is proud to announce the recently established partnership relations with two companies:

Nebulas – the UK's largest independent cyber security specialist. The company offers the technical expertise, in-depth market knowledge and outstanding service and support to meet today's security challenges.



SadidAfarin (SACO) – a company in Iran that operates in Information Security Market and is focused on delivering Open Source professional solutions and services to the customers.
For complete list of Zabbix partners, please visit this page.


Support Development of ZBXNEXT-104
Zabbix team invites you all to support development of the project – ZBXNEXT-104, Switch Trigger to OK State Based on Acknowledgement. Development of this feature will provide an option to resolve a problem based on acknowledgement. For example, a log entry about a detected problem would have to be acknowledged before trigger could return to OK state.
If you find ZBXNEXT-104 useful, then you may support its development by pressing "Contribute to this project" in the list of Zabbix active projects. Currently it is funded for 10% from the total required amount.
Please refer to this page for more details on ZBXNEXT-104.


Explore Zabbix Customers & Users
We are pleased to introduce you to a new Zabbix user from the United States – Bodybuilding.com. Bodybuilding.com was established in 1999 and it is now the largest online sports nutrition company in the world and has been recently ranked the No.1 most visited bodybuilding and fitness website.

Please visit Customers & Users page or see our Map of Zabbix installations for more companies and locations around the world that use Zabbix.

New "User" daemon configuration parameter [ZBXNEXT-453]

It is sometimes useful to be able to run Zabbix daemons as a specific user instead of the current one. To allow that, we've added a new "User" parameter to the Zabbix server, agent and proxy configuration files. If this parameter is set, running a daemon as the root user will actually run it as the user specified in the configuration.
Soon To Be Trainings
Please have a look on the upcoming Zabbix Professional Trainings and register if these are suitable for you:
Turin, Italy
Organized by: Quadrata

Language: Italian
Trainer: Dimitri Bellini
Certified Specialist
10 - 12 February 2014
Details
Zabbix For Large Environments
13 - 14 February 2014
Details
For other trainings in different languages and locations, please have a look on the Training Schedule – there are currently planned 46 training courses in 5 countries: Belgium, Brazil, France, Italy and Japan.


Upcoming Webinars
Make sure to join tomorrow's webinar on Zabbix Monitoring Solution that will be held in Italian by one of Zabbix partners, Dimitri Bellini from Quadrata di Bellini Dimitri.

The next upcoming webinar session (in Italian) will take place in two weeks, so if you want to hear how to tune your Zabbix for better performance, then please feel free to register.

Thursday, January 23, 2014 at 16:00 GMT+2 (Rome)
Zabbix Monitoring Solution - panoramica di sistema
Duration: 60 min
Register
Language: Italian
Organized by: Zabbix SIA
Thursday, February 6, 2014 at 16:00 GMT+2 (Rome)
Tuning di Zabbix per le migliori performance
Duration: 60 min
Register
Language: Italian
Organized by: Zabbix SIA

Contact Sales
Worldwide: +371 6778 4742
USA (Toll-Free): 1-877-4-ZABBIX
Japan: 03-3582-5388
E-mail: [email protected]

In this Issue

Training Schedule

Training Brochure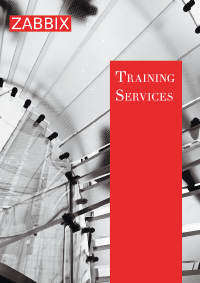 Books of Zabbix