Zabbix 2.2.4 Release Packages for Additional Platforms
We are proud to announce that following the latest Zabbix 2.2.4 release, official CentOS, Debian and Debian Squeeze, RHEL and Ubuntu packages for Zabbix 2.2.4 are available for download.
It's time to upgrade!

Zabbix 2.4 is Just Around the Corner
Zabbix team is working hard to bring you our upcoming major version of Zabbix 2.4, and while our major version is nearing its release, we can already start looking at the new features that will arrive with it, as our Senior Consultant, Rihards Olups has started a series of blog posts dedicated to previewing the most sought for, new features of Zabbix 2.4, by publishing the first article - "Zabbix 2.4 features, part 1 – Multiple LLD filters".
If you are interested in the new features, we encourage you to follow our blog post series and test the latest Zabbix development version – and we know that final 2.4 release will work flawlessly for you.

Excited to See You at Zabbix Conference 2014
We know that time flies when you are having fun, and summer passes by in an instant - do not miss your chance to participate and ensure a seat at the Zabbix Conference 2014!
Register and Become Worry-Free
Creating our registration packages, we have taken care of everything, so that you can focus on the experiences and enjoy your stay.
To become worry-free we suggest that you choose one of the Full Conference registration packages, gaining you entrance to all of the events in the Conference Hall (with lunch and two tea breaks every day), access to full Fun-Stuff program including Welcome Party, Zabbix Conference Party and Post-Conference Evening event, three or two nights stay at Radisson Blu Daugava Hotel, and a transfer from the airport to the hotel and back.
Conference Agenda
Isaac Uribe, Registry Monitoring Engineer at ICANN (The Internet Corporation for Assigned Names and Numbers) completes our conference speaker lineup and will present on a topic of "Monitoring the Internet: when 6 millions of triggers is not enough". Make sure to register for Zabbix Conference 2014 and do not miss this and many other fascinating presentations!
Fun Stuff Program
On the post-conference evening we will invite you to join us on a trip to one of the most strategically important places of the Soviet Latvia - The Secret Soviet Bunker that was built for the needs of political and state authority elite of the 1980's, in case of a nuclear war. Exciting excursion and a warm dinner in the Soviet style among many other interesting things await our honored Zabbix Conference guests! ​

Q-DEN BUSINESS SOLUTIONS, one of Zabbix Certified Partners in Japan, introduced Zabbix to the attendees of "Kyushu Business Show 2014". Organized jointly with "Kuchu Eco Fair 2014" at the total venue area of 5000m2 and attracting about 20 000 visitors during the two days of the event.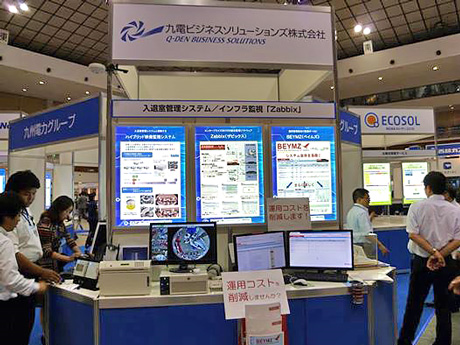 Latest Zabbix Partners
First Zabbix Premium Partner in Italy
Zabbix is very proud and honored to announce that after being Zabbix Reseller for more than 3 years and Zabbix Certified Partner for 2 years the company from Italy, Systematica s.r.l., has signed the highest partner status - a Premium Partnership agreement with Zabbix SIA.
Systematica proves that their company has special knowledge, experience, and capabilities to handle large projects related to Zabbix solution integration, implementation and support.
Please read our Press Release to find out more about Systematica and this partnership.
New Certified Partner in Russia
We have signed a Partnership Agreement with a new Certified Partner in the Russian Federation, Servionica (i-teco), a company that was one of the first to implement and develop IT-outsourcing market in Russia, currently offering services in the field of IT-infrastructure outsourcing and cloud computing.
We greatly appreciate this partnership as we believe this will bring a better reach to Zabbix monitoring solution to our clients in Russia.
For additional information regarding this partnership, please read our Press Release.

New trigger expression operators [ZBXNEXT-1782]

This new development aims to improve trigger expressions and make them more readable. Zabbix 2.4 will introduce several new operators: less or equal "<=", more or equal ">=" and logical "not". The binary logical operators "|" and "&" will be renamed to "or" and "and" respectfully as well as "#" will be renamed to "<>".
Zabbix Professional Training
2014 FIFA World Cup Brazil is ending this week, but our upcoming training events in Brazil are still available! You could also schedule a trip to visit Seattle, the Emerald City of USA, and join our Zabbix Professional Training taking place in August.
Take your pick and register for Zabbix Professional Training near you, and be even more productive this summer by becoming Zabbix Certified!
Seattle (WA), USA
Organized by: Zabbix SIA
Language: English
Trainer: Patrik Uytterhoeven
Zabbix Certified Specialist
25 - 27 August 2014
Apply
Zabbix Certified Professional
28 - 29 August 2014
Apply

Free Webinars Available
Zabbix Webinars are a great opportunity to build upon your knowledge, ask questions and receive answers - live, as our webinars are held in 9 languages by the leading Zabbix specialists all over the world.
Be on a lookout for the right Webinar for you, to discover best practices and gain new skills of Zabbix Monitoring Solution in the shortest period of time, by visiting our upcoming webinars page.

Contact Sales
Worldwide: +371 6778 4742
USA (Toll-Free): 1-877-4-ZABBIX
Japan: 03-3582-5388
E-mail: [email protected]
In this Issue

Training Schedule
Brazil, 29 Sep - 2 Oct, 2014

Training Brochure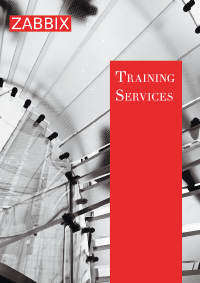 Books on Zabbix