New Releases of Zabbix
Zabbix 2.2.5 Available
Zabbix Team is proud to announce the release of Zabbix 2.2.5. This release is now available for download. Have a look at the overview of the new functionality and read the Complete Release Notes on our website.
Third Alpha Release of Zabbix 2.4
Excitement is growing with every day, as on the 11th of July we have announced the availability of Zabbix 2.3.2, the third Alpha Release of Zabbix 2.4. This release is also available for download and testing. For more details, please read the Release Notes.

Zabbix 2.4 Features Preview
Our Senior Consultant, Rihards Olups, has posted articles on Zabbix blog, continuing the series of posts previewing the improvements and new features of the upcoming Zabbix 2.4 major release.
Zabbix Features Part 2
The article: Controlling redirects and header retrieval for web monitoring introduces our blog readers with the possibilities of controlling and testing redirects and retrieving only page headers instead of full pages, with the help of a simple checkbox.
Zabbix Features Part 3
In the latest article in the series: SSL verification and authentication controls our Senior Consultant explores the new options regarding SSL authentication by verifying SSL certificates and supplying client certificates, so that the server can be sure the client is what it claims to be.

​

Less Than a Month to Register for Zabbix Conference 2014
With less than a month left to register (deadline is the 21 of August) for Zabbix Conference 2014 - act now and do not miss your chance to participate, as there are so many right reasons to come!
Zabbix Conference 2014 could be a great chance to meet your business partners and potential clients, so we encourage you to share the information about our conference with your contacts and let your friends, partners and clients benefit from this event.
Welcome the Gold Sponsor of Zabbix Conference 2014
We are proud to announce Unirede Soluções Corporativas, our partner from Brazil, as the Gold Sponsor of Zabbix Conference 2014!
Operating for more than 14 years in the corporate market, Unirede Soluções Corporativas provides essential cross-platform services in network infrastructure, support, training and strategic management in the area of Information Technology, enabling their customers to leverage the use of technology by focusing on their core business and realizing their goals!

Do You Use Zabbix? Be Proud and Show it!
Companies and specialists around the world trust in Zabbix Monitoring Solution, utilizing its advanced features and robust performance, and we are always curious to know where and how our software is used.
If you are a satisfied user of Zabbix - let us know and add another point on the Map of Zabbix Installations around the world, as we are proud to show-off those happy organizations that are using Zabbix to monitor their IT infrastructures. Please fill out this form and send it to us, and we will gladly publish your company profile on our clients page.

Success of Bugsquash Day
Yesterday on the 22th of July the Zabbix team of developers with the help of Zabbix community members spent many hours, discovering and fixing the bugs found in Zabbix 2.4 alpha releases, to ensure that the approaching major release of Zabbix 2.4 will be of the highest quality and as polished as we can possibly make it.
We would like to thank all Zabbix fans and community members for your efforts and being with us on this Bugsquash Tuesday. Good work everyone!

Evolving Partnership Network in Russia
Zabbix SIA has signed a Certified Partnership agreement with CROC (Russia), elevating the official partnership status of CROC from Reseller to Certified Partner.
By becoming officially authorized, CROC, a leading Russian company in IT infrastructure design and implementation, will now be able to provide Zabbix solution integration, application and official support, delivering services and solutions backed-up by Zabbix to their clients.
Find more information about this milestone in our Press Release.

Additional web monitoring options [ZBXNEXT-282]

Zabbix 2.4 will bring even more improvements for web monitoring. Web scenarios will now have built in SSL certificate support, as well as the ability to retrieve only headers and follow HTTP redirects. Additionally it will be possible to specify the HTTP headers sent both on web scenario and scenario step levels.

Zabbix Professional Training
We would like to highlight Zabbix Professional Training sessions taking place in Moscow, Russia starting on the 25th of August, Seattle, the United States of America, also starting on the 25th of August and as well as the autumn training session in Europe - Madrid, Spain, taking place from 3 - 6 November.
Plan ahead for the second part of the year and look into the professional growth of your team, by joining one of the upcoming training events in many countries around the globe.
Moscow, Russia
Organized by: Zabbix SIA
Language: Russian
Trainer: Alexey Pustovalov
Zabbix Certified Specialist
25 - 27 August 2014
Apply
Zabbix Certified Professional
28 - 29 August 2014
Apply
Seattle (WA), USA
Organized by: Zabbix SIA
Language: English
Trainer: Patrik Uytterhoeven
Zabbix Certified Specialist
25 - 27 August 2014
Apply
Zabbix Certified Professional
28 - 29 August 2014
Apply
Madrid, Spain
Organized by: Zabbix SIA
Language: Spanish
Trainer: Luciano Alves
Zabbix Certified Specialist
3 - 5 November 2014
Apply
Zabbix Certified Professional
6 - 7 November 2014
Apply

Participate in Free Webinars
Join us for one of the many free webinars being held next week, as you can always find a Webinar to discover new knowledge of Zabbix Monitoring Solution, ask questions and receive answers.
We encourage you to register for the webinars that best suit your needs by visiting our upcoming webinars page. Use this opportunity to enhance your skills and knowledge.

Contact Sales
Worldwide: +371 6778 4742
USA (Toll-Free): 1-877-4-ZABBIX
Japan: 03-3582-5388
E-mail: [email protected]
In this Issue

Training Schedule
Brazil, 29 Sep - 2 Oct, 2014

Training Brochure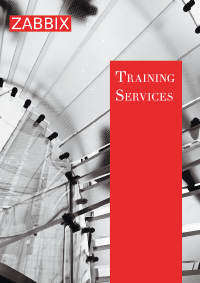 Books on Zabbix