Zabbix 2.2.4 Release Available
We are proud to announce that Zabbix 2.2.4 is now available. It comes with faster Zabbix GUI, improved usability along with a number of bug fixes and improvements. 2.2.4 is now available for download. For more details, please read the Release Notes.

Zabbix at the Center of Attention at Interop 2014
We want to thank all Zabbixers, who visited us and participated in our events at Interop 2014 in Tokyo, Japan. This exhibition, visited by more than 132 thousand people, was a huge success for us. During the three days our expo booth was crowded by Zabbix fans, users and people intrigued by demos, presentations and the possibilities that Zabbix and our Certified Partners, who joined us to introduce Zabbix related solutions, can offer.

We look forward to seeing you all next year!

Join Zabbix Conference 2014 as a Team!
We know that Zabbix Conference 2014 can be a great teambuilding experience and that is why we encourage you to join us together with your colleagues as we offer a 10% discount to 3 or more participants from the same company, choosing the same registration packages.
We have lots of surprises in store for the participants of our conference, so keep this in mind when making your Registrations.
Silver Sponsor of the Conference - NTT ComTechnology
We are proud to announce that NTT ComTechnology from Japan has become the silver sponsor of Zabbix Conference 2014. NTT ComTechnology, a Certified Partner of Zabbix, giving full support for Zabbix Monitoring Solution deployment, from initial consultation, installation, to system operation.

​

​​​
New Zabbix Reseller From Brazil
VANTAGE TI and Zabbix SIA have signed a partnership agreement, making Vantage an official Reseller of Zabbix services in Brazil. Vantage has become a reference in education and capacity development of new Open Source technologies in Brazil, allowing the company to meet important needs of national and international private institutions and public agencies.
By becoming an authorized reseller of Zabbix, Vantage will extend and resell Zabbix services throughout Brazil, offering Zabbix professional services and support to local customers, which are then delivered by Zabbix directly.
You can find out more information about this partnership in our Press Release.

More detailed error messages for unsupported items [ZBXNEXT-2203]

One of the new features of 2.4 are improved error messages for unsupported items. If you create an item with an invalid item key, the agent will return more information about what's wrong and you'll see a more detailed error message in the "Info" column on the item configuration page. It will give you a hint on where to look for the error and make debugging much easier.
New Zabbix Book Published in Japan
Another great book about Zabbix 2.2 for our Japanese users was released on June 17th and it is ready for you to order at Amazon. It is the revised edition of the first Zabbix book published in Japan, examining the best practices to fault notifications, trend analysis and data visualization.
More books on Zabbix can be found on our website.

Zabbix Professional Training Near You
Join our Zabbix Professional Training courses taking place in South Africa, Italy and United States of America, starting from the very end of June, organized by Zabbix and our trustful partner Quadrata di Bellini Dimitri. We will be happy to register you and your colleagues to the training event near you, as you still have a chance to apply and become Zabbix Certified.
You can always have a look at the forthcoming Zabbix Professional Training around the world by visiting Zabbix Professional Training page.
Fourways, S.Africa
Organized by: Zabbix SIA
Language: English
Trainer: Gabriele Armao
Zabbix Certified Specialist
30 June - 2 July 2014
Apply
Zabbix Certified Professional
3 - 4 July 2014
Apply
Evanston (IL), USA
Organized by: Zabbix SIA
Language: English
Trainer: Vladimir Ulogov
Zabbix Certified Specialist
14 - 16 July 2014
Apply
Zabbix Certified Professional
17 - 18 July 2014
Apply

Valuable Webinars This Week
Join us for one of the many free webinars being held this week! Hosted by Alexei Vladishev, CEO of Zabbix SIA, and Pascal Schmiel, Senior Consultant of DV Lösungen Schreiner GmbH, covering topics as "Tuning your Zabbix for Better Performance" and "Zabbix - Overview of the system".
We encourage you to register for the upcoming webinars that best suit your needs & timing and use this opportunity to discover the best practices and gain new knowledge.

Contact Sales
Worldwide: +371 6778 4742
USA (Toll-Free): 1-877-4-ZABBIX
Japan: 03-3582-5388
E-mail: [email protected]
In this Issue

Training Schedule
Brazil, 29 Sep - 2 Oct, 2014

Training Brochure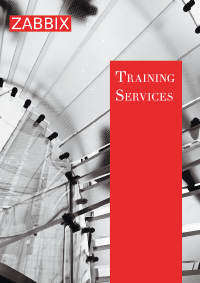 Books on Zabbix