Registration for Zabbix Conference 2014 Is Open

We are happy to let you know that the official page of Zabbix Conference 2014 is now published and available for your attention. As it was already mentioned before, Zabbix Conference 2014 will take place on 12-13 September 2014 in Riga, Latvia, at the conference hall of Radisson Blu Daugava Hotel.

The official part of Zabbix conference will last for 2 days i.e. Friday and Saturday. This year the conference will be dedicated to scaling and high performance monitoring, so if you have an interesting topic to share, please submit it in the Call for Papers section.

You are all welcome to join Zabbix team on the 4th international Zabbix conference! Find out more about the upcoming event and register now, choosing between 6 available registration packages.


Zabbix Professional Training – New Courses and Program!

We would like to pay your attention on the recent improvements and changes that were made in the Zabbix Professional Training program. Now, Zabbix offers 2 standard training courses, called:
Zabbix Certified Specialist ensures easy understanding of Zabbix concepts and structure for the IT professionals, who need to run Zabbix efficiently and provide support to other Zabbix users.



Zabbix Certified Professional provides IT professionals with the knowledge and skills necessary to configure and use Zabbix proxy and distributed monitoring for your network and application monitoring needs, as well as discusses advanced Zabbix topics.

New program specifications as well as the updated training schedule with new courses are available for you on the Zabbix Professional Training page.

First Zabbix Reseller from Estonia
Last week, Zabbix SIA has signed partnership agreement with its first Reseller from Pärnu, Estonia – OpenNode LLC. OpenNode is a company behind open-source OpenNode Cloud Platform. The company delivers flexible components, blueprints and consultancy services for building and managing hybrid cloud solutions.
Becoming Zabbix reseller, OpenNode is now authorized to offer its customers Zabbix professional services that perfectly complement company's open-source software model and open standards support. Read more about this alliance.

Adail Horst, one of the Zabbix Certified Specialists and active community members, has submitted his project, called Zabbix-extras to Zabbix "3rd Part Tools" section. Zabbix-extras is a plugin that adds functionality to Zabbix 2.2 – it changes the front-end of your Zabbix to allow access to new functions. Get details or download this plugin here.
Note! The tools described in "3rd Party Tools" section are developed and supported by third parties. Zabbix Company does not develop, test or support these tools. Zabbix Company is not responsible for any damage to your hardware, applications and/or data caused by the use of any of this software.

Improved audit log page [ZBXNEXT-1533]

In 2.4 we've made a number of improvements to the audit log. To avoid confusion, the "Log" and "Actions" pages of the "Audit" section have been renamed to "Audit log" and "Action log" respectively. The action log table has been redesigned to display an error indicator and the name of the action that generated the alert. As an additional improvement made in ZBXNEXT-421 each message log entry will also display the user that it was sent to.

Webinars on Zabbix 2.2

For the Portuguese-speaking audience, we encourage you to register for tomorrow's webinars, one of which will tell you what makes Zabbix 2.2 so special and another will provide you with an overview of Zabbix professional services (see the table below).
If you would like to attend Zabbix webinars in 9 other languages, including Chinese, English, French, Italian, Japanese, Polish, Portuguese, Russian or Spanish, then, please, make sure to follow Webinars schedule, which is constantly updated with new sessions.
Thursday, 6 March at 11:00 GMT-03:00 (Porto-Alegre)
O que há de novo no Zabbix 2.2
Duration: 60 min
Register
Language: Portuguese
Organized by: Zabbix SIA
Thursday, 6 March at 14:00 GMT-03:00 (Porto-Alegre)
Serviços Zabbix
Duration: 60 min
Register
Language: Portuguese
Organized by: Zabbix SIA

Contact Sales
Worldwide: +371 6778 4742
USA (Toll-Free): 1-877-4-ZABBIX
Japan: 03-3582-5388
E-mail: [email protected]

In this Issue

Training Schedule
Brazil, 10-14 March, 2014

Italy, 17-21 March, 2014

Brazil, 29 Sep - 2 Oct, 2014

Training Brochure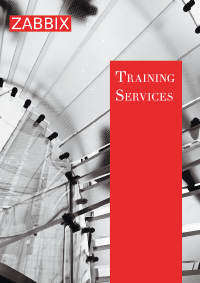 Books of Zabbix