Zabbix Conference 2014 – Join!

Zabbix Conference 2014 is approaching, gaining more interest among Zabbix followers and users and, of course, collecting new registration submissions each day. While we welcome our registered attendees, for those, who are still deciding on their trip to Latvia on 12-13 of September, we would like to pay your attention on the Zabbix Conference 2014 Map, where you can find the key destinations of Zabbix conference this year.

As always, the upcoming event will not only consist of invaluable official agenda (which will be related to scaling and high performance monitoring this year), but also will take you to the most interesting places in Latvia.☺

Please register now and get a special "early bird price", which is available until 22 May 2014! Or, if you have an interesting topic to talk about and you want to become one of our honored speakers for the upcoming conference, then please make to send your Call for Papers application until next Monday, 24 March!


Zabbix New Certified Partner in Japan

Zabbix is proud to announce about its new Certified Partner from Tokyo, Japan – Nisseicom, Limited. Established in 1974, Nisseicom has been supporting customer IT infrastructures with one-stop solutions, consisting of: ERP package, accounting solution, SAP template, Operation consulting, Cloud service and Network construction.

Becoming as Zabbix Certified partner, Nisseicom is now able to combine Zabbix with other company products to reach the best results in solving a customer's operation problems. Read more about Zabbix Partnership program here.


Just a quick reminder that the next Zabbix Bugsquash Day is scheduled for Friday, 28 March, which is the next week already! Please join Zabbix team and help us to effectively work on Proposed Agenda.

Who Else Uses Zabbix?
Time to time we introduce you with the new users of Zabbix Monitoring Solutions. And today we are glad to let you know that another reputable company has joined our list of Zabbix Customers and Users.

ITtelligent Consulting Services – an IT company (Melbourne, Australia) that supports and configures IT systems for small to medium businesses, has implemented Zabbix Monitoring Solution to resolve the issue with the control over the remote hardware and client's servers. Read more about ITtelligent Consulting Services here.

Descriptions for hosts, templates and proxies [ZBXNEXT-2117]

One of the improvements coming in Zabbix 2.4 is the ability to add descriptions for hosts, templates and proxies. If you need to note additional information on how to work with a host or use a template, you will now be able to leave a comment in a separate text field. Notes made for a host will also be displayed on the host inventory page.

Be "Zabbix Certified"!
Zabbix Professional Training is one of the key tools of how you can gain the most professional and advanced knowledge about Zabbix software within the shortest time. Our training program consists of two main courses and lasts in total for 5 days: 3 days for the Zabbix Certified Specialist course and 2 days for the Zabbix Certified Professional course.
Zabbix training sessions are taking place every week in different countries and cities worldwide, being presented by the leading Zabbix experts and consultants in 9 languages. Please follow our training schedule, which is updated regularly, and apply for the most convenient training course for you!
Visit Zabbix Professional Training page for more information.


Do Not Miss Zabbix Webinars in German!

We are glad to announce that in two weeks Zabbix webinars will be held in German by the representative of DV Lösungen Schreiner GmbH – one of Zabbix trustful Certified Partners in Germany. The two webinar sessions will cover topics on: "Zabbix architecture and key features" and "how to tune your Zabbix for better performance".
Tuesday, 1 April at 15:00 GMT+01:00 (Berlin)
Zabbix Monitoring Lösung - Architektur und Key Features
Duration: 60 min
Register
Language: German
Organized by: Zabbix SIA
Thursday, 3 April at 15:00 GMT+01:00 (Berlin)
Performanceoptimierung für Ihre Zabbix-Lösung
Duration: 60 min
Register
Language: German
Organized by: Zabbix SIA
For all interested persons, you can register for the upcoming webinars in German for free on Zabbix Webinars page. For everyone, who understands Portuguese or Italian, we welcome you to attend tomorrow's webinars on Zabbix 2.2 and Zabbix Services.


Contact Sales
Worldwide: +371 6778 4742
USA (Toll-Free): 1-877-4-ZABBIX
Japan: 03-3582-5388
E-mail: [email protected]

In this Issue

Training Schedule
Brazil, 29 Sep - 2 Oct, 2014

Training Brochure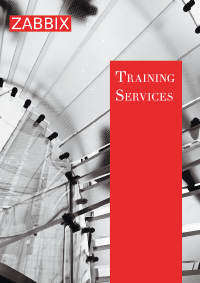 Books on Zabbix