Happy Birthday Zabbix SIA!

Last month, on 12 April, Zabbix Team has celebrated the 9th anniversary of Zabbix SIA! One more year has successfully passed, bringing many new trustful and honored partners, customers, supporters and friends, of course, to our company.☺ Without you and your great support, the company's journey wouldn't be as interesting, resourceful and promising, so thank you for being with us all this time – you make everything happen!


Latest Zabbix Releases

Zabbix 2.2.3. This release fixes known issues of Zabbix 2.2.x and introduces new minor features. Please give it a try by downloading it from http://www.zabbix.com/download.php. Complete Release notes are available here.
Zabbix 2.0.12rc1 (Release Candidate). This release fixes known issues of Zabbix 2.0.x and introduces new minor features. Please note that it is not for production use, it is a Release Candidate! For complete information about this release, please refer to Release Notes.

Zabbix Conference 2014 – Early Bird Pricing Ends on May 22!
Have you already registered for the Zabbix Conference 2014? The 4th annual conference will take place in Riga, Latvia, on 12-13 September, assembling the greatest and ingenious minds of IT from all over the world. 20 professional presentations, consisting of live demos, technical sessions and live talks, will be presented during the event, bringing the valuable information to each conference attendee, whether you are an advanced IT expert or a start-up.
Register until 22 May and get an "early bird" price. Join our conference! Gain invaluable knowledge & experience! Be among associates and the leading representatives of IT industry! Read more here.

New Zabbix Partners & Users
Terrasoft – the first Zabbix Technology Partner from Russia
Terrasoft, a leading global provider of enterprise-wide CRM solutions, has signed the Technology Partnership Agreement with Zabbix SIA. Becoming a partner of Zabbix SIA, Terrasoft is now able to provide its customers with an all-in-one solution, consisting of implementation of CRM and BPM with installation of Zabbix Monitoring Solution. Read more.
BookingLive from UK uses Zabbix
We are proud to announce that Zabbix software is used by BookingLive – a provider of hosted booking platforms around the world. According to the company's feedback, Zabbix was chosen due to being open source, and presentation wise fitting the requirement of being usable by anyone in the business. Read more.

Social Events Involving Zabbix
Zabbix Japanese Community Event

On April 12, Zabbix Japan LLC participated in the ZABBIX-JP study meeting #6. Around 100 people have joined the meeting, consisting of 9 presentations. During the event Kodai Terashima, CEO of Zabbix Japan LLC, has presented his talk on Zabbix, providing the latest information on Zabbix Monitoring Solution.


Featured presentations can be downloaded here [in Japanese].
Upcoming Events in May

FISL 15 - The International Free Software Forum. Starting from today FISL15 is taking place in Porto Alegre (Brazil). On Friday, 9 May at 09:00-11:00 Alessandro Silva, one of the Zabbix Certified Specialists and an active community member of Zabbix Brazil Community, will have a Zabbix meeting, so please join.


Solutions Linux – Open Source 2014. On 20-21 May Zabbix SIA will be exhibiting at the event. So, if you are planning to visit the expo, make sure to attend the Zabbix team at our booth and ask your questions about Zabbix product and services.

Zabbix Popularity on Habrahabr.ru
Recently there were few interesting articles published on Habrahabr.ru – one of the largest, authoritative and influential Russian IT portals. If you have not read them yet, then we are glad to share these with you [In Russian]:

Searching by technical names of hosts [ZBXNEXT-1119]

One of the easiest ways to find a specific host in Zabbix has always been using the search function. To make it even more convenient, Zabbix 2.4 will also allow to search by technical names of hosts. Now if the technical name of a host matches the query string, it will be displayed right under the visible name on the results page.
Newly Scheduled Zabbix Trainings
Please have a look on the recently added Zabbix Professional Training in Germany, held on 2-6 June. The training will consist of two courses, presented in English by the representative of one of Zabbix Partners, Patrick Uytterhoeven, from Open-Future.
Ahrensburg, Germany
Organized by: Zabbix SIA

Language: English
Trainer: Patrik Uytterhoeven
Zabbix Certified Specialist
2 - 4 June 2014
Apply
Zabbix Certified Professional
5 - 6 June 2014
Apply
For other training destinations and languages, please see Training Schedule.


8 Free Webinars Next Week!

Next week you have a chance to join any or all ☺ Zabbix webinars on 3 different topics:

Zabbix – Overview of the system
Tune your Zabbix for Better Performance
Advanced problem detection: get the most of trigger expressions
Sessions will be held in 3 languages: English, German and Russian. So, feel free to register for webinars, find out more about Zabbix monitoring solution and ask your questions live!


Contact Sales
Worldwide: +371 6778 4742
USA (Toll-Free): 1-877-4-ZABBIX
Japan: 03-3582-5388
E-mail: [email protected]

In this Issue

Training Schedule
Brazil, 29 Sep - 2 Oct, 2014

Training Brochure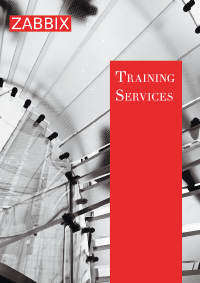 Books on Zabbix