Latest Zabbix Releases

First Alpha Release of Zabbix 2.4 is Out!
Zabbix Team is glad to announce the availability of Zabbix 2.3.0 - first alpha version of Zabbix 2.4. The release introduces major features along with numerous improvements. Zabbix 2.3.0 is now available for download. For more details, please read Complete Release Notes.
Zabbix 2.0.12
Zabbix team recently announced also the availability of Zabbix 2.0.12! This release fixes known issues of Zabbix 2.0.x and introduces new minor features. It is now available for download. For more details, please read Complete Release Notes.

Zabbix Conference 2014 – Plan Your Autumn Trip Ahead

Have you already decided to join Zabbix team at the upcoming Zabbix Conference 2014? We suggest you to choose the most suitable registration package and ensure your trip to the conference before summer vacations!

The interest and demand for Zabbix conference is increasing every year, so we suggest you to register for Zabbix conference now, as the number of seats is limited and might not be available after your summer rest.
Either you are from Japan, France, Germany, Italy, Russia, UK, Ukraine, USA, Spain, Netherlands or any other country – we will be happy to assist you with all queries regarding your trip to the conference. See you on 12-13 September in Riga, Latvia!


Our Run at Nordea Riga Marathon
On May 18, Zabbix team participated in the Nordea Riga Marathon – an annual marathon, held in Riga, Latvia, and one of the fastest growing marathons in the Northern Europe.

It is the 2nd year already when Zabbix team participates in this event. This time we were among 23,193 runners from 61 countries. So, here are our enthusiastic runners: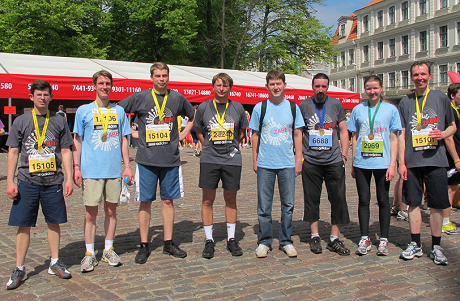 From left to right: Alexander Vladishev, Aleksandr Saveljev, Oleg Egorov, Sergey Sorokin, Alexei Vladishev, Vladimir Levijev, Mara Medne, Andris Mednis.

Zabbix Blog in German
For all German-speaking Zabbix users, fans and followers – we are glad to let you know that one of Zabbix Certified Partners in Germany, DV-Loesungen Schreiner GmbH has started a new Zabbix blog in German! The blog is called Zabbix-Inside and it is focused on all the latest, interesting and relevant topics about Zabbix Monitoring Solutions.

The blog admins are open to accept articles about Zabbix from third party authors, although only approved articles can be published. More information at zabbix-inside.de.

New Certified Partner from Japan
Last week Zabbix Japan LLC has signed a new Certified partner – Internet Initiative Japan Inc. (IIJ), one of the Japan's leading Internet-access and comprehensive network solutions providers. IIJ and its group companies provide total network solutions that mainly cater to high-end corporate customers. Moreover, IIJ has built one of the largest Internet backbone networks in Japan that is connected to the United States, the United Kingdom and Asia.
Read more about IIJ and company's provided services at Zabbix Partners page.

Last week we have received another interesting submission to our 3rd Party Tools collections. Zorka, designed by Rafal Lewczuk, is a programmable monitoring agent for Java. It integrates monitored JVM with Zabbix directly in the similar manner Zapcat used to work - using native Zabbix protocol. Zorka is released under GPLv3 and it comes with over 50 ready to use Zabbix templates for various application servers and Java frameworks.
To give it a try or to get more information, please visit this page.

Ability to include specific files from Include directory [ZBXNEXT-497]

In Zabbix 2.4 it will be possible to include specific daemon configuration files using patterns containing asterisk wild characters. For example, you can specify a path like "/path/to/config/files/*.conf" to include only the relevant files from the folder and skip the rest of the files.

Next Week Trainings – Last Chance to Register
Next week, on 2-6 June, Zabbix Professional Training will take place in Estonia and Germany. Both trainings will consist of two courses, held in English by the two professional and experienced Zabbix trainers, Rihards Olups and Patrik Uytterhoeven.
There are still few places available, so if you are interested in any of the mentioned trainings, please apply now by using the links below or by visiting Zabbix Professional Training page.
Tallinn, Estonia
Organized by: Zabbix SIA

Language: English
Trainer: Rihards Olups
Zabbix Certified Specialist
2 - 4 June 2014
Apply
Zabbix Certified Professional
5 - 6 June 2014
Apply
Ahrensburg, Germany
Organized by: Zabbix SIA

Language: English
Trainer: Patrik Uytterhoeven
Zabbix Certified Specialist
2 - 4 June 2014
Apply
Zabbix Certified Professional
5 - 6 June 2014
Apply
Apply for other forthcoming trainings in other countries, by viewing full Training Schedule.


Join Next Week Webinars For Free

There are several webinar sessions scheduled for the next week, telling about Zabbix Monitoring Solution architecture, elements, capabilities and setup options, as well as on how you can tune your Zabbix for better performance.
Planned webinars will be held in English and Russian, and presented by Alexei Vladishev, Founder and CEO of Zabbix SIA. Moreover, after the presentation all participants will have a great chance to ask questions about Zabbix, using chat, and get immediate answers.

Make sure to join the upcoming sessions and get the priceless knowledge from the Zabbix software creator absolutely for free!

Contact Sales
Worldwide: +371 6778 4742
USA (Toll-Free): 1-877-4-ZABBIX
Japan: 03-3582-5388
E-mail: [email protected]

In this Issue

Training Schedule
Brazil, 29 Sep - 2 Oct, 2014

Training Brochure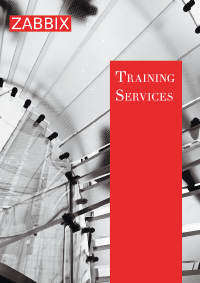 Books on Zabbix