New Zabbix Releases
We are proud to announce that Zabbix 2.4.2 and official packages for CentOS 7, Oracle Linux 7 and RHEL 7 are available for download.
Read more about the new features and improvements on the Release Notes page.

Zabbix at Events
Zabbix Conference 2014 Japan
Only one week left until the largest annual Zabbix event in Japan - Zabbix Conference 2014 Japan - will take place in Tokyo on November 21!
The attendees will have a chance to experience 14 great presentations starting from the opening speech by Alexei Vladishev, founder & CEO of Zabbix SIA, who will also deliver his talk called "5 Things to Improve in Zabbix", enjoy exciting talks, case studies, information about Zabbix related solutions, 3rd party tools and a wide variety of other topics.
Zabbix at OSMC

Next week on November 18-20 we will participate in the Open Source Monitoring Conference 2014 in Nuremberg, Germany - an event offering you the opportunity to improve your knowledge of open source monitoring systems.
On the third day of the conference Rihards Olups, Senior Consultant at Zabbix SIA, will introduce Zabbix with a presentation "Interesting use cases of Zabbix / Improvements in latest versions".
See you there!

Zabbix 1.8 Nearing Limited Support End
Five years ago we released the Zabbix 1.8 LTS and although we hate to say goodbye, we must look forward to the new possibilities (and Zabbix 3.0), sadly announcing that on the 30th of November Zabbix 1.8 will reach the end of its limited support.
Visit our life cycle and release policy page for more information.
Remember that you can upgrade to the latest stable version in the shortest time without a risk of losing valuable historical data, trends and configuration by using our upgrade services.

Run time housekeeper execution [ZBXNEXT-207]

One of the first interesting features added in Zabbix 3.0 is the ability to manually execute the housekeeper at any time. It is done by using the runtime control parameter -R of the Zabbix server. This feature can also be used to run the housekeeper according to your custom schedule.
On the Front Page of Sourceforge
Once again for three weeks in a row, Zabbix refuses to leave the front page of the largest open source applications and software directory - Sourceforge.net, chosen and featured as one of the Projects of the Week.
Now, thanks to your downloads, we have a real chance to be chosen as the Project of the Month!

Have You Visited Our Career Page?
Have a shot at the great opportunity to build your career at Zabbix.
If you're C developer, PHP developer, test engineer or a support engineer, come and visit our career page - maybe you're the one we're looking for in order to join our ever-growing Zabbix family at the Riga office!

Zabbix Professional Training
Ready to become Zabbix Certified? Grow with Zabbix and open a whole new world of opportunities, by applying for any of the events listed on our Training Schedule page.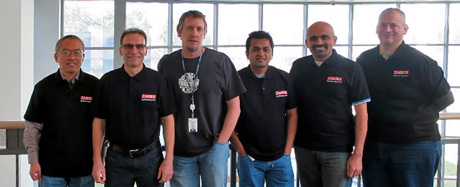 Recent Zabbix Certified graduates from Austin, TX
Choose between Sao Paulo in Brazil; Kortenberg in Belgium; Moscow in Russia or many other training events in different languages and locations around the world, and register today.
Sao Paulo, Brazil
Organized by: Alerta

Language: Portuguese
Trainer: Adriano Amorim
Zabbix Certified Specialist
17 - 19 November 2014
Details
Zabbix Certified Professional
20 - 21 November 2014
Details
Moscow, Russia
Organized by: Zabbix SIA

Language: Russian
Trainer: Alexey Pustovalov
Zabbix Certified Specialist
24 - 26 November 2014
Apply
Zabbix Certified Professional
27 - 28 November 2014
Details

Do Not Miss Our Free Webinars
Be on a lookout for the right Webinar for you as they are a great opportunity to build upon your knowledge, ask questions and receive answers – live.
Discover the best practices and gain new skills by joining one of the webinars hosted by the leading Zabbix specialists all over the world.
Feel free to sign up for the most suitable webinar for you, covering various themes on Zabbix Monitoring Solution and held in a vast amount of languages by visiting our upcoming webinar schedule. Take your pick!

Contact Sales
Worldwide: +371 6778 4742
USA (Toll-Free): 1-877-4-ZABBIX
Japan: 03-4405-7338
E-mail: [email protected]
In this Issue

Training Schedule

Training Brochure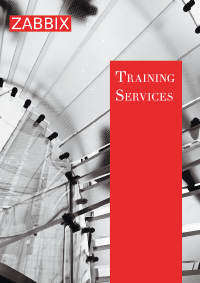 Books on Zabbix