Closer to Zabbix!
Want to be the first to hear the latest news and stories about Zabbix? Follow ​us on our social network channels - Twitter, Facebook, LinkedIn and Google+.
Tired of reading? Why not visit our Youtube channel and watch informative videos and presentaions.

Zabbix Conference 2014 Japan
Zabbix Conference in Japan is over and this was a fantastic event for us and the attendees, sharing knowledge and experience.
This year's event brought together close to 200 participants who participated in 13 sessions sharing Zabbix use cases, best practises, info on related solution and more.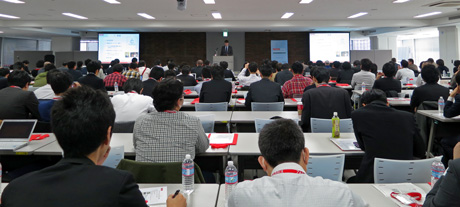 We what to thank our honored speakers and sponsors who helped to make this possible.

Relive Zabbix Conference 2014
If you missed out on Zabbix Conference 2014, here is your chance to experience this year's conference once more!
Refresh your memories or, if you were unable to visit our conference this year, see what you have missed, as we have published the videos of all the presentations at Zabbix Conference 2014 Agenda page and on our YouTube channel.

Partnership with IBM
Thanks to our partnership with IBM, Zabbix running on a POWER8 server turns into a high performance monster, capable of monitoring tens of thousands of servers, virtual machines and network devices in real-time, delivering a great level of scalability out of the box.

Perfomance improvements [ZBX-8542]

Zabbix 3.0 already has gained a noticeable performance boost compared to 2.4. A new hashing mechanism allowed us to dramatically improve the time of evaluating trigger expressions and reduce the amount of configuration cache locks during this process.
Sourceforge Project of the Month
We are nominated for the Project of the Month, January at the biggest Open Source directory in the world - Sourceforge.net!
The winner will be determined by votes of the community. You can join too!

Are You Zabbix Certified?
Zabbix Professional Training is one of the key tools of how you can gain the most professional and advanced knowledge about Zabbix software within the shortest time.
Zabbix training sessions are taking place every week in different countries and cities worldwide, being presented by the leading Zabbix experts. Please follow our training schedule, which is updated regularly, and apply for the most convenient training course for you!
Brasilia, Brazil
Organized by: Vantage TI
Language: Portuguese
Trainer: Vinicius Murmann
Zabbix Certified Specialist
2 - 4 December2014
Details
Zabbix Certified Professional
5 - 6 December 2014
Details

Take Part in Free Webinars
Zabbix Webinars are another great opportunity to enhance your knowledge and understanding of Zabbix software and its capabilities.
Join the leading Zabbix specialists who will not only share their expertise with you, but also will answer your questions live.
Participation in webinars is completely free of charge, so you are welcome to join!

Share Your Story
We invite you to participate in our "Zabbix Story" winter contest for a chance to win great prizes!
Do you have an interesting story involving Zabbix? Share your experience with us, by simply emailing your story to [email protected] with the subject line "Zabbix Story". We'll pick our favorite to publish on our weblog and the author will receive a prize in true Zabbix style.

Contact Sales
Worldwide: +371 6778 4742
USA (Toll-Free): 1-877-4-ZABBIX
Japan: 03-4405-7338
E-mail: [email protected]
In this Issue

Training Schedule

Training Brochure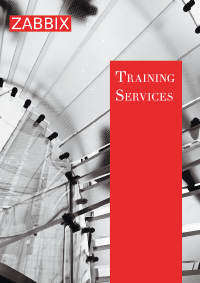 Books on Zabbix