New Zabbix Releases
We are pleased to announce that the first Release Candidate of Zabbix 2.4.1 (Zabbix 2.4.1rc1) is now available for download.
Please test and report any issues you may come across. For more information read the Release Notes.

Zabbix 2.4 Features Review
Another great feature of Zabbix 2.4 was reviewed in the blog post: Zabbix 2.4 features, part 7 – Improved troubleshooting by Rihards Olups, senior consultant at Zabbix SIA.
Zabbix 2.4 comes with multitude of other features and improvements and we invite you to read the already published and upcoming feature reviews on our weblog.

Photos of Zabbix Conference 2014
The photos from the Zabbix Conference 2014 are now published and available on our website for you to look back at the moments we shared during the memorable weekend in Riga.
We invite you to take a glimpse at the conference - feel the inspiration the speakers gave to the audience and see the exciting moments we had together with the participants of Zabbix Conference 2014 through the photos.


Two New Zabbix Partners
We are pleased to introduce the new Zabbix Resellers – RusSoftCom, an experienced telecommunication and Digital TV developer from Russia, and KB Promsvyaz, the leading integrator of Radio and TV broadcasting and developer of industrial Radio and TV broadcasting monitoring systems from the Republic of Kazakhstan.
We are confident, that RusSoftCom and KB Promsvyaz will extend the reach for Zabbix services locally, serving companies in need of IT infrastructure monitoring solutions.

Case Studies Available
A new page, representing in-depth studies of Zabbix implementation cases, told by our customers, partners and users showing the approach, implementation and advantages of Zabbix Monitoring Solution is now published and available on the Zabbix website.
Find out the choices, steps taken and business outcomes, demonstrating the value and benefits of using Zabbix by real-life examples from companies and organizations of different kind of industries.

Delayed housekeeper execution on server startup[ZBXNEXT-8557]

When the Zabbix server daemon starts, it performs some initialization processes, such as caching, which may cause a temporary increased load on the system. This situation can become worse if the housekeeper process starts at the same time. To even the load, the housekeeper process will now start 30 minutes after the server is run.

Zabbix Participates in DSS ITSEC Conference
On the 30st of October the conference for cybersecurity pro's - DSS ITSEC 2014, the biggest event in the Baltic States, dedicated to the field of Data Security Solutions and IT Security, will take place in Riga, Latvia.
Pavel Jelisejev, the lead frontend developer of Zabbix SIA, will take part in the conference by giving a speech on the topic of: Zabbix: security through awareness Introducing the benefits and advantages of Zabbix Monitoring Solution between 12.00 – 12.30 in the Frankfurt hall of Park Hotel Maritim.
We encourage you to register for this event to gain new knowledge in the field of IT security, as participation is free of charge.

Looking Back at Nike Riga Run
We have published a blog post about our results during the Nike Riga Run – the biggest charity sports event in the Baltics, which took place one day after the Zabbix Conference 2014.
Read about the results of Zabbix team and some delegates from the conference, who had invested a lot of time and effort into preparation for this challenge!
We are very proud of everyone!

Zabbix Professional Training

Last week the Zabbix Professional Training event for trainers ended, which took place in our Riga office. We are proud to announce that two new Zabbix Certified trainers from Vantage TI (Brazil) and Intellitrend (Germany) have graduated and are ready to pass on their knowledge to the eager minds of future Zabbix Certified specialists, in addition, Intellitrend GbmH will now be able to provide Zabbix Professional Training events in German.
Feel free to register for the featured or many other upcoming Zabbix Professional Training events around the world in the language of your choice, as you still have a chance to apply and become Zabbix Certified!
Redondo Beach, CA, USA
Organized by: Zabbix SIA

Language: English
Trainer: Rihards Olups
Zabbix Certified Specialist
6 - 8 October 2014
Apply
Zabbix Certified Professional
9 - 10 October 2014
Apply
Turin, Italy
Organized by: Quadrata
Language: Italian
Trainer: Dimitri Bellini
Zabbix Certified Specialist
6 - 8 October 2014
Details
Zabbix Certified Professional
9 - 10 October 2014
Details

Free Zabbix Webinars
This week and the whole October is filled with useful, and, as usual, free webinars in English, Italian, German and Russian!
We encourage you to register for one or multiple upcoming webinars of your choice, to discover new knowledge on the topics like What's new in Zabbix 2.4, Tune your Zabbix for Better Performance and more. Gain new skills of Zabbix Monitoring Solution, ask questions and receive answers, Live!
Visit our upcoming webinar schedule page today.

Contact Sales
Worldwide: +371 6778 4742
USA (Toll-Free): 1-877-4-ZABBIX
Japan: 03-4405-7338
E-mail: [email protected]
In this Issue

Training Schedule

Training Brochure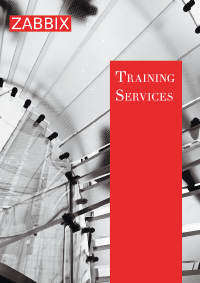 Books on Zabbix