Zabbix New Releases
Beta Release of Zabbix 2.4
Zabbix team is pleased to announce that the first beta of Zabbix 2.4 is ready for download, pre-view & testing. Please read the Release Notes and a partial list of the new functionality.
Release of Zabbix 2.2.6
Zabbix 2.2.6 and the official packages for CentOS, Debian, RHEL and Ubuntu are now available for download.
For more information, please read the Release Notes.
Two new Release Candidates of Zabbix
We are also happy to announce that Zabbix 1.8.21rc1 and 2.0.13rc1 - release candidates for older supported versions of Zabbix are available for download.
Please read the Release Notes of Zabbix 1.8.21rc1 and 2.0.13rc1.

Zabbix 2.4 Features Preview Part 5
Zabbix 2.4 adds a new notification (action) condition option - Custom expression. Read the post: Custom action condition formula" and about other improvements and the new features of the upcoming Zabbix 2.4 release, posted on our weblog by our Senior Consultant. Rihards Olups.

Zabbix Conference 2014
See you at the Conference!
Registration for the conference is now officially closed for all of the visitors. We are pleasantly surprised with this year's activity and are awaiting a record-breaking number of almost 200 participants.
We look forward to see you all next week in Riga, when we will have the chance to learn, discover new knowledge, socialize and have fun with fellow Zabbix fans from around the world.
If you missed your chance to participate - mark the next September in your calendar and be ready to apply for the Zabbix Conference 2015!
Interviews with Speakers
We have published the tenth and final interview with the speakers of Zabbix Conference 2014, concluding the series of posts introducing our readers with the great minds joining the Zabbix Conference 2014.
You are welcome to read all of the pre-conference interviews in the series on the Zabbix Weblog.

New Zabbix Reseller from Russia
Zabbix SIA has signed a Partnership Agreement with Telecom-Guard, a supplier of complex IT-solutions and services for commercial and state organizations in Russia.
Upon becoming an authorized reseller of Zabbix, Telecom-Guard will provide and resell Zabbix professional services and support to local making Zabbix Monitoring Solution more available to our clients in Russia.
Read more about Telecom-Guard and this partnership in our Press Release.

New internal item for retrieving host maintenance status [ZBXNEXT-1848]

Zabbix 2.4 introduces a new internal item zabbix[host,,maintenance] that will enable to find out whether the host is in maintenance status. Now you'll be able to keep host monitoring history and use it in trigger expressions if necessary. Additionally, internal items will now be processed even if a host is under maintenance with no data collection.
Zabbix Team in Japan Moved to a New Office
Last week Zabbix Japan LLC, moved from their former location to a new and more spacious office.
Please make note of the new address and contact information:
Zabbix Japan LLC




Casa Versole 8F




2-16-3 Higashi Shimbashi, Minato, Tokyo




105-0021 Japan

Phone: +81-3-4405-7338




Fax: +81-3-6809-1686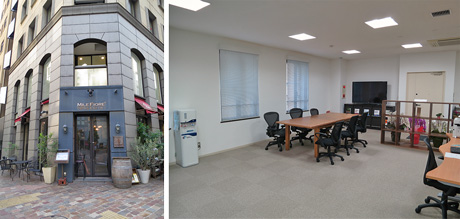 Relax With Zabbix Services
Remember, that sometimes hours, days or even weeks of frustration can be resolved with a single support call or a simple Remote Troubleshooting session.
Stop losing your time and brain-cells to stress, trust our specialists and get the most from your Zabbix implementation.
Request a Live Demo
We know that every company needs an individual approach and sometimes studying all the available information might not be enough to make the right decision. Therefore we have created an opportunity to Request a Live Demo, to personally introduce you with the possibilities of Zabbix Monitoring Solution and the services our Zabbix Team can do for your company.

Zabbix Professional Training Sessions in Europe and Brazil
Take part in Zabbix Professional Training sessions, taking place in beautiful European cities – Prague, Czech Republic; Paris, France, and Kortenberg, Belgium. Or you could join one of the many training sessions taking place from the 22 – 26th of September in Brazil, and many other all around the world.
We will be happy to register you and your team for the training session of your choice, as you still have a chance to become Zabbix Certified!
Prague, Czech Republic
Organized by: Zabbix SIA
Language: English
Trainer: Patrik Uytterhoeven
Zabbix Certified Specialist
22 - 24 September 2014
Apply
Zabbix Certified Professional
25 - 26 September 2014
Apply

Free Zabbix Webinars
In September we invite you to attend one of the many free Zabbix webinars, to discover new knowledge of Zabbix Monitoring Solution, to gain valuable knowledge, new skills, ask questions and receive answers.
Join the upcoming webinars held in English, Portuguese or Russian languages for a topic that you are most interested in by visiting our upcoming webinar schedule.

Contact Sales
Worldwide: +371 6778 4742
USA (Toll-Free): 1-877-4-ZABBIX
Japan: 03-4405-7338
E-mail: [email protected]
In this Issue

Training Schedule

Training Brochure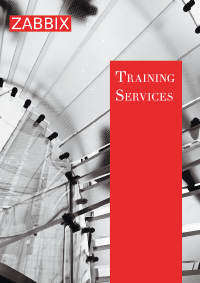 Books on Zabbix