Zabbix Conference, Closer Every Day
This is the 10th anniversary year of Zabbix and our team will present interesting and engaging topics at the conference, still you are very welcome to share your passion, a story on your project or a case study, and speakers will get a special conference price as a bonus!
Please note that May 11 is the deadline to apply. We encourage you to send us your abstracts in a timely manner to ensure sufficient time to work with our team on shaping your topics and making sure they are included in the official conference agenda.
Do not miss the Early Bird prices (May 11) for Zabbix Conference 2015, and ensure your spot at the greatest Zabbix event of the year! There is no need to wait as this year we have provided the opportunity to acquire your conference pass within few minutes with your credit/debit card.

Zabbix Templates, Modules & More
Now there is a place to share and find Zabbix templates, add-ons, tools and much more Zabbix related extensions, crafted by our team, our partners and the community!

Visit share.zabbix.com , to explore, contribute, or find the right Zabbix extension for you.
Zabbix Shines at Events
Open Source Day conference in Warsaw is behind us, and it was a great experience, being the gold sponsors of one of the biggest events in Europe devoted to open technologies.
Zabbix Seminar in Japan
On April 22 a seminar focusing on AWS management was held by Zabbix Japan in collaboration with Amazon Web Services and our certified partners TIS and Server Works. The event was crowded with people interested in the topic!
Zabbix Workshop at LOAD15
On April 12 Patrik Uytterhoeven, the Author of the Zabbix Cookbook, hosted a workshop dedicated to Zabbix, at Linux Open Administration Days Conference in Belgium.

In April we celebrated the 10th anniversary of our company! Thank you for being with us through the years and for being a part of the Zabbix story.

It's been a long way and we are excited about the future of Zabbix, there is so much to look forward to.

P.S It would not have been a proper celebration without a birthday cake!
Ever Expanding List of Partners
Our possibilities are growing with every new partner!
Please welcome our latest partners expanding the reach of Zabbix throughout the world - reseller Custos from Uruguay, technology partner Fujitsu from Japan, reseller Oscosm from South Africa and Add Solution from Brazil!

Improved performance of maps [ZBXNEXT-2495]

The primary database structure of triggers was enhanced by adding an index, seriously improving the page loading speed. The performance and generation time of maps is now improved by more than 10 times, provided that the content contains triggers.
Discover Your Potential with Zabbix Training
In May Zabbix Professional Training events will take place in six different countries! Use this opportunity to grow individually or together with your team!
Join any of the upcoming training choices all around the globe. Visit Belgium, France, Italy, Latvia, Poland or United States of America, or any other upcoming Training event in the most suitable language and location for you - there are always new opportunities for you to become Zabbix Certified.
Take Part in Free Webinars
Zabbix webinars are a great opportunity to enhance your knowledge and understanding of Zabbix software and its capabilities.
Join the leading Zabbix specialists from all over the world, who will not only share their expertise with you, but also will answer your questions live.

Contact Sales
Worldwide: +371 6778 4742
USA (Toll-Free): 1-877-4-ZABBIX
Japan: 03-4405-7338
E-mail: [email protected]
In this Issue

Training Schedule

Training Brochure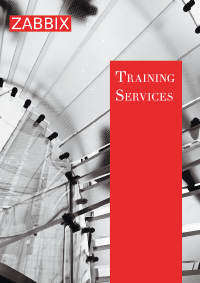 Books on Zabbix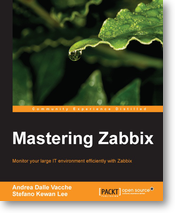 Follow Us