Ready for New Challenges
We would like to express our gratitude for all the accomplishments throughout the last year that we would not have been able to implement without the support provided by all of you – our team members, Zabbix community, users, partners and clients.
We hope that you all enjoyed a peaceful holidays with your family and friends, and now it is time to focus on 2015 and be ready for the many exciting opportunities, achievements and goals this year will bring.

Zabbix 3.0 is on its Way
Our team is working hard to bring you the very best experience, improvements and possibilities with the Zabbix 3.0 LTS (long term support) release making the monitoring process even more efficient and advanced.
Zabbix 3.0 LTS will include a strong TLS based authentication and encryption. This feature will be available for all parts of Zabbix: server, proxy and agent.
If you are interested to find out more about the new monitoring features that are planned to be included in Zabbix 3.0, then be sure to follow Zabbix on our social sites and visit our weblog, where we will be posting updates and sneak previews of the developing workflow and the new features!

Get Ready for Zabbix Conference 2015
Mark 11 – 12 September in your calendars as this autumn we all will meet again at the 5th annual Zabbix Conference, uniting the Zabbix family from all around the world.
An outstanding program, enthusiastic speakers, valuable knowledge and interesting solutions await! Be among the brightest minds of the industry, including Zabbix users, community members and advanced experts – do not miss your chance to participate!
If you have any queries about the event, including sponsorship options, please do not hesitate to contact us.

ODBC LLD discovery [ZBXNEXT-2321]

One of the great features in the upcoming Zabbix 3.0 is out of the box support for low-level discovery through ODBC. In the current versions of Zabbix you have to construct the JSON object manually by using non-trivial SQL. In Zabbix 3.0 the result of the query will be transformed into a JSON object suitable for low-level discovery automatically.
Fun with Loadable Modules
On our latest Zabbix Weblog post read an inventive way on how to employ loadable modules to shut down a Zabbix server by using a CD-ROM.
Learn from this example and create your own applications!

In December we reached more than 3,000 fans on Facebook and Twitter! We are honoured to have such a great support from an amazing community!
Thank You for your support - you are the best present that we could wish for!

Network Monitoring Application of the Year
Until the end of January you can show your love and vote Zabbix for the Network Monitoring Application of the Year, at Linux Questions.org, Members Choice Awards!

Discover Your Potential with Zabbix Training
Start your year with an advantage and new skills - join any of the upcoming Zabbix Professional Training events in Brazil, Italy, Riga, Slovakia or the most suitable location for you, as there are multitude of choices listed on our Training Schedule page.
And remember that you have the opportunity to HOST a training event, allowing two of your team members to participate free of charge.
Bratislava, Slovakia
Organized by: Zabbix SIA
Language: English
Trainer: Oleg Ivanivskyi
Zabbix Certified Specialist
9 - 11 February 2015

Apply
Zabbix Certified Professional
12 - 13 February 2015
Apply
Riga, Latvia
Organized by: Zabbix SIA
Language: English
Trainer: Ingus Vilnis
Zabbix Certified Specialist
9 - 11 February 2015

Apply
Zabbix Certified Professional
12 - 13 February 2015
Apply

Take Part in Free Webinars
We invite you to attend any of the upcoming Webinars, giving you the opportunity to expand your knowledge on Zabbix and learn new skills from the leading Zabbix experts sharing their expertise.
Choose from various webinar topics and timings that suit you the best and register today.

Contact Sales
Worldwide: +371 6778 4742
USA (Toll-Free): 1-877-4-ZABBIX
Japan: 03-4405-7338
E-mail: [email protected]
In this Issue

Training Schedule

Training Brochure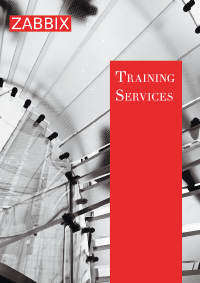 Books on Zabbix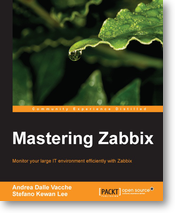 Follow Us