Success of Zabbix Conference 2015
Our 5th Zabbix Conference was a true success thanks to all the participants and loyal members of Zabbix community from all over the world! Impressive speeches, striking ideas and friendly meet-ups is something to stay in our memory. And, of course, the conference won't be complete without our hula dances with the Hawaiian girls at the Welcome Party!

We got lost wandering through the forest of Open-Air Museum, tasted Latvian beer and made some lucky coins to be rich for the rest of our lives! Hope your heap of our souvenirs, gifts and awards didn't get lost on your way home!
Read about the scale and diversity of content of Zabbix Conference 2015 in our blog post.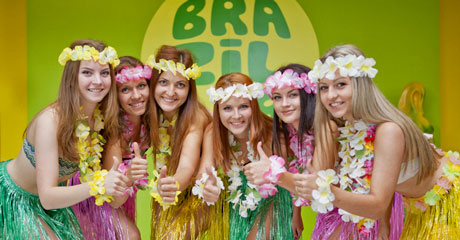 For The First Time
This year we sparked our usual agenda with 5-min Lightning Talks challenging speakers to express their thoughts briefly and precisely! This surpassed all expectations and was really fresh and innovative! We're definitely going to preserve this tradition! #Ahiruyaki all over the world


Take a Look at The Presentations
For everyone, who would either want to recall the content of the speeches presented at the conference or could not come to listen them on the spot, we have published the slides on our Zabbix Conference 2015 Agenda page.
We are grateful and proud you were with us at Zabbix Conference 2015! Looking forward to meeting you all again at the next year's conference!