Dev Team Hard at Work
Not stopping at the success of Zabbix 3.0, our developers have started work on Zabbix 3.2, further improving Zabbix UI, focusing on usability, performance, data representation, advanced log monitoring, modularization and enhanced handling of large number of problem events.
Fresh off the mill!
We have just announced the releases for all major Zabbix versions. Zabbix 2.0.17, 2.2.12, 2.4.8 and 3.0.2, are now available for download and deployment. Pre-compiled binaries, packages and virtual appliances are coming soon.

Zabbix Conference 2016 Awaits!

Currently we are assembling an impressive agenda for the Conference, and you still have a chance to be a part of it. Lead the minds of Zabbix Conference 2016, by conducting your speech at the event!
You are kindly invited to share new ideas, boast monitoring results and development achievements. Take the stage of Zabbix Conference 2016 today.
We urge you to hurry - less than two weeks left to use the Early Bird discount and join the biggest Zabbix event of the year
Take part in the heated discussions, examine the most burning topics and share expertise among the leading minds in monitoring.

Zabbix in Events Across the World
On April 26th, we will be heading to Warsaw, to participate in the biggest conference devoted to open technologies in Poland and one of the biggest in Europe. use this chance to meet our team at Open Source Day in Warsaw in one week, where our founder and CEO, Alexei Vladishev will highlight the power of large scale monitoring with Zabbix.

First Zabbix Conference for Latin America is now behind us, and what a great experience that was. Over 100 participants, 20 speeches, 3 days packed with ideas and excitement.

We won't be able to share the same passion LatAm speakers brought on, but we sure can provide the slides, so keep an eye on the agenda page.




End of Zabbix 2.4 Support

As of April 1, 2016, support for Zabbix 2.4 is now officially over. If you are currently using 2.4 in your environment, we recommend an upgrade. Have a look at Zabbix 3.0 - supported for the next 5 years.

Stepping Stones in Your Career
Zabbix 3.0 certifications are picking up speed around the globe. Be sure to register for a training course near you, to learn and obtain in-depth knowledge about Zabbix 3.0. Overtake the competition with the new abilities and proficiency in Zabbix, acquired by becoming Zabbix certified!

Discover Zabbix in an Hour
We have prepared a fresh series of webinars in English, Russian, German and Portuguese, enabling you to learn more about Zabbix.
Join "Overview of the system", "Tune your Zabbix for Better Performance" and "What's New in Zabbix 3.0" is scheduled for Apr 21 - 28. No need to doubt, as participation is always free of charge!
In this Issue

Training Schedule

Training Brochure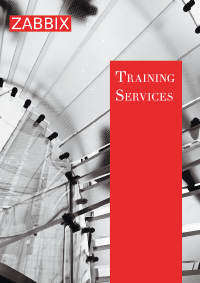 Books on Zabbix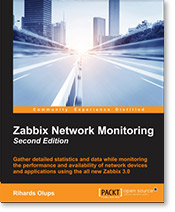 Follow Us