Zabbix 3.0 Release Candidate 1
Another step forward! We are happy to present you the first release candidate of Zabbix 3.0.

Read our Release notes and try out the latest improvements!

Download it now together with the release candidate appliance and pre-compiled agents.


Have another sneak preview of the features included in the upcoming release of Zabbix 3.0:
Linking to apps based on discovery values

For logical grouping of items, it is now possible to assign the discovered items to application based on the values of low-level discovery macros.

Running Zabbix daemons in foreground

Zabbix daemons now run in foreground accepting –f (--foreground) command line option, which facilitates dockerization of Zabbix components.
Zabbix Conferences and Events
CeBIT (March 14-18)

There is a great chance to talk to Zabbix specialists face-to-face at a global event for digital business in Hannover, Germany, with leading IT specialists taking part in talks and forward-looking panel discussions as well as product showcases from all over the world.

FOSSASIA (March 18-20)

Meet Zabbix at FOSSASIA, an open technologies event in Singapore, where Alexei Vladishev, CEO and founder of Zabbix, is going to speak about a vital role of Zabbix in monitoring in a modern IT infrastructure.

Zabbic Conference LatAm 2016 (April 15-16)

A Zabbix-dedicated and sponsored event aimed at users and partners in Latin America. Join in-depth discussions and bright talks about Zabbix, and have fun socializing with Zabbix community.

Interop Tokyo 2016 (June 8-10)

Talk to Zabbix Japanese team at the Zabbix booth at a large network computing event in Japan, where Alexei Vladishev will introduce the latest version of Zabbix and talk about Zabbix services in Japan.

Red Hat Summit (June 27-30)

Zabbix is proud to be one of the sponsors at this grand open source technology event in San Francisco, CA, US. Visit Zabbix booth and learn more with Zabbix specialists.

Zabbix Conference 2016 (September 9-10)

By tradition, Zabbix Conference 2016, the main Zabbix event of the year, will welcome you in Riga, Latvia on September 9-10. Save the date and follow the latest information on our website and social sites.

Zabbix Conference Japan 2016 (November 18)

The conference will feature multiple presentations (mostly in Japanese) as well as various case studies on Zabbix use in different industries.

Meetup in Austin, TX
Let's get together to share our passion towards Zabbix! Tell us about your interest in organizing a meetup with Zabbix community members joining a lively discussion of Zabbix.
For now, we are planning Zabbix Meetup in Austin, Texas, USA. If this is what you are looking for, sign up by visiting our forum thread.


| | | |
| --- | --- | --- |
| | | Now FUJITSU Software Technologies Ltd. from Japan has started integrating monitoring services for multiple platforms, using the advantages of Zabbix System Monitoring Service. |
Grow with Your Team
Use Zabbix Training to explore Zabbix potential in the successful performance of your IT infrastructure!
Learn together with your team members at your office by sending us your request or join any of the upcoming Zabbix Training courses all around the globe!

In this Issue

Training Schedule

Training Brochure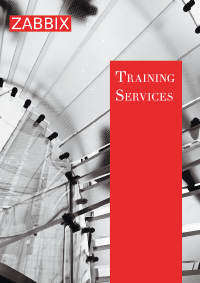 Books on Zabbix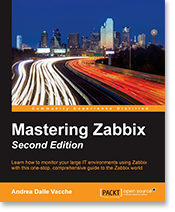 Follow Us