The Wait is Almost Over - Final Steps to Zabbix 3.0
We are happy to announce the availability of Zabbix 3.0.0alpha5 containing numerous features and frontend improvements, for example, supporting the new API call trend.get. Feel free to download and test it.

Now we are only a step away from the first beta release and thus closer than ever to Zabbix 3.0.

Exporting and importing value maps [ZBXNEXT-1679]

Support for exporting and importing value mappings will be added in 3.0.

Graph improvements

Zoom in period has been lowered significantly, enabling to set the limit as low as 1 minute. Log items and item prototypes can now contain any type of information and thus be graphed, together with other improvements.

Save the Date! Announcing Zabbix Conference 2016

This September you will have a chance to meet inspirational speakers, discover new insights while interacting with leading minds of Zabbix team and feel the magic of our informal events. Prepare for a valuable time spent discovering networking opportunities for your business and having fun with like-minded fellows sharing your passion.
It is time to schedule your trip to Riga, Latvia for September 9-10. As every year, we will be awaiting you to join us for the most exciting Zabbix event of the year - Zabbix Conference 2016.
Make sure to follow us on Twitter and other social sites, so you don't miss the latest Zabbix stories and updates.

New Zabbix Reseller
Treatface, a developer and distributor of advanced IT solutions from Russia, has joined our partner network and now is able to resell Zabbix monitoring solutions to its clients increasing the reach of Zabbix services in Russia.
We are committed to provide exceptional service to our customers throughout the world, and it is only possible by building mutually beneficial relationships with our Partners.

We all are eager to meet-up with Zabbix enthusiasts form all over the world, and gather to share ideas, learn and get to know fellow Zabbix fans in your city.
At the moment we are in the planning stage of the second Zabbix meet-up in New York. If you have an idea for a presentation or a venue with the best beers in NY - let us know, by joining this forum thread.


Graduate from Zabbix Academy
Unique knowledge can be opened up for you during our Zabbix Specialist and Professional training course guided by our best experts! In only 5 days you'll know Zabbix from start to finish.
Sign up to become Zabbix certified in Belgium, Russia, Brazil, France, Latvia or many other locations!
But don't forget that Zabbix training can be held anywhere – just let us know and we'll organize a training session right at your office.

Streamline Your Improvement with Zabbix Webinars
Join our webinars to discover Zabbix for the first time or build upon your knowledge by learning new skills!
Sign up today and experience our latest webinar covering Zabbix API at the end of this month. Always free of charge.
In this Issue

Training Schedule

Training Brochure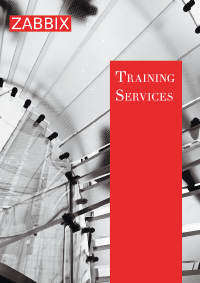 Books on Zabbix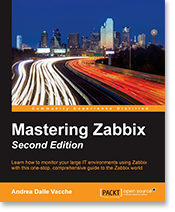 Follow Us