Join our experts starting from November 22 and acquire insight on how to tune Zabbix and detect problems during our free Webinars. Explore Zabbix functionality and the highlights from the Zabbix roadmap through a few quick demos, and get your questions answered live!

How are you using Zabbix? Building an IoT smart house or managing a huge data center? Share your story with us!

Explore the latest Zabbix add-ons created by our community on Zabbix Share.

Share new ready-to-use templates for monitoring devices from 3COM, Cisco, Dell and Ricoh, SMART monitoring and more!
Striving for Excellence in Business
We're proud to announce that as a result of successful cooperation and mutual support, our loyal partner and Zabbix Certified Trainer, Quadrata di Bellini Dimitri, has scaled to the highest tier, becoming Zabbix Premium Partner.

With four years of experience in organizing and hosting Zabbix Certified Specialist and Professional training courses in Italy and more than 15 years of experience in providing IT services, Quadrata successfully helps large and medium-sized enterprises optimize business processes.
Meeting Users Around The Globe
Expanding our horizons in Shanghai
Today Alexei Vladishev is meeting our users and partners in Shanghai at the first Zabbix China Meeting, presenting the benefits of Zabbix services and partnership options.
Reaching out to Zabbix fans in Paris
We are meeting many open source lovers at the Paris Open Source Summit right now. Visit Zabbix stand C9 and talk to our experts and local partners Axel IT, demonstrating the reach of Zabbix services in France.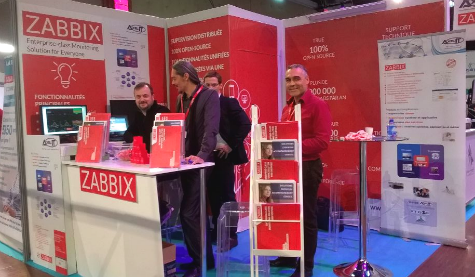 Rennes Monitoring Meetup (November 17)

Tomorrow in Rennes, Zabbix French community is discussing the advantages of Zabbix 3.2 and a case study on using Zabbix at SIB - a public hospital organization, specializing in IT services for healthcare institutions.

Zabbix Conference Japan 2016 (November 18)

Zabbix Conference Japan, another annual Zabbix event, will welcome the leading Japanese specialists in Tokyo this Friday, November 18, to talk about Zabbix-related solutions and use cases, meeting Zabbix partners and users in Japan.

Fortaleza Meetup - Zabbix on the Road (November 26)

Share your ideas and challenges in Zabbix with Zabbix Brazil community at the Fortaleza Meetup on November 26, organized by our Premium Partner Unirede Soluções Corporativas.

Become Zabbix Expert in 5 Days
Use the opportunity to learn from our specialists and grow professionally. Save a seat for a 5-day Zabbix Training course designed to teach you the art of Zabbix automation by learning and practicing Zabbix in different tricky scenarios.
Visit our Training Schedule to pick a location. In December, join professional courses in Tampa, FL (December 5-9) and Mexico (December 12-16).
It's also time to plan your growth for the next year. Sign up for training sessions in:
✔ Auburn, WA, USA – January 16-20
✔ Sydney, Australia – February 6-10
✔ Moscow, Russia – February 13-17

We are honored to support DevTernity 2016, taking place in our hometown Riga, Latvia on December 1-2. Gathering top professionals and industry leaders with their inspiring keynotes and hands-on workshops.
Visit our stand to ask us your questions, take part in some fun events together with our team and find out about career opportunities at Zabbix!


In this Issue

Training Schedule

Training Brochure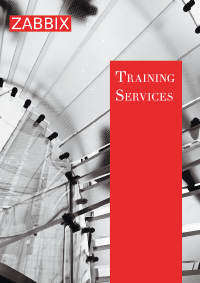 Books on Zabbix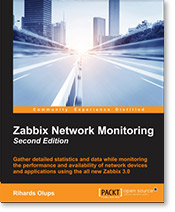 Follow Us