| | | |
| --- | --- | --- |
| | | Want to master Zabbix step by step? Read Zabbix documentation or find comprehensive guides in Zabbix books, available in multiple languages. |
| | | Find many Zabbix talks and speeches at different events on our YouTube channel. |
| | | A shout-out to our community! Our fan count keeps growing - now reaching 15,000 followers on Twitter, Facebook, LinkedIn and Google+ combined! Keep it up! |
Legacy of Zabbix Conference 2016
What Zabbix Conference 2016 was all about? 24 high-profile speeches, 5 quick-witted Lightning Talks, 8 case studies on complex infrastructure monitoring environments, 5 new Zabbix-related solutions, and the answers on the most burning questions.
Find out how Zabbix is used at Nokia and the University of Oslo, learn how Salesforce monitors cloud applications with Zabbix, explore Zabbix loadable modules and Zabbix integration with HelpDesk, as well as many other Zabbix use cases.
Watch the videos of conference presentations, available on our website.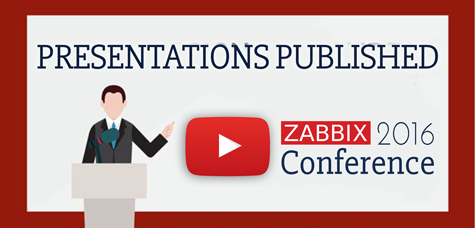 On November 16, in cooperation with our partners from China we are organizing the first Zabbix China Meeting, taking place in Shanghai. Representatives of companies, CIOs and IT infrastructure managers will get together to discuss the benefits of Zabbix services, partnership options and join a presentation on evolution of Zabbix, held by Alexei Vladishev.

Presentations will be delivered mostly in Chinese and will feature talks from the following Zabbix partners in China:
✔ Beijing Xiaotong Honzhi Technology Co., Ltd.
✔ OneOaaS
✔ Shanghai Grandage Data Systems Co., Ltd.
✔ Shanghai Sunshine IT Co, Ltd.
Visit our website for the meeting agenda and registration details.

We have just returned from RedHat Forum in Prague, and are now heading towards another RedHat event happening in Warsaw on November 8.
Come to talk to Zabbix Team and find out how making smart decisions based on monitoring data can increase the efficiency of your business.

HighLoad++ (November 7-8)

Big Data, IoT, complex systems and enterprise-level performance? That's what Zabbix would love to share with you in Moscow at HighLoad++ 2016.

Paris Open Source Summit (November 16-17)

Paris OSS gathers true open source lovers from all around the globe. Visit Zabbix booth to talk to our experts and local partners Axel IT, demonstrating the reach of Zabbix services in France.

Rennes Monitoring Meetup (November 17)

Join Zabbix French community, introducing the advantages of Zabbix 3.2 and presenting a case study on using Zabbix at SIB - a public hospital organization, specializing in IT services for healthcare institutions.

Follow the agenda and join the event.

Discovering Your Potential
Get more insights into Zabbix 3.2 and become an expert by applying for Zabbix Professional Training.
Visit our Training Schedule and choose the best location for you to become certified! This month join the first Zabbix training event in beautiful Shanghai, China (November 28 - December 2)
Do not miss the upcoming training courses in:
✔ Bielefeld, Germany – Nov 7-11 – Language: German
✔ Sao Paulo, Brazil – Nov 28 - Dec 2 – Language: Portuguese
✔ Tampa, FL, USA – Dec 5-9 – Language: English

Build Your Career at Zabbix
Are you interested in taking part in the development of the worldwide-known open source monitoring tool? Use this chance to become a Zabbix team member!
So if you are a developer, test or support engineer, or simply are proficient in Zabbix, come and visit our career page to find out whether you are the one to join our Zabbix Team at the Riga office!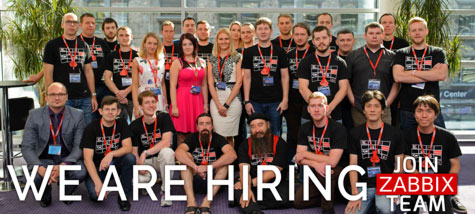 In this Issue

Training Schedule

Training Brochure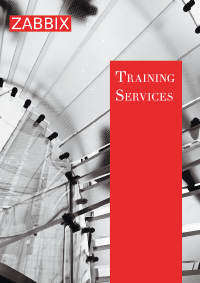 Books on Zabbix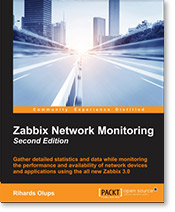 Follow Us