Download Zabbix 3.2.1 and 3.0.5 together with ready-to-use appliances for all virtualization platforms.

Visit Zabbix SlideShare and have an in-depth look into all aspects of Zabbix, from the origins to the latest features, introduced in Zabbix 3.2.

Discover how Fukuoka University in Japan monitors more than 40,000 items with a single Zabbix server - in the new Zabbix Case Study.

Join all kinds of discussions about Zabbix on our Forum, Blog, #zabbix IRC channel and social sites.

Explore the latest Zabbix add-ons, templates and modules created by our community on Zabbix Share.

Among the latest listings are: cross-platform SMART monitoring scripts, templates for monitoring Ricoh, Samsung printers, Juniper, Sonicwall, SGI, D-Link and Dell PowerEdge devices and more!

Highlighting This Year's Zabbix Conferences
Zabbix Conference 2016 broke all the records this year, having gathered together around 250 IT specialists from 38 countries all around the globe. Take a look back at the highlights of ZabConf2016 captured in the video below!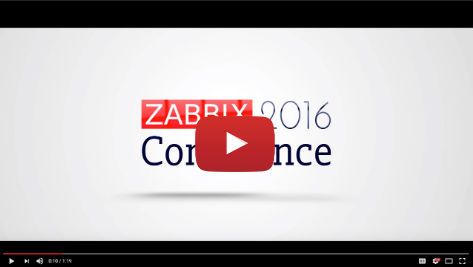 We are still impressed by the scale of Zabbix Conference LatAm 2016, happened this April in Porto Alegre, Brazil. Enjoy the content diversity in the presentations of our honored speakers, available on the agenda page (mostly in Portuguese).

Zabbix Conference Japan 2016 (November 18)

Zabbix Conference Japan, another annual Zabbix event, is ready to welcome the leading Japanese specialists in Tokyo this November to talk about Zabbix-related solutions and use cases.
One of the biggest technology events in the world is in full swing now in Dubai! Zabbix is enjoying the days spent at the 36th GITEX Tech Week.
Tomorrow is the last day, so if you have not visited our team there yet, you're still have a chance! Come and talk to us at Sheikh Rashid Hall, Stand SR-3.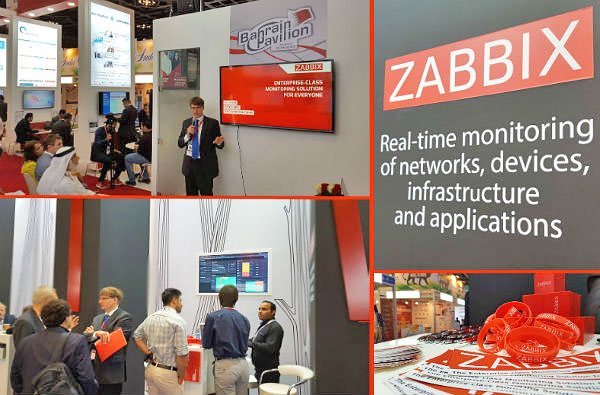 Where To Meet Zabbix Team?
Looking for a way to talk to Zabbix Dev Team face-to-face? Here's a list of the upcoming events to meet us:
All Things Open (October 26-27)

All Things Open unites leading technology and business leaders with their keynotes and vision of open source projects, in Raleigh, NC.

Being one of the sponsors of this event, Zabbix can't wait to share its experience with thousands of the conference attendees at the booth #18.

Red Hat Forums - Czech Republic and Poland

Another series of Open Source events which Zabbix just can't miss! Meet us at Red Hat Forum in Prague on November 1 and in Warsaw on November 8.

Zabbix Prague Meetup (November 2)

Join Zabbix Czech community and Zabbix Partner, Datasys s.r.o., at the Zabbix Meetup in Prague, where we will all exchange our thoughts about Zabbix.

HighLoad++ (November 7-8)

We're looking forward to visiting Moscow for one of the biggest events for high-load systems in the world. Let's discuss Big Data, IoT, complex projects and enterprise-level performance, with Zabbix covering all these topics and much more.

Paris Open Source Summit (November 16-17)

Paris OSS strives to expose technological innovations in open source. Come to Zabbix booth to talk to our experts and local partners Axel IT, demonstrating the reach of Zabbix services in France.

DevTernity (December 1-2)

Being one of the sponsors, we are honored to take part in one of the biggest IT events in the Baltics, happening in our hometown, Riga, Latvia.

Take your chance to build your career at Zabbix. Visit Zabbix stand to find out about the latest news and job opportunities in Zabbix.

Many Ways to Become Certified
Take a chance to learn and practice Zabbix with your teammates and colleagues and become a Zabbix professional in just 5 days.
Apply for a training course near you by visiting our Training Schedule.
Join the upcoming training sessions in multiple languages worldwide:
✔ Morristown, NJ, USA – Oct 31 – Nov 4 – Language: English
✔ Riga, Latvia – Nov 7-11 – Language: Latvian
✔ Bielefeld, Germany – Nov 7-11 – Language: German
✔ Turin, Italy – Nov 14-16 – Language: Italian
✔ Sao Paulo, Brazil – Nov 21-25 – Language: Portuguese

In this Issue

Training Schedule

Training Brochure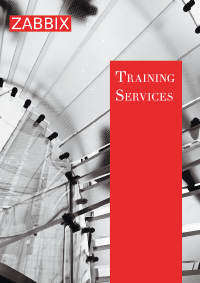 Books on Zabbix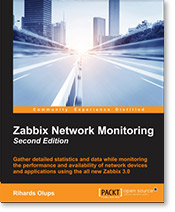 Follow Us