| | | |
| --- | --- | --- |
| | | Second beta of Zabbix 3.2 is released! Discover the UI improvements, support of nested host groups and more. |
| | | |
| --- | --- | --- |
| | | Zabbix 3.2 will offer simplified user navigation across multiple monitored devices by creating, adding and moving host groups and subgroups in one click. |
We Meet You at Zabbix Conference 2016!
The wait is finally over! This Friday, September 9, be ready to experience great speeches, multiple case studies and quick-witted lightning talks at Zabbix Conference 2016.
Start Day 2 with a great opportunity to practice Zabbix on the spot. Choose which Workshops to attend!

NOTE! To attend workshops, all participants must bring their own laptops with Zabbix pre-installed.
Get to know the stories and experiences of our ZabConf2016 speakers on Zabbix Blog.

Read about interesting solutions, the complex infrastructure monitoring and ZabConf2016 expectations in the latest pre-conference interviews with Rafael Martinez Guerrero and Lukáš Malý.
Be ready to sink into a medieval aura of Welcome Party upon arriving for #ZabConf2016! Meet you on September 8!

Rio de Janeiro Meetup (September 17)

Join the second Zabbix-dedicated event for Brazil community, after Zabbix Conference LatAm 2016, to share our views, challenges and projects on Zabbix. Learn about talk proposal and event location on our events page.

GITEX (October 16-20)

GITEX is the third largest technology event in the world, welcoming multiple IT specialists and entrepreneurs from 35+ countries in Dubai to share their achievements and ideas in different fields.

Visit Zabbix stand to take part in Zabbix future plans, watch live demos and ask us your questions!

All Things Open (October 26-27)

With Open Source being the main topic of discussion, All Things Open unites 150 leading technology and business leaders with their keynotes and vision of open source projects, in Raleigh, NC.

Being one of the sponsors of this event, Zabbix can't wait to contribute and share its experience with thousands of the conference attendees.

Share and find Zabbix templates, add-ons, modules and other Zabbix related extensions, created by our community.

Among the latest listings are: Zabbix ServiceNow Connector, monitoring of MySQL Galera Cluster, Mikrotik RouterOS, OpenBSD PF, QNAP NAS, LLD of Cisco devices, monitoring of DELL hardware and SSL certificates and more!
Are You Zabbix Certified?
The best Zabbix experts will guide you through the latest Zabbix functionality during just 5 days! Join Zabbix Training and learn together with your colleagues and teammates.
Do not miss your chance to get Zabbix certified in Tempe, AZ (September 19-23), Montreal (September 19-23), Vancouver (September 26-30) and Bremen (October 10-14).
Visit our Training Schedule to apply for the courses or write to us to organize a training session at your office.

In this Issue

Training Schedule

Training Brochure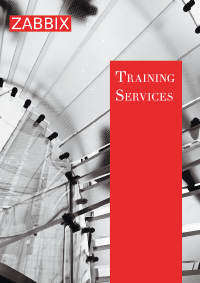 Books on Zabbix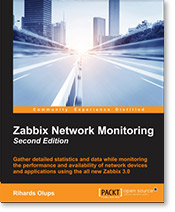 Follow Us