Zabbix Team is actively participating in the events all around the globe. Relive the moments we've shared at one of the biggest digital expos, CeBIT 2017, in our blog post.

Explore the latest Zabbix add-ons created by our community on Zabbix Share.

Templates for monitoring Oracle database, FiberHome OLT, Citrix XenServers, Cisco devices, Buffalo TeraStations and more!
Thanks to our great community members, Zabbix is being translated to more than 15 languages.

If you want to contribute and add more, visit our Wiki Translation page and join our translators!
Moscow Meetup April 15

Zabbix is always happy to take part in community events. On April 15, join us for Zabbix Moscow Meetup, supported by the company Badoo.

Red Hat Summit May 2-5

We're proud to be one of the sponsors at this huge open source technology event in Boston, MA, US.

Visit Zabbix booth #312 to join in-depth discussions and bright talks about Zabbix, and have fun socializing with the Zabbix Team!

OpenStack Summit Boston May 8-11

We'll stay in Boston a bit longer to take part in the open infrastructure event, devoted to the latest open technologies.

Come to the booth A13 and learn about the role of Zabbix in a modern IT infrastructure including VMs, cloud and containers.




Have a story on Zabbix implementation, a template or a business case to share with others? Craft a talk proposal for Zabbix Conference 2017!
Call for Papers ends on July 4.
Here's what awaits you in Riga:
✔ Airport Transfer
✔ 3 nights Hotel Stay
✔ Presentations and Workshops

✔ Chance to take Zabbix Exam
✔ Lunches & Tea Breaks
✔ Exciting Fun-Stuff Events
Do not miss your Early Bird ticket. Discount ends on May 12!
Our extensive partner network helps us to provide worldwide support to the companies using Zabbix. Advance your business with Zabbix partnership.
Master Zabbix with Training
Sharpen your knowledge and become a professional in Zabbix – take Zabbix Training courses in all parts of the world!
Learn from the best Zabbix specialists together with your team. Visit our Training Schedule to pick a location for you.
Upcoming training courses in the USA:
✔

Detroit, MI

April 24-28

✔

Los Angeles, CA

June 5-9

✔

Denver, CO

July 10-14
Upcoming training courses in Europe:
✔

Turin, Italy

Apr 10-12

Language: Italian

✔

Paris, France

Apr 10-14

Language: French

✔

Bielefeld, Germany

Apr 24-28

Language: German

✔

Santiago, Chile

May 8-12

Language: Spanish

✔

Riga, Latvia

May 8-12

Language: English

✔

Bangkok, Thailand

May 15-19

Language: English

✔

Keele, UK

Jun 26-30

Language: English

In this Issue

Training Schedule

Training Brochure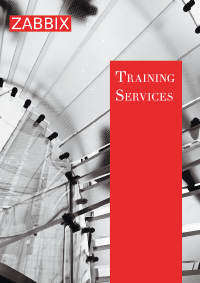 Books on Zabbix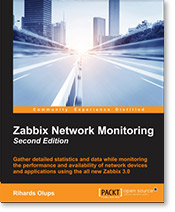 Follow Us