One Step Closer to Zabbix 3.4
Let's have a sneak peek of what will be possible with Zabbix 3.4:

Limitless preprocessing of collected data - all item value preprocessing is brought together and put in the hands of the user under a new Preprocessing tab in item configuration.
Parallel alerters - enjoy sending multiple alerts at the same time.
Easier management of time periods using macros - configure monitoring with user macro and time suffix support in many time related settings in Zabbix.
Download Zabbix 3.2.7, 3.0.10 and 2.2.19.

When Zabbix 3.4 is out? What are the upcoming Zabbix events in my region? The fastest way to catch the latest news about Zabbix is to follow us on social channels and never miss a thing!

Get monitoring templates for Jira, Xerox machines, Docker and PostgreSQL, socket monitoring modules and tons of other add-ons created by our community on Zabbix Share.
Less Than 3 Weeks Till It's Over!
Registration ends on August 25. Mark this date in your calendars and register to guarantee your place!
Zabbix Conference 2017 agenda is so diverse, featuring technical real-life examples of Zabbix integration with services and what Zabbix is capable of in clusters, containers, cloud platforms, DevOps environment and more. Plus, you'll hear about Zabbix implementation at Gardner Denver, Nokia, SAS Solutions On Demand and the biggest financial institutions in France, Italy and Latvia.
But don't just listen – take active participation! Pick a Workshop, bring your laptop and be ready to broaden your skills!
To get a deeper insight of this year's agenda, read interviews with our honored speakers on Zabbix blog.
| | | |
| --- | --- | --- |
| | | Gareth Brown, Founder of Mesoform: "A company I worked for previously already had Zabbix implementations. They were finding limitations but I could tell quite easily that it was because it wasn't set up right." |
| | | James Green, Senior IT Manager at NHK International: "Monitoring is now a critical part of the IT infrastructure & Zabbix helps to innovate faster and respond quicker." |

Zabbix Within Your Reach
Thanks to Zabbix community meetups you can learn about Zabbix everywhere! If you're planning to organize and/or host an event dedicated to Zabbix, just write us!
Zabbix Meetup in Brazil (August 12)

Another meetup from the "Zabbix on the Road" series, organized by our Premium Partner Unirede Soluções Corporativas! This time - in Porto Alegre. Join Zabbix Brazil community this Saturday, August 12.

FrOSCon (August 19-20)

A truly free and Open Source event, featuring exhibition, workshops and speeches with 8 parallel tracks. Meet Zabbix Team in Sankt Augustin, Germany on August 19-20.

Add Skills with Zabbix Training
Become a Zabbix Certified Professional, adding new skills of Zabbix implementation to your experience. Join Zabbix Training courses in all parts of the world!
There is always a chance to master Zabbix at the Zabbix office in Riga, Latvia. We are organizing training on September 18-22, right after Zabbix Conference 2017. Enjoy 3 in 1 – be inspired at the biggest Zabbix event, meet our Team in person and get Zabbix certified!
✔

Bielefeld, Germany

Aug 28 – Sep 1

Language: German

✔

Zwolle, Netherlands

September 4-8

Language: English

✔

Rio de Janeiro, Brazil

September 11-15

Language: Portuguese

✔

Riga, Latvia

September 18-22

Language: English

✔

Montreal, Canada

September 25-29

Language: English

✔

Nossegem, Belgium

September 25-29

Language: English

✔

Bologna, Italy

September 25-29

Language: Italian

✔

Paris, France

October 2-6

Language: French

In this Issue

Training Schedule

Training Brochure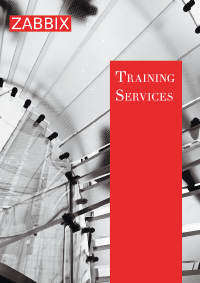 Books on Zabbix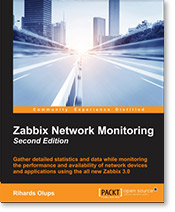 Follow Us