Zabbix documentation and books are a great source of inspiration and knowledge, available in multiple languages. Master Zabbix with ease!

Prevent any future hazards in your IT infrastructure, by combining Zabbix monitoring and alerting with incident management using ServiceNow. Learn from a ZabConf2017 video by TV2 Danmark experts.

How to make a good-looking presentation if you are a programmer? Easy! Zabbix Team knows how and shares tips and tricks at Z Meetup. Enjoy our blog post!

In the last 2 weeks, we had 2 Zabbix Meetups in Brazil. Big thanks to Zabbix Brazil community, Unirede Soluções Corporativas and André Déo!

Chat with us anytime! Join all kinds of discussions about Zabbix on our Forum, Blog, #zabbix IRC channel and social sites.

Today we're at Paris OSS, meeting many open source fans together with our partners Axel IT. One more day to meet us there!
Zabbix Conference Boom in Asia
In November, we had two major Zabbix-dedicated events, aimed at letting Zabbix users share their experience and projects locally.
Zabbix Conference China

Our first Zabbix Conference for China welcomed Zabbix China community and partners in Shanghai to present Alexei Vladishev's keynote, 12 speakers, different use cases and a Zabbix Evening Party.

Flip through the photos of this big event!

Zabbix Conference Japan

Our annual Zabbix Conference for Japan was a success, featuring Zabbix integration examples, helpful tips and, of course, a post-conference evening in Zabbix style!

Feel the scale of this event in our photo galley!
Build Your Career at Zabbix
Reach new heights with Zabbix projects on a global scale! Take a chance to kickstart your Zabbix career by joining our Team!
Explore our job opportunities!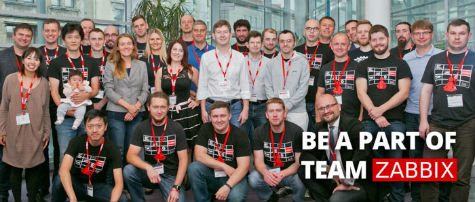 Extend Your Reach with Zabbix Partnership
LinuxPolska, being a leading provider of professional services for enterprise Open Source and Data Science solutions, has reached the highest Zabbix status, becoming Zabbix Premium Partner.

We continue to spread our services all around the globe with EACOMM Corporation, the first Zabbix Partner from Philippines, helping many of the Fortune 500 organizations and corporations to become even more efficient and effective in resource utilization through Business Process Automation.

New Zabbix Partner in China LinkedSee pictures Zabbix as part of AIOps and has actively supported the Zabbix Conference China event.

Zabbix Reseller from Myanmar, NEX4, is an expert in data storage and security, now adding Zabbix monitoring to its solutions portfolio.











Our extensive partner network helps us to provide worldwide support to the companies using Zabbix. Become a Zabbix partner in your country! Explore the partnership benefits on our Partners page.
Add Skills with Zabbix Training
Here's the fastest way to learn Zabbix – join Zabbix Professional Training in all parts of the world. Master the latest features and add-ons, practice Zabbix in different scenarios and ask questions to our Zabbix professional trainers.
There are still chances to finish this year with the Zabbix Certificate. But you can start planning your next year's schedule as well! Choose a Training course near you:
✔

Paris, France

December 11-15

Language: French

✔

Porto Alegre, Brazil

December 11-15

Language: Portuguese

✔

Riga, Latvia

January 15-19

Language: English

✔

Brasilia, Brazil

January 22-26

Language: Portuguese

✔

Buffalo, NY, USA

Jan 29 - Feb 2

Language: English

✔

Detroit, MI, USA

February 19-23

Language: English

✔

Munich, Germany

March 19-23

Language: German

In this Issue

Training Schedule

Training Brochure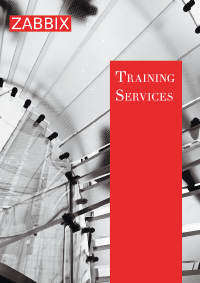 Books on Zabbix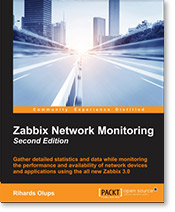 Follow Us