| | | |
| --- | --- | --- |
| | | |
| | | Apply for the upcoming Zabbix Webinars in Spanish and Portuguese and get updated on Zabbix architecture, scalability and performance! |
| | | We're getting ready to become a part of a vast number of conferences and meetups, traveling through Europe, the USA, Japan, China, the Middle East and many more places. Follow the latest news on our events page. |
| | | Mark September 15-16 in your calendars and prepare yourselves for multiple practical presentations, workshops and tutorials at Zabbix Conference 2017! |
Healthy Heartbeat of IT Networks

We're proud of the fact that Zabbix is now monitoring the network infrastructure of the largest hospital complex in Latin America, Hospital das Clínicas da FMUSP, employing more than 15,000 professionals.
Share and find Zabbix templates, add-ons, modules and other Zabbix related extensions, created by our community!

Among the new listings are: ready-to-use templates for monitoring weather conditions, Cisco devices, ArcSight, MongoDB, Dell Storage, Nginx + more!

SCALE 15x – is an annual Southern California Linux Expo with Open Source and free software as the key topics. The event features seminars and expo, covering a broad range of technical projects. Zabbix will be among the exhibitors, sharing the news and ideas with you!
While we're getting ready for this year's events, take a short look of our 3-months adventures in the blog post!

Get Zabbix Certified
If you need to get on track with Zabbix fast, then Zabbix 5-days Training course is right for you! Sign up for the training event which suits you best and enjoy the detailed instruction of Zabbix implementation.
Zabbix Training is hosted in multiple languages. Expand this year's action plan with the following courses:
✔ Bielefeld, Germany - Jan 23-27 - Language: German
✔ Mexico, Mexico - Feb 6-10 - Language: Spanish
✔ Turin, Italy - Feb 6-10 - Language: Italian
✔ Sao Paulo, Brazil - Feb 13-17 - Language: Portuguese
✔ Paris, France - Feb 13-17 - Language: French
✔ Moscow, Russia - Feb 13-17 - Language: Russian
✔ Toronto, Canada - Mar 13-17 - Language: English

Discovering New Opportunities
Welcome new Zabbix Reseller from the USA - ITManaged.Soutions, an IT services company that delivers innovative technology solutions to businesses.

When customizing a product that meets the IT business needs, ITMS cooperates with Zabbix to ensure their clients with a monitoring solution that keeps their infrastructure under control.
In this Issue

Training Schedule

Training Brochure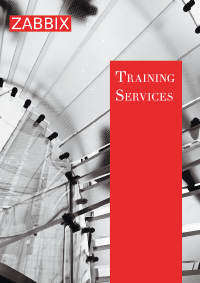 Books on Zabbix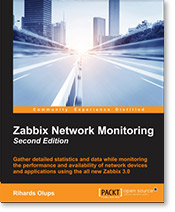 Follow Us