| | | |
| --- | --- | --- |
| | | First alpha of Zabbix 3.4 is ready for early preview! Explore many major features and improvements. |
Zabbix 3.2.7rc1, 3.0.10rc1 and 2.2.19rc1 released. Download and try out!

Hey, Zabbix fans in the USA! Discover Zabbix career opportunities, weigh the benefits and become part of the Zabbix Team at our New York office!

Push Zabbix alerts to your devices, connect Grafana, use thousands of templates, all-made-easy at Zabbix Share.
Ways to Get on Track with Zabbix

At Zabbix Conference 2017 you'll experience a mix of opportunities to learn – 2 days of presentations, case studies and discussions, plus, Zabbix workshops and a chance to get Zabbix Certified. Challenge yourself - pass the exam and turn into a Zabbix expert during just 1 hour!
We're now compiling a splendid agenda, so stay tuned for the list of speeches on our social channels!
You can still submit your Lightning Talk – be brief and entertaining!

Welcome Our Silver Sponsor!
Unirede Soluções Corporativas – Silver Sponsor

ZabConf2017 has a strong sponsor network! Unirede is a loyal Zabbix Premium Partner and Certified Trainer, hosting Zabbix trainings and meetups all through Brazil.

Founded in 1999, Unirede Soluções Corporativas is a consulting firm that delivers technology solutions to growing businesses. Powered by Unirede, customers and partners are able to leverage the use of technology to focus on their core business and realize their goals.

| | |
| --- | --- |
| SplendorNet Technologies Pvt. Ltd. is a complete solution company from one of the biggest IT hubs in India. Now becoming a Zabbix Reseller, SplendorNet, with its drive and skilled workforce, will represent Zabbix on the highest level, providing easier and faster access to Zabbix services and resources in India. | |
Our extensive partner network helps us to provide worldwide support to the companies using Zabbix. Become a Zabbix partner in your country! Explore the partnership benefits on our Partners page.
Reach New Heights in Zabbix
Sharpen your knowledge and become a high-level Zabbix professional – take Zabbix Training courses in all corners of the world!
Apply for Training events throughout Europe, Russia, Brazil, Canada and the USA.
✔

São Paulo, Brazil

July 17-21

Language: Portuguese

✔

Heiloo, Netherlands

July 24-28

Language: English

✔

Paris, France

August 7-11

Language: French

✔

Porto Alegre, Brazil

August 7-11

Language: Portuguese

✔

Moscow, Russia

August 21-25

Language: Russian

✔

Bielefeld, Germany

Aug 28 – Sep 1

Language: German

✔

Zwolle, Netherlands

September 4-8

Language: English

✔

Riga, Latvia

September 18-22

Language: English

✔

Montreal, Canada

September 25-29

Language: English

In this Issue

Training Schedule

Training Brochure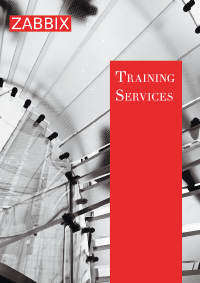 Books on Zabbix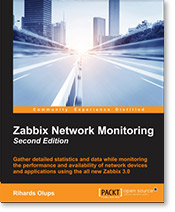 Follow Us