Discover Zabbix through extensive documentation and various books published in diverse languages.

Explore Zabbix add-ons created by our community on Zabbix Share.
With the latest listings, monitor Mikrotik and Docker, simplify value mapping for Cisco switches, integrate with Apache Ambari + much more!

Our meetup marathon continues! Yesterday, Zabbix together with our Premium Partner S&T Slovakia hosted a meetup in Bratislava.
Among the discussed topics were: Zabbix Future, S&T useful extensions to Zabbix 3.2 and business examples of Zabbix application beyond pure IT.
Want to learn what Zabbix can do for your IT infrastructure? Sign up for multilingual Zabbix Webinars!
This June, you'll find out the best techniques in tuning Zabbix, triggers' role in problem detection, plus, don't miss Zabbix and Nagios comparison on June 28, in German!

Knowledge & Fun at ZabConf2017
Zabbix Conference is a great place to learn! Apart from presentations and workshops, you'll have a chance to challenge yourself and get Zabbix certified right on the spot!

Discover more about what awaits you on September 15 & 16 – on our conference page.

Fun-Stuff Program Now Published!

Zabbix Conference is fun! Be part of Zabbix evening events and share the best memories with other Zabbix fans.

This year, we'll sneak into the behind-the-scenes of a movie production in a film city; taste traditional food at a Latvian fairground and more.

Russian Internet Technologies Conf (June 5-6)

Next week, we'll be at a big event in Moscow focused on web development, system administration, high load systems and databases.

Come to the stand D4 to learn how Zabbix can ease your everyday monitoring tasks. Take part in contests and win Zabbix giveaways, ticket to ZabConf2017 and many more valuable prizes!

Interop Tokyo (June 7-9)

This June, for the 5th time, Zabbix Team will join Zabbix Japan Team to take part in Interop Tokyo – the biggest IT expo in Japan!

Ger ready for various seminars and product demo at the Zabbix booth 6G11 and celebrate 5 years of Zabbix Japan office with us!

Are You Zabbix Certified?
Zabbix Professional Training program is designed in a way so that you can both learn and practice Zabbix in different scenarios. There are 2 courses available "Zabbix Certified Specialist" and "Zabbix Certified Professional", both being followed with an exam and a certificate, proving your Zabbix expertise.
Choose the best location for you or write to us to schedule your own training.
✔

Los Angeles, CA, USA

June 5-9

Language: English

✔

Bogotá, Colombia

June 5-9

Language: Spanish

✔

Heiloo, Netherlands

June 12-16

Language: English

✔

Turin, Italy

June 12-16

Language: Italian

✔

Bielefeld, Germany

June 19-23

Language: German

✔

Paris, France

June 19-23

Language: French

✔

Keele, UK

June 26-30

Language: English

✔

Buenos Aires, Argentina

July 3-7

Language: Spanish

✔

Denver, CO, USA

July 10-14

Language: English

✔

São Paulo, Brazil

July 17-21

Language: Portuguese

In this Issue

Training Schedule

Training Brochure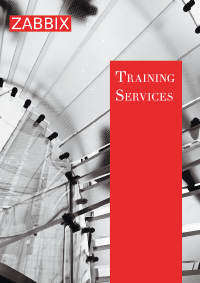 Books on Zabbix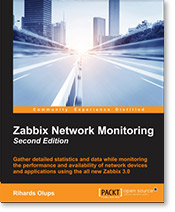 Follow Us