Download the latest releases: Zabbix 3.4.4, 3.2.10 and 3.0.13. Packages for CentOS, Debian, RedHat and Ubuntu are ready to deploy from the official repository!

Monitoring Java applications has never been easier! All you need is Zabbix 3.4 and customizable JMX endpoints. Check out our latest blog post.

Save time configuring new Zabbix items. Discover ready-made modules and templates for most devices, on Zabbix Share.

Find Performance Co-Pilot to Zabbix interface modules, monitor Huawei, Lenovo, Mikrotik, Eltex Mes and Cisco devices + grab templates for Veeam, Supermicro servers, Windows Firewall and more.

Zabbix in China
This Friday, we expect examples of Zabbix customization, best practices and use cases at the first Zabbix Conference for China!
The conference will feature the following talks:
✔ Where we stand and what our plans are - a keynote by Alexei Vladishev, Zabbix Founder and CEO

✔ How to output and customize regular reports with Zabbix API to meet specific requirements - Wang Bin

✔ Why Zabbix is a long-living solution and how the future monitoring with AI will look like - Yao Renjie from ViSenze

✔ Tips on Zabbix database optimization - experience of Wang Yanan from Shanghai Grandage, our Platinum Sponsor and Co-host

✔ How Zabbix is implemented in DevOps environment - Shawn Cai
And much more! Explore Zabbix from different angles and find answers.


What was Zabbix Conference 2017 all about?

Let the videos of 31 speakers, 9 case studies, 12 cases of Zabbix integration with services and presentations on what to expect in the future of Zabbix speak for themselves.
Highlighting ZabConf2017 speeches:
| | | |
| --- | --- | --- |
| | | |
| Steven Bush discusses HA architecture and decisions made for large-scale Zabbix deployment at SAS Solutions OnDemand. | Kristina Kucherova gives in-depth details on Zabbix prediction and forecasting. | James Green tells how a global IT company chose Zabbix among others, giving thorough comparison. |
| | | |
| --- | --- | --- |
| | | |
| Ingus Vilnis, Zabbix Support Engineer, presents a detailed video guide about all the new features of Zabbix 3.4 | | R. Martinez Guerrero describes how to monitor 60+ web apps in the DevOps environment using Zabbix + CFEngine and Nivlheim. |
Another meetup from the "Zabbix on the Road" series, organized by our Premium Partner Unirede Soluções Corporativas! This time - in Natal. Join Zabbix Brazil community this Saturday, November 25.

How about one more meetup in Brazil? On December 2, join the meetup, organized and hosted by Zabbix Brazil community together with Zabbix Brazil Evangelist, André Déo.

Let's discuss ideas, challenges and solutions. Let's talk about Zabbix!

We'll be meeting many Open Source fans at Paris OSS on December 6-7. Come and visit Zabbix booth to talk to our experts and local partners Axel IT.
| | |
| --- | --- |
| Welcome Zabbix Partner, Piros - an IT solutions provider from Belgium. Piros enriches its Open Source solutions portfolio, offering their clients high-quality monitoring and quick responsive support with Zabbix and helping Zabbix to enlarge its reach. | |
Our extensive partner network helps us to provide worldwide support to the companies using Zabbix. Become a Zabbix partner in your country! Explore the partnership benefits on our Partners page.

Zabbix Master Course
Become Zabbix Certified Professional and add new skills of Zabbix implementation to your experience. With Zabbix training you will achieve an advanced knowledge mixed with useful advice and guidance based on personal experience of Zabbix trainers.
There are still chances to finish this year with the Zabbix Certificate. But you can start planning your next year's schedule as well! Choose a Training course near you:
✔

Bologna, Italy

November 27-29

Language: Italian

✔

Munich, Germany

Nov 27 - Dec 1

Language: German

✔

Nossegem, Belgium

Nov 27 - Dec 1

Language: English

✔

Turin, Italy

November 27-29

Language: Italian

✔

Heiloo, Netherlands

December 4-8

Language: English

✔

Paris, France

December 11-15

Language: French

✔

Porto Alegre, Brazil

December 11-15

Language: Portuguese

✔

Riga, Latvia

January 15-19

Language: English

✔

Brasilia, Brazil

January 22-26

Language: Portuguese

✔

Buffalo, NY, USA

Jan 29 - Feb 2

Language: English

In this Issue

Training Schedule

Training Brochure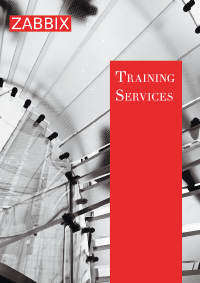 Books on Zabbix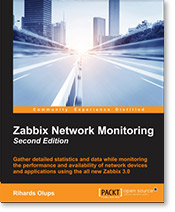 Follow Us