Try out Zabbix 3.4.4rc1, 3.2.10rc1 and 3.0.13rc!

Don't forget that Zabbix 3.2 support has ended, so upgrade to Zabbix 3.4 with ease!

Apply for the upcoming Zabbix Webinars in Spanish, Italian and Portuguese and get updated on Zabbix architecture, scalability and performance!

Right now we're in Moscow, taking part in one of the biggest events dedicated to high-load systems and their developers across the world – HighLoad++.
As before, we'll share latest in monitoring with Zabbix, Big Data, complex projects and enterprise-level performance, and this year we're also introducing a daily lottery with valuable prizes!
What was Zabbix Conference 2017 all about?

Let the videos of 31 speakers, 9 case studies, 12 cases of Zabbix integration with services and presentations on what to expect in the future of Zabbix speak for themselves.
Highlighting ZabConf2017 speeches:
| | | |
| --- | --- | --- |
| | | |
| Rihards Olups reveals how to upgrade Zabbix for a better sleep, using the Nokia example. | Vladimir Ulogov shows how to mix MESOS, NOMAD and Docker to run Zabbix on a large-scale cloud cluster, plus, gives other useful tips. | Gabrel Farkas tells Zabbix success story at Orange Slovensko and the lessons learned. |
| | | |
| Andrew Nelson helps you to tie RedHat Ansible + Zabbix together for inventory leveraging and seamless Zabbix Agent configuration orchestration. | Miroslav Bagljaš explains how Jabber Bot allows control of Zabbix operations via a chat window. | Fabrizio Fantoni proves that with the right gateways, Zabbix can have a central role and be the heart of an IoT architecture scenario. |

Reaching The World
Zabbix Conference China 2017
We always aim to extend our reach and now we are proud to present the first Zabbix-dedicated event in CHINA, which will unite all regional users, experts and partners on November 24.
The conference will feature Alexei Vladishev's keynote, 12 speakers, different case studies, in-depth discussions about Zabbix product and services and, of course, a post-conference evening in Zabbix style!
Explore the agenda and register now!

The 6th Zabbix Conference Japan, taking place in Tokyo on November 17 and uniting local Zabbix specialists, CTOs and monitoring gurus.

How about another Zabbix Meetup in Brazil? On December 2, join the meetup, organized and hosted by Zabbix Brazil community together with Zabbix Brazil Evangelist, André Déo.

Let's discuss ideas, challenges and solutions. Let's talk about Zabbix!

Time to Get Certified!
Here's your chance to finish this year with the Zabbix certificate, proving your Zabbix skills! Use the opportunity to learn from our specialists and grow professionally.
Take a look at the Zabbix Training schedule and choose the best location for you to become certified!
✔

Buenos Aires, Argentina

November 13-17

Language: Spanish

✔

Bologna, Italy

November 13-17

Language: Italian

✔

Bogotá, Colombia

November 20-24

Language: Spanish

✔

Bielefeld, Germany

November 20-24

Language: German

✔

Nossegem, Belgium

Nov 27 - Dec 1

Language: English

✔

Munich, Germany

Nov 27 - Dec 1

Language: German

✔

Turin, Italy

November 27-29

Language: Italian

✔

Heiloo, Netherlands

December 4-8

Language: English

✔

Paris, France

December 11-15

Language: French

In this Issue

Training Schedule

Training Brochure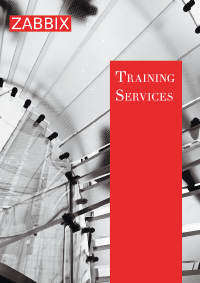 Books on Zabbix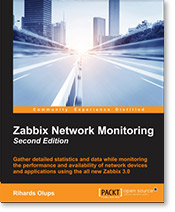 Follow Us