Download the latest Zabbix releases with packages and appliance files. Explore the advancement in monitoring.

Mass data collection with Zabbix 3.4 – ways of gathering and preprocessing metrics with ease!
Explore it in depth using Mercury236 and smartmontools as examples - in our dedicated blog post.

Manage your monitoring tasks with Zabbix. Find the guidance you need in our documentation and books, available in different languages.

When does Zabbix support for older releases end? What are the upcoming Zabbix events in my region? The fastest way to catch the latest news about Zabbix is to follow us on social channels and never miss a thing!

Save time configuring new Zabbix items. Discover ready-made modules and templates for most devices, on Zabbix Share.

Among the latest listings: templates for monitoring Cisco, Juniper, Mikrotik, Linux MD-RAID and QSAN storage devices.

| | | |
| --- | --- | --- |
| | | |
| All the best moments are captured in ZabConf Photo Gallery! Let's see if you can find yourself? | Why red color is special? And who had the most technical talk? Find this out in our Day 1 blog post! | Whose Twitter feed won in Zabbix game? How Zabbix is used in Munich trams? The answers are in Day 2 blog post! |
Zabbix In The World
Zabbix at Gitex in Dubai!
Right now we're in Dubai taking part in GITEX – the 3rd largest technology event in the world, pushing new ideas, most advanced technology and digital transformation.
Tomorrow is the last day, so if you have not visited our team there yet, you still have a chance! Come to hear Zabbix news at Sheikh Rashid Hall, stand SR-3.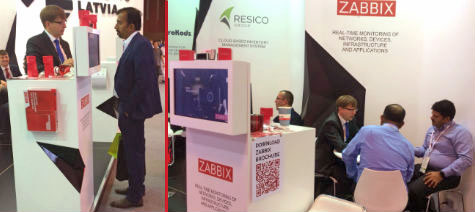 SMAU Milano (October 24-26)

SMAU is the main Italian fair dedicated to Information & Communications Technology, with more than 30 000 participants.

We welcome you to the Zabbix stand, where you can ask questions to Zabbix Team directly, watch live demos and listen to workshops, presented in Italian by our Premium Partner – Quadrata.

HighLoad++ (November 7-8)

We're looking forward to visiting Moscow for one of the biggest events for high-load systems in the world.

Let's discuss Big Data, IoT, complex projects and enterprise-level performance, with Zabbix covering all these topics and much more.
We're actively participating in the Career Day, speaking to the next Zabbixers at the Latvian universities. Seize a great opportunity to join our Team as well! Discover our open positions on our careers page.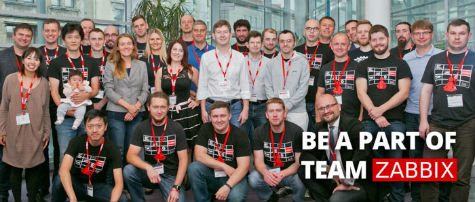 Zabbix Master Course
Zabbix Training is designed for you to learn everything about Zabbix architecture, tuning and functionality along with the hands-on practice of Zabbix deployment.
Zabbix training is just within your reach with courses in English, German, Spanish, Portuguese, Italian and Russian! Just pick a location near you or write to us to organize Zabbix courses at your premises.
✔

Porto Alegre, Brazil

October 16-20

Language: Portuguese

✔

Munich, Germany

October 16-20

Language: German

✔

Lima, Peru

October 23-27

Language: Spanish

✔

Chandler, AZ, USA

November 6-10

Language: English

✔

Buenos Aires, Argentina

November 13-17

Language: Spanish

✔

Bologna, Italy

November 13-17

Language: Italian

✔

Bogotá, Colombia

November 20-24

Language: Spanish

✔

Irkutsk, Russia

November 20-24

Language: Russian

✔

Bielefeld, Germany

November 20-24

Language: German

In this Issue

Training Schedule

Training Brochure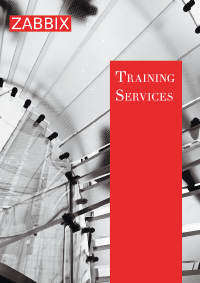 Books on Zabbix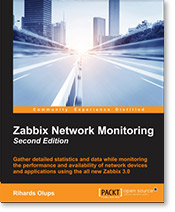 Follow Us