The latest releases are available for download: Zabbix 3.4.3, 3.2.9 and 3.0.12.

Support for Zabbix 3.2 is nearing its end. If you haven't already - upgrade to Zabbix 3.4!

It's worth keeping Zabbix up-to-date, as with 3.4 our API is greatly enhanced allowing extending and plugging with ease. Discover the improvements.

A new notice type in Zabbix 3.4 lets you know when an issue has been seen and your team has started working on it. Benefit from Zabbix notifications.

Right now we're at SMAU! Want to witness technical demos and take part in Zabbix workshop? Or see how Zabbix monitors IoT with Raspberry Pi? Come to the stand G05 and meet Zabbix team and our Premium Partner from Italy - Quadrata!
At this year's Zabbix Conference we got to know how Zabbix is used in cloud solutions, IoT, banking institutions, universities and even the whole subway of Munich!
Find more about all of these cases in the presentation videos, published on our agenda page.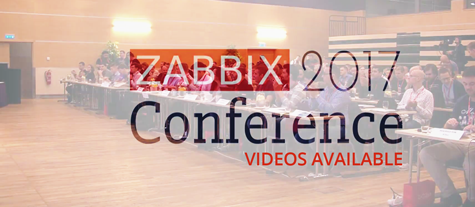 Ways to Get on Track with Zabbix
| | |
| --- | --- |
| Expanding Zabbix Partner Network to Myanmar with IT and Networking solutions company - One Cloud. Being a successful system integrator, One Cloud allows companies to build reliable network infrastructures, data management and security and is also focused on hardware and custom software solutions services. | |
Our extensive partner network helps us to provide worldwide support to the companies using Zabbix. Become a Zabbix partner in your country! Explore the partnership benefits on our Partners page.

Training
Zabbix Training is designed to teach you the art of Zabbix automation by learning and practicing Zabbix in different tricky scenarios. There are around 140 Zabbix Certified Specialists and Professionals graduating each month.
Become an expert as well, enjoying the benefits of Zabbix Professional courses all over the world!
✔

Chandler, AZ, USA

November 6-10

Language: English

✔

Buenos Aires, Argentina

November 13-17

Language: Spanish

✔

Bologna, Italy

November 13-17

Language: Italian

✔

Bielefeld, Germany

November 20-24

Language: German

✔

Bogotá, Colombia

November 20-24

Language: Spanish

✔

Irkutsk, Russia

November 20-24

Language: Russian

✔

Nossegem, Belgium

Nov 27-Dec 1

Language: English

✔

Munich, Germany

Nov 27-Dec 1

Language: German

✔

Turin, Italy

November 27-29

Language: Italian

✔

Heiloo, Netherlands

December 4-8

Language: English

In this Issue

Training Schedule

Training Brochure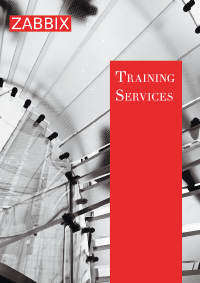 Books on Zabbix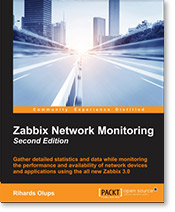 Follow Us